2024 start
September
International Management
Management School, Faculty of Social Sciences

Accredited by the Association of MBAs and the Chartered Management Institute, on this course you'll develop the skills to take on the challenges of doing business in a dynamic global economy.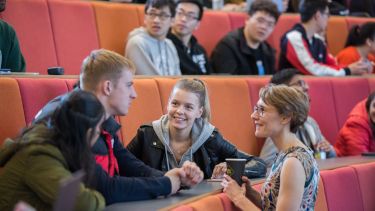 Course description
Understanding the challenges and opportunities of doing business in a dynamic global economy sets your apart. Focusing on developed and emerging markets you'll apply practical business skills and learn how business is done across cultures.
You can apply to do a company-based dissertation, working with an external organisation. Recent projects include researching the international student market in the UK for an immigration consultancy.
Accreditation
This course is accredited by the Association of MBAs (AMBA) and the Chartered Management Institute (CMI).
Modules
Core modules:
Marketing

This module introduces the subject of Marketing and seeks to place marketing and consumption practices in their political, economic, technological, social and cultural context.

15 credits

International Business

This module introduces students to the important subject of international business, exploring how and why companies operate internationally. The module examines the international environment Multinational Enterprises (MNEs) operate in, exploring how that environment affects the activities of MNEs. Students will study how MNE managers seek to maximize value and minimize costs by locating different activities in different countries around the world. The module not only builds theoretical understanding of international expansion, but also seeks to apply this understanding to explain how organizations perform in host countries and how organizations can adapt to the dynamic international business environment. Key issues that are explored in this module include internationalisation, cross-cultural management and sustainability.

15 credits

Entrepreneurial Economies

The module examines the nature of entrepreneurship and economic development and explores why some regions and localities are more entrepreneurial and innovative than others. Examining examples of good practice in entrepreneurship/innovation, the module also considers localities which lag behind in terms of entrepreneurship and explores the causes and consequences of this. Drawing on relevant academic literature, the module will explore the different policy approaches which have been taken to try to foster higher levels of entrepreneurship. The module will enable students to understand the wider role of entrepreneurship and innovation in the economy and the economic and social implications of high or low rates of entrepreneurial activity.

15 credits

International Business Strategy

This unit introduces key theories of international business strategy - those concerning the rationales for international expansion, the choice of foreign market entry strategy and the impact on the economies of host countries. This theoretical understanding will then be illustrated and examined by reference to the way particular companies in contrasting industries have developed and implemented their international strategies. Particular attention will be devoted to the role played by the international business environment and its institutions, understanding and critique of various theories of the multinational enterprise, evaluating key strategic issues facing the multinational enterprise, and exploring inter-relationship between host government policies and multinational company strategies.

15 credits

European Business

This module introduces the main features of European economic integration most relevant to business, including the Single Currency. It sets out the main characteristics of the different national economic systems of the main countries of Europe, Germany, Britain, France and Italy. It explains the challenges the 'transition' (ex-communist) economies of Central and Eastern Europe have faced, and the way these economies are changing. It seeks to draw lessons from the European experience for economic integration in other regions of the world.

15 credits

International Human Resource Studies

This module investigates labour market trends and human resource practices within diverse political, economic, social and regulatory contexts. In addition to analysing the impacts of globalisation, international institutions and national governments on employment policy and regulation, it also examines the human resource practices of particular foreign direct investors, multinational corporations, and public sector organisations in the majority and minority world (Global South/ODA recipients and Global North). Particular attention is accorded to trends in the deployment of people across the world of work, and to how HR can be utilised within different cultural contexts.

15 credits

Research Methods

The unit provides an introduction to a wide range of research methods used in management research. It prepares students for their dissertation by helping them to make an informed choice of objectives and methods (design, data collection and analysis) for thier own research. It also prepared students to review the literature and critically evaluate the methods used by others, to consider ethical issues around research and to prepare a plan for their dissertation research.

15 credits

Project Dissertation

This unit requires the student to research a topic appropriate to the field of management. The topic chosen by the student must receive approval from a supervisor. A dissertation written by the student should be delivered to the School at the conclusion of the study. The study, and the resulting dissertation, may take the form of an academic research or of a managerial problem-solving exercise. In either case, it requires the student to apply critical analysis and to set the issues within the context of appropriate management literature.

45 credits
You will take 2 of the following:
Work and Organisation in East Asia

The dynamics of change in East Asia are increasingly important for understanding the development of global society. This module will describe and analyse 'work and organization' in East Asia and consider whether its cultures and practices are shaped by national models. Adopting multi-disciplinary perspectives, we will examine the historical and cultural embeddedness of Japanese models and their contemporary socio-economic construction. We will consider structures such as the family and education system that prepare people for workforce entry and look a contrasting working contexts from the participants' perspectives. We will then compare Japanese work contexts with China, Taiwan and South Korea. 

15 credits

Business and Economy of Japan

In recent years the Japanese economy and Japanese business have changed quite dramatically. High speed growth has long gone and low growth and globalization are vital issues that Japanese business management is obliged to confront. In this module we will address the processes of Japan's economic and business development from the beginnings of modern economic growth in the late 19th century to the 'Lost Decade' of the 1990s and developments in the 2000s. We will describe and analyse the role of the state in the post-war and contemporary periods and study Japan's industrial organisation, production systems, human resource management and corporate governance practices. 

15 credits

Contemporary Chinese Business and Management

This module will examine changing cultures and practices of business and management in China in the context of recent economic and political changes, notably rising marketisation and globalisation. 

15 credits

Concepts and Approaches in Intercultural Communication

This module aims to develop an understanding of the main theoretical approaches to the study of intercultural communication and the ability to analyse and evaluate their relative significance, including those originating from applied linguistics, management theory, anthropology and sociocultural theories. Students will consider the concept of culture from a variety of perspectives, and will study topics including stereotyping and prejudice, (non-)essentialism, identity, culture shock, and the role of language and dialogue in intercultural communication. A wide range of real-world examples will be examined, including media reports, international communications, multicultural situations, and intercultural problems raised by students. By the end of the module students will be able to: i) Analyse and critically evaluate the main concepts and approaches in intercultural communication; ii) Consider the implications for their application in practice; and iii) Develop their own perspectives and insights from these theories.

15 credits

Law and Business in China

This course introduces students to the Chinese legal system and looks at law, doing business in China and regulations relevant to this. It would be useful for students who want to be acquainted with practical knowledge about doing business in China. It also suits students who are interested in legal studies and want to acquire international perspectives by studying Chinese law. The course begins with a section on the Chinese legal history and traditions, followed by an overview of the current legal system, covering issues such as the state governance structure and power distribution, the sources of law, law making and implementation. It then focuses on law and regulations that are relevant to doing business in China. Specifically, it examines the law on contract and business organizations, foreign direct investment, labour, real estate, taxation, financial regulations, intellectual property rights and dispute resolution.

15 credits

Perspectives on East Asian Economy and Business

East Asia represents one of the world's most dynamic economic regions, yet has long been explained as different from other economies. This module will introduce students to the history of ideas of East Asian industrialization and capitalism over the past 150 years. Perspectives from scholars both within and outside of East Asia have looked at issues of culture, politics, religion, and values to explain East Asia's differences. By learning the legacies of these perspectives, we will understand how they continue to influence and explain economic policies, business activities, and academic research in East Asia today. Students will learn to read, evaluate, and apply perspectives to contemporary business issues across China, Japan, and South Korea.

15 credits
The content of our courses is reviewed annually to make sure it's up-to-date and relevant. Individual modules are occasionally updated or withdrawn. This is in response to discoveries through our world-leading research; funding changes; professional accreditation requirements; student or employer feedback; outcomes of reviews; and variations in staff or student numbers. In the event of any change we'll consult and inform students in good time and take reasonable steps to minimise disruption.
Open days
An open day gives you the best opportunity to hear first-hand from our current students and staff about our courses. You'll find out what makes us special.
You may also be able to pre-book a department visit as part of a campus tour.Open days and campus tours
Duration
1 year full-time
Teaching
Lectures
Seminars
Case studies
Group work for collaborative learning
Web-based discussion groups
Assessment
Individual assignments
Group projects
End-of-semester examinations
Dissertation
Department
Management School
We have an international reputation for practical and real-world economics.
We are a leading business school with Triple Crown accreditation (AACSB, AMBA and EQUIS). These awards have been achieved through the outstanding quality of our programmes, research output, support for students and alumni, and links with industry. We have a world-class reputation for high quality teaching, ground-breaking research and cutting-edge thinking.
You'll be part of a dynamic and engaging business school that puts you and your future at the heart of everything it does. We balance a rigorous academic foundation with practical skills to ensure you are ready for the world of work.
We want you to develop skills so you can apply course content in a company setting. Our close links with organisations keep us in tune with the changing demands of the workplace. We know what employers are looking for.
You'll learn from experts - many are former industry professionals and they work closely with businesses. Because our academics are world-leading researchers, your education will draw on the most current management theories.
We want you to engage with the academic content, be conscientious and take an independent approach to study. We want you to be informed, innovative and proactive and do everything we can to support and enhance your career, steering you in the right direction with all the knowledge and skills you require.
You'll benefit from tailored on-site and online professional careers support, dedicated skills sessions and events with experts from world-leading organisations and professional bodies. These activities will help guide your personal and professional development to help you secure your dream placement, internship or graduate role.
Entry requirements
Minimum 2:1 undergraduate honours degree or an approved professional qualification.
Overall IELTS score of 6.5 with a minimum of 6.0 in each component, or equivalent.
Apply
We use a staged admissions process to assess applications for this course. You'll still apply for this course in the usual way, using our Postgraduate Online Application Form.
Any supervisors and research areas listed are indicative and may change before the start of the course.
Recognition of professional qualifications: from 1 January 2021, in order to have any UK professional qualifications recognised for work in an EU country across a number of regulated and other professions you need to apply to the host country for recognition. Read information from the UK government and the EU Regulated Professions Database.