2024 start
September
Polar and Alpine Change
Department of Geography, Faculty of Social Sciences

Prepare for a research career in cold-regions science with our MSc(Res). You'll develop key analytical skills and research techniques, conduct a year-long independent research project, and have the opportunity to become an active member of the department's Ice and Climate research group.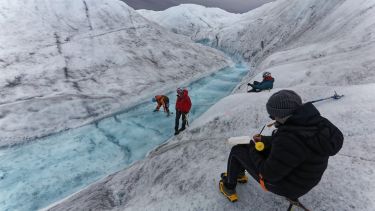 Course description
This unique course prepares you for a research career in cold-regions science, notably within the disciplines of glaciology, glacial geomorphology, polar climatology/oceanography, environmental science, polar biogeochemical processes, or their intersections. We train graduates from a range of scientific disciplines.
The course operates at the cutting edge of climate science and cryospheric science, as its key focus is to explore the expressions, mechanisms and impacts of rapid ongoing changes in our planet's cold regions.
Field class
The field class is an integral part of the course, which is usually in the summer towards the end of the academic year. The costs for this field class are not included in the tuition fee. You'll gain an in-depth knowledge of the location you visit. You'll also develop skills in relevant research approaches and techniques.
The field class combines taught sessions with group research. Group work undertaken by students in previous years includes: meteorology, glacier hydrology, glacial geomorphology and glacier reconstruction using geomorphological evidence and relative dating techniques. The most recent field class location has been Western Greenland and, in years previous to that, Svalbard.
While we hope to return to Western Greenland, the destination for your field class may change from year to year in response to our course content, new scientific opportunities, feedback from past students or wider global events. This could mean it's delivered online, or delivered online while using a UK destination for some learning activities. We will contact students in advance of any changes to our field classes.
Modules
You'll complete 180 compulsory credits of study, comprising four modules taken over one year full-time.
You'll carry out a year-long research project where you'll undertake original and independent research in your chosen field. While you develop and execute your project, we'll give you close supervision. You'll be a member of the department's vibrant research community – our Ice and Climate Research group – and you'll have the opportunity to present your findings to the group.
During the first semester, modules will help you develop your research ideas and produce a formal project proposal. You'll also have the chance to explore research approaches and develop your analytical and research communication skills.
Core modules:
Research Design in Analysis of Environmental Systems

The module will (a) provide an understanding of the sources of research problems and how specific student research topics fit into broader agendas. It will; (b) provide an understanding of 'scientific method' and its different components (including the roles of fieldwork, laboratory experiments and modelling). It will; (c) provide an introduction to planning a research project, (including literature search, data analysis, written and graphical presentation); with a view to (d) to preparing students for writing a research proposal.

15 credits

Current Issues in Polar and Alpine Science

This module provides students with knowledge, insight and awareness into specific current issues in Polar and Alpine Science. This is achieved through the medium of attendance at research presentations by experts in appropriate fields and discussion of cutting-edge research topics and papers

15 credits

Polar and Alpine Change Field Course

This module provides experience of academic, logistic and practical skills required to undertake a programme of field research. The course will be based in an arctic or alpine environment and conducted as an expedition. Key transferable skills for field research will be developed including research and experimental design; field monitoring using a range of sensors and instruments; field observation of sediments, ice flow, landforms, hydrology and climate. Such skill development will be achieved via safety training, a series of guided field days and a group research project.

15 credits

Polar and Alpine Change Research Project

This module aims to enable students to develop their research, methodological and writing skills in a topic within the scope of cold-regions geo-/climatological science. It requires them to independently design and conduct a theoretically-informed empirical research project. This project will involve bibliographic searches, appraisal of the current state of the research field of the topic, use of qualitative and/or quantitative and/or field research techniques, derivation and analyses and interpretation of data, presentations of the proposed research and of project findings, and write-up of results in a report in the style resembling that of a journal paper.

135 credits
The content of our courses is reviewed annually to make sure it's up-to-date and relevant. Individual modules are occasionally updated or withdrawn. This is in response to discoveries through our world-leading research; funding changes; professional accreditation requirements; student or employer feedback; outcomes of reviews; and variations in staff or student numbers. In the event of any change we'll consult and inform students in good time and take reasonable steps to minimise disruption.
Open days
An open day gives you the best opportunity to hear first-hand from our current students and staff about our courses. You'll find out what makes us special.
You may also be able to pre-book a department visit as part of a campus tour.Open days and campus tours
Duration
1 year full-time
Teaching
Modules are delivered through a mixture of lectures, seminars, workshops and independent study.
This course provides a unique research experience that seeks to embed our students within the Ice and Climate Research (ICERS) group. The ICERS team at Sheffield is one of the largest cold-regions research groupings in the UK and research undertaken by the group is wide in scope and highly regarded internationally. Students are mentored closely throughout the development and execution of their research, developing a strong professional working relationship with specific group members. This setup provides an ideal environment in which to undertake a research training masters, as evidenced by our remarkable track record of past graduate success.

Dr Felix Ng
Programme Director
Assessment
The Research Project is assessed by submission of a major project report near the end of the summer (at the end of the academic year). In the Autumn Semester, a written proposal leading towards this research is assessed; also, an assessed oral presentation and assessed essays test the level of scientific understanding and analytical skills.
Your career
This course provides an exceptional level of research training and experience. These kinds of skills are why our graduates are successful in both further study at PhD level or a research-centred career.
Our graduates have gone on to secure competitive PhD positions at research-intensive UK institutions that specialise in cold-regions research, as well as institutions further afield, including Norway and Sweden. Other graduates have gone on to become environmental professionals.
Most applicants are interested in a research career. After your masters you might pursue further study at PhD and then an academic position where you can go on to push the frontiers of knowledge. We'll help you prepare for a research career while you study with us. For example, we provide guidance on applying for a PhD and you'll receive support from a tutor as well as guidance from the department's Ice and Climate Research group.
Department
Department of Geography
The Department of Geography at the University of Sheffield is a world leader in teaching and research. We're ranked within the top 50 universities in the world for geography according to the QS Rankings 2022, top 10 in the world for geography by the ShanghaiRanking Global Ranking of Academic Subjects 2022 and top 10 in the  UK for geography by the Guardian University Guide 2023.
We are experts in the fields of social justice and environmental change. We explore our dynamic, diverse world to address humanity's greatest problems, from food waste to melting ice sheets and sustainable international development. Our innovative research and practice-based learning will equip you with distinct, relevant professional skills.
We have over 30 full-time academic staff in the department. Our high staff-to-student ratio ensures that you receive excellent quality teaching and a high level of pastoral support throughout your studies.
Entry requirements
Minimum high 2:1 undergraduate honours degree (equivalent to 65% weighted mean grade) in a relevant subject, e.g. physical geography, environmental/earth/ocean sciences, geology, physics, natural science.
You will also need to display evidence of engagement with and/or aptitude in geoscientific research through a personal statement and research document (e.g. undergraduate dissertation report).
Overall IELTS score of 7.0 with a minimum of 6.5 in each component, or equivalent.
Fees and funding
The cost of the field class will depend on the destination and be subject to price inflation and fluctuations.
Apply
You can apply now using our Postgraduate Online Application Form. It's a quick and easy process.
Any supervisors and research areas listed are indicative and may change before the start of the course.
Recognition of professional qualifications: from 1 January 2021, in order to have any UK professional qualifications recognised for work in an EU country across a number of regulated and other professions you need to apply to the host country for recognition. Read information from the UK government and the EU Regulated Professions Database.