Applications for 2024 entry are now open. Register your interest to hear about postgraduate study and events at the University of Sheffield.
2024 start
September
Water Engineering
Department of Civil and Structural Engineering, Faculty of Engineering

Protecting and improving our water resources and protecting people from flooding and droughts are some of the most significant engineering challenges we face today. This course gives you the fundamental knowledge and experience for a career in water engineering, including skills in environmental enhancement and protection.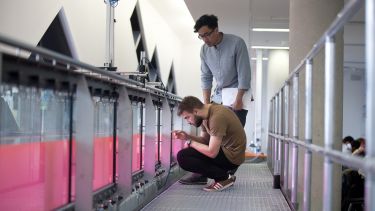 Course description
Looking after our water resources has never been more important or more challenging. The world needs engineering graduates who can tackle the problems of flooding, pollution and infrastructure design. 
Our large multidisciplinary water research group drives our research-led teaching and module content. You'll cover essential engineering principles like fluid mechanics, chemistry, hydrology, applied hydrogeology, hydraulic engineering and computational methods, and have the opportunity to attend lectures with leading industry experts and use commercial software and modelling tools.
We collaborate with industry and other prestigious universities all over the world on challenging problems in water supply and environmental protection. The course will prepare you for work in areas such as the water industry, sustainable urban development, flood and environmental management.
Accreditation
This degree is accredited by the Joint Board of Moderators (JBM) comprising of the Institution of Civil Engineers, Institution of Structural Engineers, Institute of Highway Engineers, the Chartered Institution of Highways and Transportation and the Permanent Way Institution on behalf of the Engineering Council as meeting the academic requirement for Further Learning for registration as a Chartered Engineer (CEng).
To hold accredited qualifications for CEng registration, candidates must also hold a Bachelor (Hons) degree that has been accredited as partially meeting the academic requirement for registration as a Chartered Engineer (CEng). See the JBM website for further information.
Candidates completing the MSc who hold an underpinning accredited Bachelor degree accredited for IEng only or a non-accredited bachelor degree will need to apply for an academic assessment to determine whether they will meet the educational base for CEng registration.
Modules
Core modules:
Research and Professional Skills

This module fosters best practice in engineering-related research/professional skills and delivers a range of training activities to meet the needs of professional engineers dealing with research and technological development.

15 credits

Engineering Hydrology and Hydrogeology

This module is intended to provide an introduction to Hydrology and Hydrogeology for MSc Water Engineering and MSc Civil Engineering students, to equip you with basic quantitative skills for conducting mass balance calculations as well as hydrological and hydrogeological investigations. The module content comprises the prediction of rainfalls, quantitative and qualitative analysis of water movement over the surface and through the subsurface, the estimation of flood flows, the study of hydrologic and hydrogeological processes along with the range of space and time scales at which they occur, an overview of hydrological and hydrogeological measurement techniques, and an overview of current issues in the field, such as climate change.

15 credits

Water Quality Processes & Treatment

Water bodies become contaminated with substances that pose environmental and human health risks as they move through the hydrological cycle. This module aims to address the sources, consequences and treatment of contaminants within the water cycle. The module focuses on developing understanding and technical skills on: a) mechanisms (physico-chemical and biological) involved in determining water quality and safety and b) the most common treatment technologies used by water utilities for delivering drinking and treating wastewater, whilst addressing novel and alternative treatment technologies. The module will also discuss monitoring, sampling, laboratory and analytical methods to evaluate the quality and the safety of water for different uses.

15 credits

Engineering Hydraulics

This module aims to provide a solid base for the analysis of water flows in closed and open ducts. The module provides basic physical insights of the dynamics of laminar and turbulent flows in pipes and open channels. It will also give you a detailed overview of the governing equations and assumptions involved in their application at different scales of analysis. You will gain understanding and competence in the analysis of flows in different contexts and the practical application of these to solve common water engineering problems.

15 credits

Computational Methods in Water Engineering

This core module is designed to improve your conceptual understanding of computational skills and numerical methods applied to solve practical hydraulic engineering problems. It introduces you to several mathematical and computer programming skills and involves writing your own computer codes and use openly-accessible freeware. They will be applied for computing groundwater flow with contaminant transport and free-surface flows. Through the lectures, tutorials, weekly and final assessment coursework, as well as group discussion, you will develop your knowledge in the field of computational hydraulics, including both theoretical and practical capabilities. You will also develop your ability to communicate effectively and professionally through individual report writing and interactive class participation.

15 credits

Design and Management of Sewer Systems

This module will provide students with a high level of knowledge and understanding as to how sewer and stormwater drainage systems operate in the UK. Teaching will focus on acquiring knowledge about current and emerging regulatory, management and design practices. Students will be required to understand the environmental and sustainbility issues associated with this type of infrastructure system. Students will apply industry standard design approaches in a case study, considering hydraulic and pollution concepts to evaluate and modify the performance of the case study network to meet current regulatory requirements, anticipated future pressures whilst considering the long term sustainability of the system. Students will be expected to demonstrate their level of knowledge and understanding via application in the case study sewer network.

15 credits

Sustainable Drainage and Green Infrastructure

This module will introduce you to Sustainable Drainage Systems (SuDS) and Green Infrastructure. Lectures and design exercises will be used to develop your understanding of why SuDS are preferred to conventional stormwater management approaches, and to equip you with the skills to design SuDS schemes to meet relevant performance objectives. Guest lectures will raise your awareness of the inter-disciplinary aspects of SuDS, through topics focusing on, for example, urban planning, ecology and biodiversity, plant and soil processes, rainwater harvesting and evapotranspiration. The module will also include a site visit to a local SuDS scheme and discussion/interaction with an industry practitioner. Independent literature research will enable you to explore a current topic in SuDS research in detail.

15 credits

Sustainable Water Resources Systems

What are the many aspects to consider for the sustainable planning, design and operation of water infrastructure? And to begin with, what is sustainability in practice? This six-block module is aimed at providing you with concepts and analytical tools to handle the complexity of delivering solutions for water sustainability. More specifically, the course covers tools to a) navigate the competing demands from the various sectors that rely on water systems, including trading-off economic, social, ecological and regulatory considerations across multiple scales; and to b) navigate the uncertain impacts of climatic, social, environmental and economic change on water supplies and demands.

15 credits

Advanced Engineering Research Study

This module represents a major element of the Masters programme, with the aim of enabling you to learn skills in scientific investigation and in running and presenting a project. You are required to submit a comprehensive (bound) report describing the individual work that you have done during the summer semester.

60 credits
The content of our courses is reviewed annually to make sure it's up-to-date and relevant. Individual modules are occasionally updated or withdrawn. This is in response to discoveries through our world-leading research; funding changes; professional accreditation requirements; student or employer feedback; outcomes of reviews; and variations in staff or student numbers. In the event of any change we'll consult and inform students in good time and take reasonable steps to minimise disruption.
Open days
An open day gives you the best opportunity to hear first-hand from our current students and staff about our courses. You'll find out what makes us special.
Duration
1 year full-time
Teaching
We use a variety of teaching methods to support your learning, including tutorials, lectures, group project work, virtual learning environments and individual research. Some modules may feature input from our industrial partners, laboratory work or site visits.
Assessment
Your assessments will include formal examinations, coursework and research projects. Regular feedback is also provided, so that you can understand your own development throughout the course.
Department
Department of Civil and Structural Engineering
Civil engineering is at the forefront of improving the way we live. Whether it's designing the infrastructure that keeps our day-to-day lives running smoothly - from buildings and bridges to clean water supplies - or working to meet the ever-changing needs of our society in the areas of sustainability, renewable energy and climate change, you'll be helping to create and protect the world we live in.
Our courses will make you the kind of engineer the world needs right now; forward-thinking, interdisciplinary, environmentally conscious, and capable of the kind of complex thinking our rapidly changing society needs. Wherever you choose to start your career, you'll be in demand.
We're eighth in the UK for civil engineering, according to the Times Good University Guide 2022, and the Complete University Guide 2022. Our research is internationally recognised, and we work closely with industry and government to ensure that our research has real world impact.
Entry requirements
Minimum 2:1 undergraduate honours degree (BEng, MEng, or BSc) in civil or structural engineering or another appropriate engineering or science subject.
You will need a strong background and high previous performance (equivalent to 2:1) in at least one maths module (e.g. mathematics, statistics, linear algebra, calculus) and at least one water engineering-related module.
We'll consider your application if you have appropriate professional qualifications and work experience, but you'll need a strong background in the areas covered on the course.
Overall IELTS score of 6.5 with a minimum of 6.0 in each component, or equivalent.
Fees and funding
Water bursary
Full-time home students on our MSc may be eligible for financial support.
Apply
You can apply for 2024 postgraduate study using our Postgraduate Online Application Form. It's a quick and easy process.
Any supervisors and research areas listed are indicative and may change before the start of the course.
Recognition of professional qualifications: from 1 January 2021, in order to have any UK professional qualifications recognised for work in an EU country across a number of regulated and other professions you need to apply to the host country for recognition. Read information from the UK government and the EU Regulated Professions Database.