Your career prospects after Postgraduate study
A Sheffield postgraduate degree is a preparation for life and the world of work. We'll support you throughout your course and beyond to enhance the skills and attributes that employers value.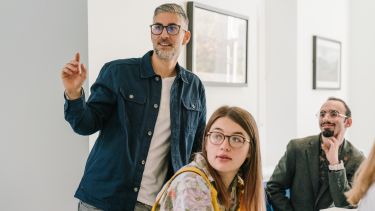 Your career and personal development is important to us. We'll support you throughout your course to enhance the skills and attributes that employers value.
Our graduates from postgraduate study progress on to a vast range of careers in the UK and across the globe, with employers ranging from small businesses and charities to major multinational companies and governmental or other public bodies.
As a postgraduate student, you'll have access to Career Connect to find jobs, sign up for careers events and talks, access online careers information and book appointments to talk about your future career.
It's all about you
We recognise that our students may be at different stages in their career planning, which is why we offer a wide range of personal development opportunities throughout your time with us. Our events and online resources cover everything from opportunities to explore your skills and attributes to succeeding at interviews.
Nathan Price gained advanced skills in econometrics and secured a job as an Econometrician at Brightblue Consulting in London. 
A great scheme I was involved in which is one to look out for is called eMentoring, where you can choose from a range of alumni to be mentored by for a semester. This gave me a chance to be mentored with a civil service economist on a weekly basis to get an insight into their job as well as developing myself and my own job applications.

Nathan Price

Consultant at Brightblue Consulting (MSc Economics 2019) 
Meet potential employers
We work with local, national and international employers to help you build a network of contacts, develop your employability and secure graduate jobs and work experience.
Get relevant work experience
We work hard to find opportunities that will provide the experience you need to succeed. You'll have access to thousands of part-time jobs, internships, placements and graduate jobs.
Wadhha Al Busaidi graduated from MA Social Media and Society and now works as a media researcher. 
I had lots of opportunities to learn, from the discussions with my classmates and the various modules delivered by highly qualified lecturers, to the opportunities to hear from guest speakers who were from different backgrounds over the world.

Wadhha Al Busaidi

Media researcher (MA Social Media and Society 2017) 
Whilst studying BSc Zoology at Sheffield, Lizzie became interested in genomics and its applications to human health. Thanks to the in-depth laboratory training Lizzie received on the Human and Molecular Genetics MSc, she's now secured a job at the prestigious Francis Crick Institute in London.
When searching for jobs after my degree, I frequently had to present my masters research to potential employers that were often blown away by the quality of our training and knowledge.

Lizzie Waddilove

Laboratory Research Scientist at the Francis Crick Institute (MSc Human and Molecular Genetics) 
Support for international students
Whether you're looking for work in the UK, your home country or elsewhere, we can advise and support you.
Students with disabilities
Additional support is available to help you realise your full potential. We provide guidance in many areas including advice on positive strategies for sharing information about your disability with recruiters.
Weekly online events
Attend an online event when it suits you, all year round, as an alternative to an open day.
Every Wednesday, Sheffield Live sessions cover different aspects of University life. You can also meet your department and learn more about studying your subject.