Creating a safer global environment for journalists
Journalists face serious kinds of human rights abuse simply for trying to keep the public informed. Researchers at the University of Sheffield are developing a framework to improve data collection on the full range of violations against journalists and track trends to prevent future attacks.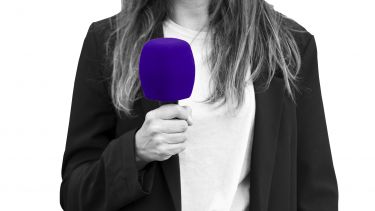 Between 2002 and 2021, 1034 journalists were killed as a result of their work. In over 85 per cent of these cases, the perpetrators were never prosecuted. Research from the Department of Journalism Studies is at the forefront of improving data collection to monitor and prevent future attacks. 
Violations against journalists and data gaps
According to UNESCO, human rights violations against journalists cover a broad spectrum, ranging from lethal attacks to forms of intimidation, criminalisation and physical and verbal abuse. The online space is becoming increasingly hostile with journalists facing gendered attacks, hate speech, organised mass harassment, and systematic surveillance. 
To protect journalists from further human rights violations committed against them, an in-depth understanding of the various attacks is required. However, current data collection tends to focus predominantly on recording cases of journalist killings as the most serious form of attack. In effect, a systematic account of the full range of abuse and the relationships between different violation events is currently missing.
Developing the framework and addressing data gaps
Researchers from the Department of Journalism Studies are developing a data framework to achieve a better global understanding of the nature of human rights abuse against journalists. The framework will facilitate a data shift from only recording physical violence and killings to monitoring the full range of abuse and violations. This includes developing methodologies for tracking patterns in the escalations of violence, such as the progression of online threats to offline violence and of non-lethal attacks turning into lethal violence. 
Leading the project is Professor Jackie Harrison, Head of the Department of Journalism Studies and the UNESCO Chair on Media Freedom, Journalism Safety and the Issue of Impunity. 
"Through our research, we have interrogated how data on violations against journalists is collected, we have identified key data challenges and have developed a proposal for a methodological framework for bridging current data gaps. Reliable and verifiable data is absolutely crucial to establishing an evidence-base which we can use to understand the nature and full extent of violations against journalists and upon which measures can be taken to effectively redress such violations" she explains. 
The research is undertaken in collaboration with Free Press Unlimited, a media development organisation with a mission to make independent news and information available to everyone. 
Working towards UN agenda for sustainable development
The UN agenda for sustainable development outlines 17 goals that are designed to address growing global challenges
This project falls within the context of supporting the UN 2030 Sustainable Development Goals (SDG) Agenda which recognises the safe practice of journalism as an essential element for sustainable and human rights-centred development.
This project is primarily focused on SDG goal 16; to promote peaceful and inclusive societies. In particular, the project hopes to support the monitoring of SDG indicator 16.10.1 which proposes the recording of the number of verified cases of killing, enforced disappearance, torture, arbitrary detention, kidnapping and other harmful acts committed against journalists annually
Progress on the indicator is assessed based on official statistics provided by governments, but importantly also by civil society actors who carry out independent monitoring and can provide data to complement such official accounts. This kind of  "shadow monitoring" is crucial as a mechanism to hold states accountable, especially when there is a lack of political will on behalf of a state to provide relevant data on the indicator.
The current challenges, however, are that there is a lack of data on the full range of SDG 16.10.1 violation categories and that country-level monitoring is not systematically undertaken over time. 
"What we are trying to achieve through this project is to develop infrastructural solutions to record data on violations against journalists in a harmonised way that also aligns with the SDG framework and its definitions of violations which is currently lacking" explains Dr Sara Torsner, Postdoctoral Research Associate at the Centre for Freedom of the Media (CFOM), Department of Journalism Studies at the University of Sheffield. 
---
Ultimately, this project is about reducing, mitigating and preventing the attacks that occur in the first place. Documenting them on a systematic basis is the first step.

Dr Sara Torsner

Postdoctoral Research Associate at the Department of Journalism Studies
---
Dr Diana Maynard, CFOM member, Senior Research Fellow at the Department of Computer Science and member of the Natural Language Processing research group is bringing expertise to the project on how natural language processing tools can support the automated extraction, systematisation and analysis of data against journalists.
"These AI and language processing techniques enable us to process large amounts of textual data and to provide increased data consistency. They support the assessment and compilation of partial and contradictory data from a range of text sources about various elements constituting a given attack on a journalist, and connections between attacks, including various threats leading up to a lethal attack" highlights Dr Diana Maynard.
Following the development of the first iteration of the methodology for the monitoring framework, the next stage of the research project will rely on knowledge exchange with key civil society and UN stakeholders and working with local partners to understand how the framework can be developed to address their needs. This stage will involve continuous testing and trialling to refine the monitoring framework and associated tools.
"Working closely with local civil organisations is really key to achieving strengthened monitoring. By mobilising an expert community of academics and civil society experts around the issue of violence against journalists, we hope to build both local and global capacity to conduct effective shadow monitoring of SDG 16.10.1" explains Professor Jackie Harrison.
Written by Alina Moore, Research Communications Coordinator
Flagship institutes
The University's four flagship institutes bring together our key strengths to tackle global issues, turning interdisciplinary and translational research into real-world solutions.