Understanding migration in the world's most rapidly urbanising region
Rapid urban population growth can leave already overstretched authorities unable to operate effectively. This leads to a lack of safe and suitable infrastructure, service provision and proper documentation.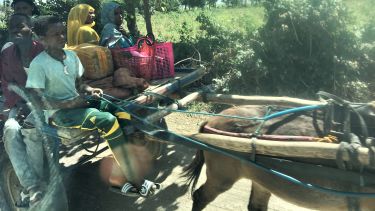 Africa is the world's least urbanised region. Yet it's currently experiencing faster rates of urban growth than anywhere else on the planet. In part, this increase is due to natural population growth and the reclassification of rural areas to urban areas. But in-migration from rural to urban areas remains a dominant source of urbanisation. 
Whilst it could contribute positively to economic growth, rapid urban population growth can also leave already overstretched authorities unable to operate effectively. This leads to a lack of safe and suitable infrastructure, service provision and proper documentation. 
Africa's urban dwellers are increasingly vulnerable to the risks related to demographic pressure such as the impacts of climate and environmental change, and social, political and economic hazards. Many are likely to settle in slums, where property rights remain uncertain and access to public services and employment opportunities can be limited. This uncertainty contributes to increasing social tension, conflict and violence. 
These dynamics have direct and wide-ranging ramifications for the delivery of sustainable development goals (SDGs), most notably in terms of keeping up with service delivery demands and providing decent, well-paid jobs to a rapidly increasing urban population. Relations between in-migrants and existing urban populations can also translate into increasing inequality, and can strain the resources available for building sustainable cities as well as posing challenges for peace, justice and rule of law. 
How migration affects current urban challenges is poorly understood, however, and there is little research into the links between urbanisation, migration and violent conflict. The relationships between these will only grow in importance as population growth, pressure on land use and displacements due to climate change increase. Achieving a better understanding of these issues is crucial if Africa's urbanisation is to be sustainable.
The Migration, Urbanisation and Conflict in Africa (MUCA) research project  aims to address this gap. It will generate a better understanding of conditions under which migration combines with other factors to worsen urban conflict, and examine the consequences of this for urban peace and sustainability. Throughout the research nine cities spread across three countries - Ethiopia, Nigeria and Uganda - will be studied. The cities have been chosen to represent cities affected by three distinct types of migration:
Large 'primate' cities affected by competition over high value land, high ethnic diversity and conflict over lucrative resources in the informal economy 
Secondary cities affected by major industrial investments (historically or more recently) that are seeing new forms of in-migration and conflict relating to tensions around employment, land, and service delivery
Cities experiencing a major influx of people displaced by regional or international conflicts.
In addition to exploring the drivers of conflict in the nine cities, the project aims to identify successful examples of conflict prevention/resolution and peacebuilding practices at the urban scale.  
The research involves a partnership between the University of Sheffield and the University of Addis Ababa (Ethiopia), University of Lagos (Nigeria), Makerere University (Uganda), and University of the Witwatersrand (South Africa), with secondary partnerships drawing in the Hawassa University (Ethiopia), University of Jos (Nigeria) and Gulu University (Uganda). 
Dr. Tom Goodfellow, Senior Lecturer at the University of Sheffield's Department of Urban Studies and Planning, and the lead UK academic on the project, said: "I am delighted that this project is now beginning and with such a fantastic range of international collaborators. This project builds directly on years of partnership-building work in the three countries, and Sheffield is very excited to be part of such an excellent team. This project goes to the heart of some of the most fundamental challenges facing African countries in the twenty-first century, which are calling out for deeper understanding in order to promote more secure, sustainable and peaceful cities as the continent urbanises."
The research from this project can be used by public policymakers to ensure policy initiatives are sensitive to the contextual differences and range of perspectives presented by the people affected. It will also enhance mutual relations and communications channels between stakeholders such as NGOs, governments and rural-urban migrants. Over time it aims to ultimately contribute to improved urban social relations and peace. 
Flagship institutes
The University's four flagship institutes bring together our key strengths to tackle global issues, turning interdisciplinary and translational research into real-world solutions.