Professor Cindy Cooper
BSc (Pharmacology and Physiology), PhD (Neuropharmacology)
School of Health and Related Research
Director, Clinical Trials Research Unit
Professor of Health Services Research and Clinical Trials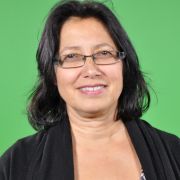 c.l.cooper@sheffield.ac.uk
+44 114 222 0743
3037, Regent Court (ScHARR)
Full contact details
Professor Cindy Cooper
School of Health and Related Research
3037
Regent Court (ScHARR)
30 Regent Street
Sheffield
S1 4DA

Profile

Professor Cindy Cooper is Director of the University of Sheffield Clinical Trials Research Unit (CTRU) based at ScHARR. After graduating in Pharmacology and Physiology from the University of Manchester and completing a PhD in neuropharmacology at the University of Nottingham, she worked at Sheffield and West Yorkshire Health Authorities in clinical audit and health needs assessment. She joined ScHARR in 1996 to establish the North Trent Research Office, to provide support to local NHS organisations to develop research strategy and increase research income. She has been involved in health services research and clinical trials for over twenty years and has held the position of Professor of Health Services Research and Clinical Trials since January 2014.

Cindy established the CTRU in 2006. The focus of the CTRU is the design and implementation of clinical trials of complex health interventions including trials of investigational medicinal products and devices. The aim of the CTRU is to support and enhance academic health research in the University of Sheffield in collaboration with NHS investigators throughout South Yorkshire and to develop a portfolio of academic work and publications.

Cindy was Chair of the NIHR Yorkshire & Humber Regional Funding Committee for Research for Patient Benefit between 2009 and 2012 and is currently a member of the Programme Grant for Applied Research Committee. Her research interests include trials methodology (particularly relating to pilot trials and recruitment and retention), psycho-social aspects of long term conditions and evaluation of complex interventions particularly psychotherapeutic interventions.
Research interests

Trials methodology, particularly pilot (external and internal) and feasibility studies
Psycho-social aspects of long term conditions
Health technology evaluation
Evaluation of psychotherapeutic interventions
Public and patient involvement in research
Publications
Teaching interests

I am co-ordinator for the Randomised Controlled Trials in Health and Social Care module of the MSc in Clinical Research.

I am interested in supervising research students in areas such as RCT methodology, evaluation of health technologies, particularly psychotherapeutic interventions and psychosocial aspects of chronic conditions.
Professional activities

Director of the Clinical Trials Research Unit
Chair of University Health Research Governance Committee 2011 - 2019
Member of the NIHR CTU Directors Executive Group 2015 -
Trial Management Group member for Journeying through Dementia, CACTUS, ACUTE, ASPECT, I-Socialise and OPTION DM trials
Member of the York Trials Unit Strategic Advisory Group
Member of the UKCRC CTU Directors Meeting
Member of the NIHR Clinical Trials Unit Standing Advisory Committee 2016 -
Member of the Sheffield Teaching Hospital Foundation Trust Research Innovation and Education Committee 2016-2019
Member of the Programme Grant for Applied Research Assessment Panel D 2017 -
Chair of the Trial Steering Committee for the York University lead, HTA Funded:-ACTIVE (articular type C pilon fracture Trial Internal vs External Fixation) Trial. 2017 -
Chair of the Trial Steering Committee for the York University lead, NIHR Programme Grant Funde:  MODS (Multi-morbidity in OLder Adults with Depression Study) 2019 -

Current Projects

CACTUS (Clinical and cost effectiveness of aphasia computer therapy compared with usual stimulation or attention control long term post stroke. HTA 2013-2018. £1.7 million.
OPTION DM Optimal Pathway for TreatIng neurOpathic paiN in Diabetes Mellitus (OPTION-DM) trial. HTA Project: 15/35/03. £2.9 million 01/06/2016 to: 31/08/2019 .
The ACUTE (Ambulance CPAP: Use, Treatment effect and Economics) feasibility study: A pilot randomised controlled trial of prehospital CPAP for acute respiratory failure. HTA: 15/08/40, 2016-1019. £378,285
ASPECT A non inferiority randomised controlled trial comparing the clinical and cost effectiveness of single session treatment with multi-session CBT in children with specific phobias. HTA 15/38/04 . 2016-2020.£1.4 million
NIHR CTU Support Funding £350,000 per annum
Journeying through Dementia is a large-scale research study that aims to find out whether attending a 12-week community programme has a positive impact on the quality of life for people who are living with the early stages of dementia.
The COMMEND project (NIHR HTA 16/81/010) includes two phases. Phase 1 will adapt ACT for people with MND and test the acceptability and feasibility of the adapted ACT intervention and whether it is possible to conduct a larger study.
High CALS.  A programme to develop and evaluate a complex intervention to achieve a high calorie diet in ALS (HighCALS) 42 months 02/04/2018 - 01/03/2024.  NIHR PGfAR £1,871,107.00 (IA 6% - £112,266.42.  CI - C McDermott
MSS 3. NIHR HS&DR Funded RCT - MSS3: Multiple Symptoms Study 3: pragmatic trial of a community based clinic for patients with persistent (medically unexplained) physical symptoms.  Co-I.UoS allocation - £898,732.57.
MATTS. Major Trauma Triage Tool Study. NIHR HTA funded. CI- Dr Gordon Fuller
I-SOCIALISE Investigating SOcial Competence and Isolation in children with Autism taking part in LEGO-based therapy clubs In School Environments (I-SOCIALISE), NIHR PHR Funded