Science and technology is everywhere around us and is continuously developing all over the world.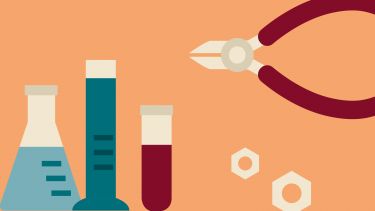 Discover STEM is a two year pathway starting in Year 12 for students studying A Levels (or equivalent) in Science and/or Maths who have an interest in finding more about the STEM subjects available at university. Students will also need to meet specific Academic and Widening Participation (WP) criteria from state schools within South Yorkshire and the surrounding region. See 'How to apply' section below for more information.
The pathway will explore the different STEM degree options through practical workshops and taster sessions and spending time working in laboratories and other locations. Within these workshops you will have the opportunity to work with current undergraduate STEM students - gaining a real experience of what it is like to be a student at the University.
Overall you will be exposed to subject areas that you may not have studied previously, as well as an insight into the practical nature of a STEM degree. Discover STEM also explores the different career options that can come from a STEM degree, through interactive workshops with University of Sheffield STEM Alumni.
Subjects and departments included in Science, Technology, Engineering and Maths:
Aerospace Engineering
Automatic Control & Systems Engineering
Bioengineering
Biosciences
Chemical & Biological Engineering
Chemistry
Civil & Structural Engineering
Computer Science 
Electronic & Electrical Engineering
General Engineering
Materials Science & Engineering
Mathematics and Statistics
Mechanical Engineering
Multidisciplinary Engineering Education
Physics and Astronomy
Psychology
Pathway structure
Year 12

Welcome Session - This is the chance to meet the other STEM students and find out more about the pathway.
Team-building Day - This fun day is designed to boost confidence as well as being a chance for you and the other students to get to know each other and explore the University campus.
Discover STEM Activity Days - Our Discover STEM Activity Days allow you to experience life as a first year student and try out some of the amazing facilities on offer at the University. The days include first year lectures, practical lab sessions in areas of your choosing, and the opportunity to speak to our current undergraduate student ambassadors about university life.
Open Day - Discover STEM students are given information on the Undergraduate Open Days.
Year 12 Study Skills - These events are designed to support you in your preparation for your AS Level exams.
Residential Summer School - This three day residential summer school will give you a taste of life as a University of Sheffield student. During the week you will take part in a range of interactive sessions including practical labs, workshops and lectures. You will also take part in social activities, a BBQ night, a social evening with other Discover students, and activities such as extreme Frisbee and salsa dancing. You will stay in our award winning student accommodation in your own en-suite room.

Year 13

Discover STEM Activity Days - Our Discover STEM Activity Days include first year lectures, practical lab sessions in areas of your choosing, as well as the opportunity to speak to our current undergraduate student ambassadors about university life.
Academic Study Skills - This session will introduce you to academic study skills that will benefit you during your A Levels and during future studies at university.
Awards Evening - Congratulations! You and your parents/carers and teachers will be invited to the Discover awards evening, when students who have successfully completed both phases of Discover STEM receive certificates of achievement.
Programme outcomes
Adjusted offer
Students who successfully complete the pathway will be eligible for a conditional offer for degrees at The University of Sheffield, subject to meeting pre-requisits, with the exception of degrees in Medicine, Dentistry and Health.
To qualify for an adjusted offer for Medicine you must have completed the Discover Medicine pathway and to qualify for an adjusted offer in Dental Surgery you must have completed Discover Dental Professions.
If you wanted to take a 1 x year gap break before applying to The University of Sheffield, or need to resit A Levels to achieve a higher grade, the adjusted offer would be made available in the following year only.
---
Eligibility requirements
Academic criteria
A Level (or equivalent) requirements:
Should be studying a minimum of 3 A Levels including Maths and a Science subject or two Science subjects.
GCSE requirements:
Min. 5 A*-B (or 9-6), plus a minimum of C (4) in English, if not already included. Additionally, B (6) in Maths and Science.
Widening participation criteria (essential)
Widening participation criteria (additional - between one and all of the following)
Are from a low progression to HE area and the lowest socio-economic groups
Are a Looked After Child/Young Adult Carer/Estranged student
Are a student with a declared disability
Have individual circumstances that mean they will need to overcome other barriers to learning/progression. We will assess this element on an individual basis, based on the information provided by the school.

Are in the first generation of their family to enter Higher Education (HE) (other than siblings, or parents who attended HE as a mature student)
---
Contact us
Email: discoverstem@sheffield.ac.uk
We are currently working remotely so our usual landline phone lines are not in use. To arrange a call back please email us as listed above. 
Follow us on Instagram for an insight into our Post-16 Discover Programmes, our campus, and what it is like to be a Sheffield student.
Connect with us
Be the first to know about activities at the university as well as support that we can provide to you and your students.