Resources for teachers and advisors
Here you will find a number of resources we hope you will find useful in your roles as teachers and advisors.
Off
Schools toolkit
Download these pdfs for essential information about applying to university. 
Adviser Guide 2023

A guide for teachers, advisers and agents helping students apply to undergraduate study in the UK for 2023.

Future Learn

Future Learn is an online learning platform. You can learn new skills and pursue your interests with one of our online courses - designed and presented by leading academics in their field.  Discover more about dentistry, how robots can shape our future or even learn how to write a song... there are a wide range of courses for any subject interest at any level.

Our staff and students

HEPPSY Graduate Intern Role

Cesca our graduate intern gives a quick insight into her role and the most important skills and school subjects required.

---

Christine - Employability Adviser

Christine, an Employability Advisor, gives us her an explanation into her role at the University.

---

301 Study Skills Advice for New Students

This video provides a compilation of tips and advice from Study Skills Advisers and Tutors at 301 Academic Skills Centre for new starters at the University of Sheffield.
Advancing Access CPD sessions
We offer free staff CPD sessions at schools and colleges across the country. These sessions can be delivered in person or virtually. Sessions last between 45 mins to 1 hour.
We cover the following topics:
Supporting students to make choices at 16

 Considering how students' Level 2 qualifications might influence their choices

Understanding the range of qualification types on offer and the pros and cons of academic versus vocational qualifications
An introduction to future planned qualifications such as T Levels
Appropriate A level subject choice
How Russell Group universities treat different qualifications, including core maths and the extended project qualification
The best resources which teachers and students can use for further support

Supporting students to make choices at 18 

This session will focus on helping teachers and advisers to support students to make higher education choices. Participants will be encouraged to consider the best support for students deciding on a suitable degree subject, by thinking about career ambitions or pursuing areas of academic interest. Resources which enable students to consider appropriate qualification choices for different courses will be demonstrated. The session will also look at types of university course, including sandwich courses and degree apprenticeships as well as the differences between more and less competitive universities. Advice will be provided on how to support students in responding to university offers.

Supporting students to write personal statements

This session will enable teachers and advisers to effectively support students with the UCAS personal statement writing process. The session will look at some the basics of structuring statements and will also examine some of the academic research which has been carried out to establish the characteristics of the most successful statements. Participants will learn how personal statements are used by universities in the decision making process and will be shown how they can make sure their students have the competitive edge. Examples of more and less effective statements will be provided and these will be compared and contrasted.

Writing effective UCAS references

This session will begin by looking at some of the basics of references and how they ought to be structured. Participants will learn about what universities are looking for in a reference and why they are important. The session will cover how to effectively include contextual information in the reference (both about the applicant and also the school or college). There will also an opportunity for participants to discuss how extenuating circumstances should be addressed. Examples of effective (and less effective) references will be provided which can be compared and contrasted.

Understanding contextual admissions processes

This session begins by providing an overview of the current Widening Access agenda within Higher Education. The session then goes on to cover the details of contextual admissions policies which are designed to enable students from a wider range of different backgrounds to progress to university. Participants will learn how contextual admissions processes work, the sorts of factors which are considered to be 'contextual' and how students can best be supported through the process.

Preparing students for interviews and admissions tests

This session will cover some of the additional admissions tests which some universities and courses require. Participants will learn more about the tests, will try example questions and will be encouraged to think about how they can best support their students to succeed. The session will also look at how teachers and advisers can best prepare students for a university interview should they be invited to one.

If you are interested in booking any of the above sessions please contact your regional officer.
Faculty Focus
Our faculties and departments have provided specific resources for you here.
Faculty of Arts and Humanities

English - Resources from the School of English specifically designed for Y10 and Y12

---

History - Resources from the Department of History specifically designed for teachers

---

Philosophy - An Introduction to Western Philosophy podcast

---

Philosophy - The History of ethics podcast with Professor Angie Hobbs

---

School of Modern Languages and Cultures - A podcast on 'Kafka in Quarantine" from Dr Seán Williams, senior lecturer in German and European Cultural history

Faculty of Engineering

Science and Engineering Foundation Year - A course overview of the Science and Engineering Foundation Year , covering the student journey from the initial decision right through to employment.

---

Engineering - This is an animation highlighting the difference between A levels and foundation year and why it's worth the extra investment.

---

Flashy Science - FlashyScience's growing offering of interactive virtual experiments for Physics A-level and GCSE are now FREE to UK schools over the 2020-21 academic cycle (https://flashyscience.com/).

Accessible from home or school and complete with resources. We don't cover the complete curriculum yet but hope this will help. Email info@flashyscience.com with your email, school and required number of users, and we'll send log-in details.

---

ACSE

Dr Dana Damian from the Department of Automatic Control and Systems Engineering provides an exciting introduction to the subject area.
 

---

Aerospace session

Dr Jonathan Aitken shares information on Aerospace Engineering at the University of Sheffield.
 

---

Bioengineering

Dr Michael Trikic provides an introduction to Bioengineering. Sample lecture title "Implants, Devices, Drugs, Biomaterials? Is this Bioengineering?"
 

A Bioengineering student at the University of Sheffield delivers a presentation on all the different aspects of Bioengineering

---

Chemical Engineering

Dr Mark Ogden presented this taster lecture related to Chemical Engineering. titled "around the world with chemical engineering"

---

Civil Engineering

Dr Maurizio Guadagnini, Senior Lecturer in Structural Engineering delivers a sample lecture on Civil & Structural Engineering

---

General Engineering

Dr Andy Nichols from General Engineering shares more about this interdisciplinary degree course and provides an academic taster lecture on "Fluid Mechanics for Interdisciplinary Engineers"

---

Materials Science & Engineering

Dr Chris Holland shares more about Materials Science and Engineering. Sample lecture title "Secrets of Spider Silk"
 

---

Mechanical Engineering

Dr Julia Carrell shared details on Mechanical Engineering. Sample lecture title "Sustainability"
 

Faculty of Science

Faculty of Science video playlist - World class research and inspirational teaching in the fields of Biology, Chemistry, Physics, Mathematics and Psychology at The University Of Sheffield

Biosciences

Finding Mr. X - Forensic Facial Reconstruction
An extra-curricular activity suitable for students aged 14+ with an interest in how forensic anatomy can assist police investigations.
This free 4-week course is available on demand. Your students will learn about the forensic technique of facial reconstruction from the experts involved in a real crime case.
By the end of the course, they'll be able to describe the key muscle groups of the face, and identify basic information about a person from their skeleton and in particular, their skull.

Why are bird eggs different shapes?
A perfect teaching resource for introducing students aged 11+ to the concept of adaptations in animals.
Join Professor Tim Birkhead on Skomer Island to discover how bird's eggs have evolved, in this fascinating short video.

Why is Photosynthesis so inefficient?
An ideal teaching resource for introducing students aged 13+ to the challenges of food security and sustainability.
Join Dr Matt Johnson as he explains the importance of photosynthesis to all life on Earth, its shortcomings, and how it could be improved to help feed our growing global population in this short video. Couple this resource with the written feature "The future of food", to start a conversation about the ways in which researchers are approaching sustainable food production.

---

Chemistry

Dr Tim Craggs has shown that by using the photophysical properties of dyes, it's possible to measure distances within individual molecules of DNA and proteins. In this talk he gave to A Level students across the country, he explains how.

Edible Experiments with Dr Jo Buckley
Great as a teaching resource for students aged 13+.
Enthuse your students by exploring the chemistry behind certain foods, in these fun and easy-to-replicate "Edible Experiments".
Explore why mustard burns your nasal passages but chillies don't, the link between beetroot and camels, why you might taste boiled potatoes when you eat cheddar cheese or how beetles can make a surprising contribution to our food.
Watch the videos for an overview of the chemistry, then download the demo sheets to find ideas of how you can present them in your own classroom.

Web Elements
An interactive teaching resource for students aged 11+; ideal for extra reading or for completing homework.
Encourage your students to explore the chemical elements through this interactive periodic table. WebElements will teach your students all about the essential properties of each of the 118 known chemical elements, as well as other key trends such as electronegativity and ionisation energy.

---

Mathematics & Statistics

SoMas Challenge
An extra-curricular opportunity, ideal for students aged 16+ who love to sink their teeth into satisfyingly difficult maths problems.
These problems are designed for current undergraduate students, so they will be tricky! The challenge puts less of an emphasis on finding a complete, final answer to the problems, but rather will encourage curiosity, creativity and collaboration from your students.

Using food to make maths more digestible
Great as a teaching resource for students aged 14+.
Dr Eugenia Cheng - The Math-ster Chef - will enthuse your students with her collection of unique videos explaining mathematical concepts using edible examples. Explore a celebration of Pi (π) day, how to make the perfect cream tea, Battenberg cake, puff pastry and a Möbius strip bagel.

---

Physics and Astronomy

The sky above Sheffield
An interactive teaching resource, suitable for engaging students aged 11+ in astronomy.
View images taken by the Starlight Xpress Oculus All-Sky Camera on the roof of our Physics and Astronomy department to explore the sky above Sheffield. For daytime/bright twilight/very cloudy nights, also see the Sheffield Solar All-Sky Colour Webcam.

Sounds of the Cosmos
A perfect extra-curricular resource for students aged 14+ with an interest in astrophysics.
Join Professor Paul Crowther as he explains the science of outer space, backed by an orchestra performing Holzst's "The Planets", in this stunning collection of videos.

Life under the microscope
Ideal extra-curricular reading and homework activity for students aged 16+.
Three biological imaging experts explain the state-of-the-art microscope facilities and techniques being used by scientists at the University of Sheffield to solve global challenges like antimicrobial resistance. 

---

Psychology

Mind Matters
Extra-curricular activity for students aged 14+ with an interest in psychology.
Mind Matters is a talk series, which aims to bring psychological research to the public. This collection of lectures will teach your students about the research that goes on in the Department of Psychology, and the real life implications of that research.

Neurohacks
Extra-curricular reading for students aged 14+ with an interest in psychology.
Dr Tom Stafford from the Department of Psychology explores the psychology behind some everyday phenomena such as "Why do we need to sleep?" in this regular column for the BBC.

Faculty of Social Sciences

Geography

Time for Geography

Achieving energy sustainability: eco-homes, energy sources, efficiency adaptations and challenges
Professor Jenny Pickerill visits the innovative Hockerton Housing Project in Nottinghamshire to discuss how eco homes can help reduce the 15% of UK greenhouse gas emissions that come from residential housing.

Tectonics, lava and different types of volcano
Dr Tom Pering looks at how different types of tectonic activity affect the chemistry and the character of volcanoes.

UK food surplus and security in low income communities
Dr Megan Blake explores challenges to achieving food security for low-income communities in wealthy countries, where people struggle to access food that is healthy, affordable and meets their social needs.

Podcasts

Hazards and volcanic gas emissions with Dr Tom Pering
Can smartphone technology help geographers to monitor volcanic gases emissions? We discuss Dr Tom Pering's innovative research on hazardous landscapes.

Daniel Hammett: Development and geopolitics in sub-Saharan Africa
Dr Dan Hammett discusses development and geopolitics in sub-Saharan Africa and questions of the representation and perception of developing countries.

Peter Jackson: Food Security and Sustainability
Professor Peter Jackson talks about food security, the origins of the food we eat, and whether the UK could ever be self-sufficient in terms of its food production.

Smart Grids
Dr Ankit Kumar explains how the smart grid—an electrical grid where suppliers also receive data back from customers to help them distribute electricity and avoid power outages—can help supply electricity in a climate-friendly, cost-efficient way.

Rob Bryant: Global Dust Cycle
Dr Rob Bryant discusses how dust from the Sahara fertilises the Amazon Rainforest, and how dust can get into the atmosphere and shape our climate.

Other videos 

Volcanoes: from inception to eruption
Dr Tom Pering considers the volcanic journey from the birth of a volcano, the styles of activity, what controls the differences in behaviour, to the associated hazards we see at different locations.
Connect with us
Be the first to know about activities at the university as well as support that we can provide to you and your students.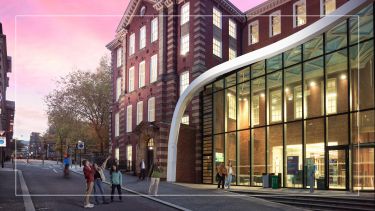 Visit us
Discover what sets Sheffield apart at our undergraduate open days on the Saturday 21 October or Saturday 18 November.