Access to Sheffield (Y12-13)
Making a decision about what to do after school or college will involve some big choices. One of the biggest questions you will need to answer is whether university is right for you.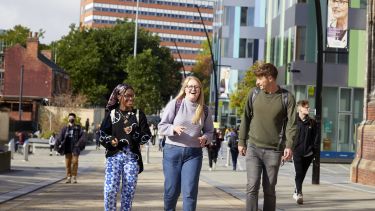 Off
---
That's why we've created Access to Sheffield - to give you the University of Sheffield experience and the knowledge to help you make an informed decision. 
Access to Sheffield (Y12-13) has been tailor made to give you the experience of what it is like to be a student at Sheffield. We have five subject and career programmes so that you can apply to the one that best suits your interests.
---
Skills Builder
The Skills Builder framework is embedded into all of our programmes as part of a sequential, skills-based curriculum. Our programmes provide opportunities for students to practise and demonstrate essential skills, to develop their academic confidence and self-efficacy. Through participation, students will reflect on their own skill set and the importance of skills for academic success, in order to support their personal development and progression to higher education.
Access to Sheffield (Y12-13) has been accredited by Skills Builder as an Impact Level 4 programme: Progressing in essential skills.
Mentoring
Participants will also have the opportunity to apply for a University of Sheffield student mentor throughout the duration of the programme. 
Our student mentors will support participants through 1:1 mentoring sessions that take place virtually within our online platform, Blackboard. The sessions will help participants to explore higher education, raise attainment, further develop their skillset in line with the Skills Builder Framework and help with their transition towards university.
UpLearn
Students on our Access to Sheffield (Y12-13) programmes can apply for a free UpLearn licence. UpLearn is an online learning platform which is personalised to each student. It provides resources such as interactive video lessons, quizzes, past papers and a progress tracker. 
Six subjects are available: chemistry, physics, maths, economics, psychology and biology. Students will have the chance to apply for a licence in one of the subjects. If a student isn't taking any of the subjects above, they can still partake in study skills sessions that are provided as part of the programmes.
---
Contact us
accesstosheffield@sheffield.ac.uk
0114 222 1027 
Connect with us
Be the first to know about activities at the university as well as support that we can provide to you and your students.