To support students to develop the skills required for academic success, we are working with the Skills Builder Partnership to embed their Universal Framework into our widening access activities.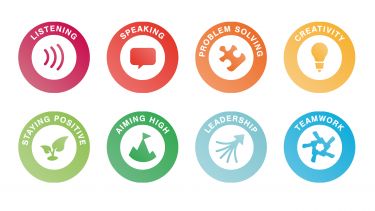 Off
The Skills Builder Universal Framework is the product of five years' cutting edge research and design, incorporating eight essential and highly transferable skills: 
Listening
Speaking
Problem solving
Creativity
Staying positive
Aiming high
Leadership
Teamwork
Utilising the framework, we have built a sequential and skills-based curriculum across all our widening access programmes, allowing students to practise, demonstrate and build their essential skills. 
Each of our programmes has a unique skills focus, enabling students to progress through a series of skill steps to break down their learning into achievable goals. Our aim is to improve students' academic confidence and self-efficacy as we support them to reflect on their development and measure their success. 
Through participating in our programmes, students will learn how to apply skills in practice and understand the importance of skills for academic success and progression to higher education. 
We are proud that our widening access provision has been accredited by Skills Builder for demonstrating best practice in building essential skills, with all sustained engagement programmes achieving Impact Level 4: Progressing in Essential Skills.
To learn more about the Skills Builder Partnership, discover how skill building can be incorporated in the classroom, and explore the framework, visit the Skills Builder website. 
---
Connect with us
Be the first to know about activities at the university as well as support that we can provide to you and your students.