Access to Sheffield (Y9-11)
Access to Sheffield (Y9-11) is an exciting, aspiration raising programme for pupils in Years 9-11, who have the potential to go to university but are from backgrounds that are underrepresented in higher education.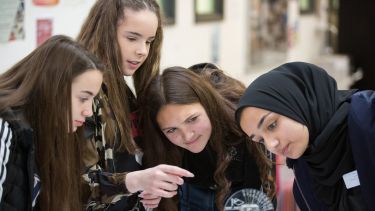 On
On this exciting programme you'll discover the University of Sheffield and find out what it's really like to be a student with us.
Access to Sheffield (Y9-11) allows you to sample different subjects and find out about the courses that all five of the University faculties have to offer - from Social Sciences, Arts & Humanities and Engineering, to Science and Medicine, Dentistry & Health.
You'll be invited to the University nine times over the course of Years 9, 10 and 11 to take part in mini-lectures, subject tasters and explore different courses and careers. We'll even help you find out how your subject choices at GCSE and Post-16 can open doors to a wide range of different professions and opportunities.
You'll also explore the fun and social side of university life, having the opportunity to attend an overnight Student Experience residential where you'll stay in our modern student accommodation with your new friends and learn about student life from our current undergraduates.
Our fantastic student ambassadors will be on hand throughout the programme and can share their first hand experiences with you.
All activities will encourage you to develop confidence, problem-solving skills and your ability to work with others. In other words - the skills necessary to be successful at university, and in whatever you go on to do in the future!
Skills Builder
The Skills Builder framework is embedded into all of our programmes as part of a sequential, skills-based curriculum. Access to Sheffield (Y9-11) provides opportunities for students to practise and demonstrate essential skills, to develop their academic confidence and self-efficacy. Through participation, students will reflect on their own skill set and the importance of skills for academic success, in order to support their personal development and progression to higher education.
Access to Sheffield (Y9-11) has been accredited by Skills Builder as an Impact Level 4 programme: Progressing in essential skills.
Mentoring 
Some schools will be offered the opportunity for their participants to receive a University of Sheffield student mentor within Year 9 and Year 10 of our new programme.
Our student mentors can support participants through 1:1 mentoring sessions within school to explore higher education, raise attainment and develop skills in line with the Skills Builder Framework. 
---
Year 9
Welcome event

A welcome event for you and your parents/carers to find out more about the University and the programme. 

Two practical experience days

Two practical experience days which include a tour of the University campus, hands on subject taster sessions and an activities day designed to introduce you to the University's faculties and the wide range of courses available at Sheffield.
Year 10
Two practical experience days 

The two practical experience days include career planning activities, more exciting hands on subject taster sessions and an introduction to student finance and money management.

The Student Experience

An overnight residential stay in the University's student accommodation with lots of opportunities to develop team working, problem-solving and communication skills in student life activities and an enterprise challenge.
Year 11
Two practical experience days

Two practical experience days including a workshop to help you develop critical thinking and research skills, a unique mini lecture experience delivered by a real University lecturer, a note-taking skills activity and the opportunity to take part in more practical subject taster sessions.

Celebration and graduation event

A celebration event for you and your parents/carers to look back on your achievements from the programme. As part of this exciting evening you'll 'graduate' from the programme on the very same stage our University graduates collect their degree certificates from.
---
Access to Sheffield (Y9-11) is for students from target groups who are currently underrepresented in Higher Education. 
GCSE requirements
You need to be on track to achieve a minimum of five GCSEs at grade 9-6, plus English at grade 4 (if not already included) by the end of Year 11. 
This may include Level 2 BTEC equivalents at Distinction.
Students must meet one or more of the following criteria in addition to the academic requirements detailed above.
Category 1
Priority will be given to students who are:
care experienced
young carers
experiencing estrangement
a forced migrant
Category 2
Further consideration will be given to those who meet any of the following: 
Are eligible for Free School Meals
Live in an area of Low Participation Neighbourhood (measured by TUNDRA data)
Are from an ethnic/gender/socioeconomic group currently underrepresented in HE
Each application will be considered on a case-by-case basis.
---
Pupils can apply for the programme at the start of Year 9. There will also be a Year 10 intake for 2023 only.
If you are a pupil or the parent/carer of a Year 9 or Year 10 pupil, you will need to contact your school and ask to speak to the Access to Sheffield (Y9-11) co-ordinator.
Information is sent to schools in September each year. Schools must register to be able to submit applications online for the University of Sheffield's Outreach Programmes.
---
Contact us
9-11.accesstosheffield@sheffield.ac.uk
0114 222 1027
Connect with us
Be the first to know about activities at the university as well as support that we can provide to you and your students.