The University of Sheffield's Security Services are committed to keeping students, staff and visitors safe and secure, on campus and beyond.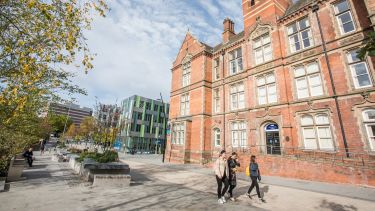 Security Services operates a 24-hour control room monitoring CCTV, fire, intruder, panic and lift alarms across the campus and student residences, as well as being a visible deterrent to prevent criminal activity.
Security patrol staff provide a first-response service to incidents including fire and intruder alarm activations, noise complaints, reports of possible medical emergencies including those suffering from mental health issues.
The team is trained to the highest standards in areas including first aid, mental health first aid, search of person and area, scene of crime preservation, communication skills, cycling proficiency, vehicle training and hate crime incidents.
This ensures that each officer is effective in carrying out their duties so staff, students and visitors can feel reassured and safe whilst at the University.
Our campus wardens are also trained to a high standard to enable them to provide an effective patrol service across all areas of our campus and student residences car parking sites. Their knowledge of the University Parking Policy is paramount to ensure this can be enforced in line with University regulations.
Communication with staff, students and visitors at all levels is carried out on a daily basis again to ensure they feel reassured and safe whilst working, studying at or visiting the University.
The diversity of the Security Services team reflects, as far as practicably possible, the University community. We pride ourselves on fairness, transparency, privacy and decency. We are further trained in equality, diversity and unconscious bias.
Contact us
In case of emergency call: +44 114 222 4444
In non-emergencies: +44 114 222 4085