Primary Medical Care research
Our research seeks to understand and improve the ways that health services work for patients in the community. Our research has three main themes: underserved populations, translational neuroscience, and data for healthcare delivery.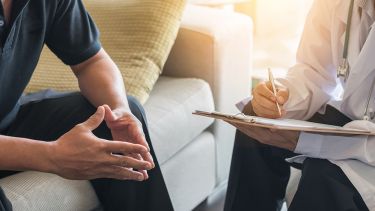 Off
Underserved populations
This theme focuses on developing and testing primary care interventions for people living in the most deprived and diverse communities or with complex needs and their practitioners. Work in this theme includes: improving uptake of cancer tests; understanding the role of social prescribing; interventions to prevent type 2 diabetes for people; physical health care, with a focus on lung health for people with severe mental illness or drug dependence. We work closely with the 'Deep End' Sheffield Cluster Research Network  (10 practices , 63,000 patients) which serves the most socioeconomically deprived and ethnically diverse practice populations in Sheffield. The clinical research is complemented by a strong medical education research and knowledge exchange theme to embed evidence into teaching and practice. The theme is led by Dr Caroline Mitchell and Dr Ben Jackson.
Translational neuroscience
This theme focuses on applying scientific research into the links between body, brain and health into community settings. It includes research to understand and manage persistent physical symptoms / functional disorders led by Prof. Chris Burton, and services for people with epilepsy and dementia led by Dr Jon Dickson. We work closely with colleagues in clinical neurology and SITraN. The unit has been selected to host one of 15 PhD studentships in Functional Disorders through the EU Marie Sklodowska-Curie Innovative Training Network.
Data for healthcare delivery
This is a cross-cutting theme which uses routine large healthcare datasets to understand issues of service delivery. Recent work has included data studies of urgent care use, respiratory disease and drug misuse, and variation in referrals from GPs for suspected cancer.
Our research methods
Our research uses a wide range of methods, from in-depth qualitative interviews, through large-scale data analysis, to randomised controlled trials. In all our research we work in close collaboration with clinicians, patient advisors and with academics in other disciplines from the Sheffield Centre of Health and Related Research (SCHARR) and elsewhere in the School of Medicine and Population Health.
Grant income and publications
Since 2016, Prof Burton and Drs Mitchell and Dickson have been awarded research grants totalling £1.98M as lead investigator and £5.1M as co-investigators. In the same period, they have had over 100 peer reviewed publications. For details, please see individual pages.
Study and research with us
We currently provide supervision for 8 PhD students and are keen to host further research students at PhD, Masters and Intercalated BSc level, particularly on research relating to our key themes. We use a range of quantitative and qualitative research methods, working in collaborations across disciplines and university departments, and so provide a broad-based research training for our PhD students. For more information, please e-mail either Prof Chris Burton, Head of Department or Dr Jon Dickson, Postgrad Research Lead.
Our researchers
Kate Fryer
Victoria Hodges
GP practice research networks
We work closely with the NIHR Clinical Research Network, with NHS Sheffield CCG and Primary Care Sheffield to promote the delivery of research in general practice. There are several clusters of practices involved in research in Sheffield within the NIHHR Clinical Research Network. These include Sheffield Primary Care Research, comprising 10 practices with over 100,000 registered patients (https://www.sheffield.ac.uk/media/5304/download) and the DeepEnd research cluster which is unique in involving GP practices serving the most deprived 10% of the population.
Flagship institutes
The University's four flagship institutes bring together our key strengths to tackle global issues, turning interdisciplinary and translational research into real-world solutions.