Transport makes up 33% of UK carbon emissions - more than any other activity. Reducing our reliance on polluting transport methods is vital to tackling the climate emergency and improving air quality.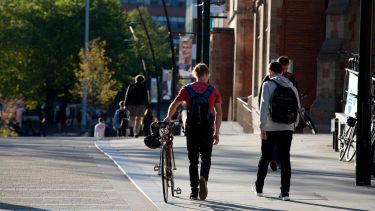 The University of Sheffield aims to make sustainable and active modes of transport the easiest option when getting to and around campus and also when travelling on University business. This will not only reduce our Scope 3 emissions associated with travel, but also help to improve the health of staff and students.
---
Cycling and walking
36%* of our staff and 80%* of students either walk or cycle to campus - well above the national average of under 15%. 
Development of our campus is aimed at making it easy to get about by foot and bike. We've recently pedestrianised large areas, built dedicated cycle routes and installed new crossings across major roads to help connect different areas of campus. We work closely with Sheffield City Council to continuously explore new ways of making campus safer and more pleasant. A new scheme will soon connect campus cycle routes with the city centre, providing a safe and segregated route from Sheffield Train Station and other city centre locations. 
We have over 2600 cycle parking spaces on campus and at our residences, including 168 in our secure Cycle Hub, which is free for staff and students to use. We're planning to build two more hubs over the next few years, including 250 spaces at our new Social Sciences building.
We're part of the national Cycle To Work scheme, which helps staff with the cost of buying a bike. We offer staff and students cost-price bike repairs and upgrades through our Cycle Hut. 
*2019 Travel Survey
---
Cars and fleet
Although only 24%* of our staff drive to work, we're always working to further reduce car use. Parking permits for our car parks are issued on a strict basis of need and we actively promote alternative forms of travel.
Our student residences and the main student residential areas are all within easy walking, cycling and public transport distance of campus, so we actively discourage students from bringing cars to Sheffield, reducing air pollution and pressure on parking in local communities.
We operate a number of electric cars in our fleet, available to staff to hire at no costs for travel between sites. Overall, our fleet is currently 46% electric - something we'll be increasing rapidly in the coming years as more electric commercial vehicles become available.
We have a number of electric vehicle charging points on campus and will be installing four more at our new Social Sciences building, available for use by staff and visitors.
*2019 Travel Survey
---
Public transport
The University is well connected by Sheffield's bus and tram network. The University uses its buying power to offer staff cut-price public transport tickets and new members of staff can receive a month's free travel to help establish the habit of using public transport to commute to work.
Students are able to access a number of cut-price tickets for public transport, including on routes to help them explore the nearby Peak District.
---
Flying
Reducing flying is one of the biggest impacts an individual can have on their personal carbon emissions. However, flying is also essential for international students and for many academic projects, which are often involved in researching sustainability. 
At Sheffield we are looking at how we can reduce the amount of flights taken on University business, while recognising that they are often vital to our globally important research. Working with expert academics in our Department of Geography, we are looking at ways to make it easier for staff to book surface travel, for example by train, to European destinations, while all but eliminating flights within the UK. 
We're also working to ensure the University has the latest video conferencing technology, reducing the need to travel for meetings.
 
Our sustainability strategy
We have set the principles and direction for our sustainability strategy