We've been making progress to embed sustainability into everything we do at the University.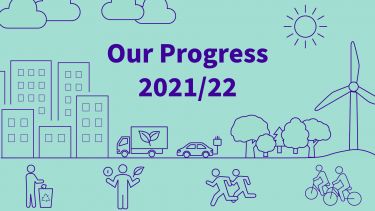 Off
We're committed to ensuring our sustainability progress is publicly available and transparent. Below are the highlights of our progress during the last academic year.
Key achievements in the 2021/22 academic year
Reduced emissions by 37% since 2018
Completed £700k of energy projects that range from LED lighting improvements to steam system upgrades and even a new pool cover. These projects are expected to save circa 2,000MWh of energy per year, roughly equivalent to 135 UK homes.
Added around 1,000 additional energy meters to central monitoring systems that will help us manage energy consumption across our estate and highlight opportunities for energy savings.
Developed and implemented our new Sustainable Buildings Standard, ensuring all future developments of campus abide by strict sustainability standards
Planted an additional 400 trees, bringing the total number of trees on campus to around 10,400  
Completed three new pocket parks on campus to improve biodiversity and aid wellbeing
1200 staff and students have used the Betterpoints app, helping to avoid around 700t of CO2 by walking over one million miles and cycling over six million miles
90 staff took part in our free ebike trial, with around 30 going on to buy an ebike for commuting
Updated our Travel Plan to place a greater emphasis on sustainability
Installed two community fridges at our student residences to help students share excess food  
Reached £1m raised for the British Heart Foundation since 2013 through our end of term donations scheme
Maintained our £0 invested in fossil fuels and increased percentage of positive investments 
Launched our new procurement strategy, which embeds circular economy thinking into buying decisions . 
Appointed a new Academic Lead for ESD to continue work to embed our Five Step Framework for ESD into all courses  
Reduced our use of plastic milk bottles by 25,000, thanks to the use of stainless steel milk churns in three of our cafes. 
Reduced single-use cup waste in our cafes through our Vytal reusable packaging scheme 
Track our progress
Our completed, ongoing and planned actions are tracked on our live sustainability action plan.
Achieving the SDGs
We're working to have an impact against all of the UN's Sustainable Development Goals (SDGs).
Our sustainability strategy
We have set the principles and direction for our sustainability strategy