Buildings and Infrastructure
The University of Sheffield has a wide variety of buildings throughout Sheffield city centre and west Sheffield. These are a blend of modern buildings such as the Diamond, our home for engineering, and iconic and historic buildings such as the Arts Tower and Firth Court.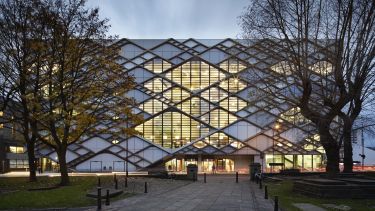 Sustainable Buildings Standard
Our estates capital building projects, including new academic and research buildings, residential development, major refurbishments as well as smaller works are governed by our Sustainable Buildings Standard.
The standard sets out:
A vision and framework for sustainable development on capital projects
Specific sustainability design standards for capital projects
Sustainability actions aligned with each RIBA stage of project delivery
Key responsibilities in the delivery of projects
Download our Sustainable Buildings Standard
---
Retrofitting
We are are constantly monitoring our estate and looking at the most appropriate options for retrofitting. These decisions include fitting appropriate new technologies to reduce our energy consumption, replacing traditional lighting with LEDs, eliminating drafts and insulating buildings appropriately.
Sheffield's Urban Flows Observatory, a cross collaboration of academics from the University, have developed innovative new technologies to identify buildings that are energy inefficient. This technology is being used to benefit Sheffield City Council by mapping the efficiency of council buildings and properties. We will be working with the Urban Flows Observatory to identify where we can benefit from their approach and technologies.   
---
Infrastructure 
We have creative technologies and efficient design embedded throughout our campus. For example as part of the IC and Diamond buildings we harvest rainwater that is then collected in an underground tank and re-used throughout the building, reducing our water use. During our concourse redevelopment in 2018 paving slabs were made largely of recycled materials, reducing the embodied carbon of the project. 
---
Current Developments
The University is currently building a new Social Sciences building, which has sustainability embedded throughout its design. 
We are confident that the Social Sciences building will achieve an 'Outstanding' grade from the Building Research Establishment Environmental Assessment Method (BREEAM). The sustainability features include the innovative use of local materials with long life cycles to reduce the building's waste and embodied carbon. With a focus on interdisciplinary work and mental wellbeing, the building will be largely made out of glass. This has also reduced the amount of lighting required during the building's operation. Double glazing has been deliberately chosen over triple glazing as with this specific building design, it is the lower carbon option.
A Geo-Exchange System will be installed below ground to maximise the opportunity created by thermal warmth: providing cooling in the summer and heating in winter. A heat-conductive liquid will be circulated through boreholes into the earth, picking up or getting rid of heat depending on the time of year. Using low-carbon electricity, the heat pump concentrates this heat and circulates it throughout the building, but it can also operate in reverse, collecting heat from the building's air and expelling it into the ground. When necessary a Gas CHP will be used to top-up the heat, the CHP will also provide some electricity when it makes carbon sense; when the electricity is cleaner than that of the grid.  
Our sustainability strategy
We have set the principles and direction for our sustainability strategy