A Sheffield Made sustainable future
Our sustainability research is helping to find practical solutions to local, national and global sustainability challenges, creating a sustainable future for everyone.

Here's a flavour of some of the work being done right here in Sheffield.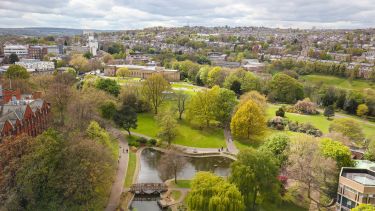 Off
Sheffield Made
Steeped in industrial heritage, Sheffield may feel like an unlikely hub at the centre of a green sustainable revolution. Once the steel-making capital of the world, famous for its cutlery trade, the city is now ranked the UK's greenest city. Estimated to contain over 4.5 million trees – more per person than any other city in Europe – and boasting 250 parks, woodlands and gardens, Sheffield is home to numerous renewable energy sites which generate hundreds of gigawatts per hour of electricity and is leading the way in the country's green industrial revolution. 
Ambitious and groundbreaking research from the University of Sheffield is a catalyst, helping the steel city to forge ahead with inventive solutions to the biggest environmental challenges. 
Researchers at the University of Sheffield are passionate about tackling the key issues facing humanity and recognise that effectively addressing these complex challenges requires interdisciplinary and translational research – taking academic research and turning it into real-world solutions. 
The aims of COP – securing net-zero emissions, adapting our communities and natural habitats for climate change and mobilising financial resources to fight the climate – are crucial to our collective health, wellbeing and livelihoods

Professor Duncan Cameron

Professor of Plant and Soil Biology and Co-Director of the Institute for Sustainable Food
From harvesting solar power for electricity and crop production, to propelling the UK to jet zero emissions with sustainable aviation fuels, the University is leading the way with novel sustainability research which will support world leaders, policymakers and climate experts from over 200 countries attending the UN Climate Change Conference, COP27, taking place in Sharm el-Sheikh, Egypt. 
---
The future of our food
The world is fast approaching the limit of its ability to feed itself. One in nine people will go to bed hungry tonight and millions of UK residents struggle to access food, yet the global population is set to reach 10 billion by 2050.
In an uncertain climate and global environment, this is one of the most significant threats facing humanity. However, it is a problem we can solve. 
The Institute for Sustainable Food at the University of Sheffield is committed to overcoming this challenge using cutting-edge science.
Duncan Cameron, Professor of Plant and Soil Biology and Co-Director of the Institute for Sustainable Food said: "The aims of COP – securing net-zero emissions, adapting our communities and natural habitats for climate change and mobilising financial resources to fight the climate crisis – are crucial to our collective health, wellbeing and livelihoods. 
"Frankly, our entire way of life depends on the success of our action to tackle climate change.
"In 2015, I attended the COP21 meeting in Paris where I helped to sound the alarm for our soils. As a Professor of Soil and Plant Biology, I have been investigating ways to secure a sustainable global food system for a number of years. We used our platform at COP to highlight how our soils are being destroyed; nearly 33 per cent of the world's arable land has been lost to erosion or pollution in the last 40 years and vital action must now be taken to prevent the devastating knock-on effects. COP27 is another chance to sound the alarm bell."
---
Greenshoots of hope
With 24 per cent of all global greenhouse gas emissions generated by agriculture and an estimated 86 per cent of plant and animal species at risk of extinction, it is clear that the way we produce our food urgently needs to change.
Professor Cameron believes that research can provide new hope in our fight against climate change. 
"There are some greenshoots of hope in our fight against climate change. Working at the University of Sheffield, I see transformational research into sustainable food systems, clean energy solutions, green technology and so much more," he said.
"Research has the power to be transformative. At the Institute for Sustainable Food at the University of Sheffield we are looking at the solutions to our food crisis from farm to fork. For example, we led a unique investigation into the potential for urban food growing, showing that urban based gardens could provide 15 per cent of a local population with their 'five a day'. 
"In the face of the immense collective challenge of climate change, universities, working together with our partners in business and civil society, can play a key role in any future transformation. They are just one set of tools we need to mobilise for and beyond COP27 if we are to create a just and sustainable world."  
---
Farming crops with rocks to reduce CO2
Resilient and sustainable agriculture is vital to the future of UK food production. At the University of Sheffield, researchers have been assessing the effectiveness of farming crops with crushed rocks to capture CO2 from the atmosphere. 
With £4.7 million funding from the government, the innovative research will investigate the use of enhanced mineral weathering, or amending soils with crushed calcium and magnesium rich silicate rocks to accelerate natural CO2 capture processes, while improving and sustaining the fertility of soils for UK crop production and decarbonising the food system.
Professor David Beerling, Director of the Leverhulme Centre for Climate Change Mitigation at the University of Sheffield who is leading the research, said: "Human societies have long known that volcanic plains are fertile, ideal places for growing crops without adverse human health effects, but until now there has been little consideration for how adding further rocks to soils might capture carbon.
"This study could transform how we think about managing our croplands for climate, food and soil security. It helps move the debate forward for an under-researched strategy of CO2 removal from the atmosphere – enhanced rock weathering – and highlights supplementary benefits for food and soils.
"The magnitude of future climate change could be moderated by immediately reducing the amount of CO2 entering the atmosphere as a result of burning fossil fuels for energy generation. Adopting strategies like this new research that actively remove CO2 from the atmosphere would contribute to this effort and could be adopted rapidly."
---
A global community
Through over 80 research projects in over 30 countries, researchers at the University of Sheffield are working in partnership with universities, businesses and communities across the world, towards a sustainable equitable future for everyone.
The impact of our work has already resulted in positive change and is helping to achieve the United Nations Sustainable Development Goals. But there is still much more that needs to be done to mitigate the worsening effects of the climate crisis and improve quality of life. 
Researchers at the University of Sheffield's School of Biosciences have been harnessing the power of sunshine through an innovative project to address East Africa's energy challenges. 
---
Harvesting the sun twice
Many locations in East Africa have high light intensity, high temperatures and low rainfall, but are not suited to benefit from traditional ground-mounted arrays of solar panels which miss opportunities to deliver livelihood benefits in addition to electrical supply. In some cases, the ground-mounted solar panels remove land from food production, and at a time when crop yields are threatened by a changing climate, increasing populations and insecure land ownership, which risks putting further pressure on land resources. 
The Sheffield team has established innovative agrivoltaic energy systems as a potential solution which can combine the delivery of solar electricity, crop production, and rainwater harvesting on the same land area. 
Instead of being mounted close to the ground like traditional solar power arrays, agrivoltaic systems are constructed several meters high, with gaps between the arrays, enabling crops to be grown underneath.
Dr Richard Randle-Boggis, Research Associate from the University of Sheffield School of Biosciences, explains why the initiative funded as part of the UK Research and Innovation (UKRI) Global Challenges Research Fund (GCRF) Collective Programme is so vital to communities in East Africa.
"Two-thirds of the population of East Africa don't have access to electricity. That's hundreds of millions of people who don't receive the benefits of electrification such as being able to power a fridge to store food or to store medicine, or lighting to study in the evening. 
"On top of the energy insecurity in the region there is also significant food insecurity in East Africa. 75 per cent of farmers rely on rainfall for their agricultural practices, but as we all know climate change is happening. What this means for communities in East Africa is the average daytime temperatures are going to increase and rainfall is going to become more unpredictable. 
"Unfortunately this means major group yields are going to decrease by eight to 45 per cent by 2050 under a medium emissions scenario. On top of this the population has grown 72 per cent over the last 20 years which means there is even more demand for people to have access to electricity and people who need access for safe and nutritious food." 
Working with African solar developers and a Kenyan agribusiness company, as well as non-governmental organisations, regional political organisations, local communities and workers, researchers have identified project implementation sites in Kenya and Uganda. 
It is hoped agrivoltaic technology can lead to improved access to energy and increased incomes through production of higher-value crops as well as identify the barriers within local communities to the uptake of the technology.
---
Pesticide paradox: creating an acceptable killer
Pesticides are a key part of modern agriculture, but with often unpredictable effects damaging crucial elements of our ecosystem, where does regulation draw the line? Professor Lorraine Maltby, Professor of Environmental Biology from the University of Sheffield's School of Biosciences, has been addressing how we can mitigate ecological harm by changing the way we think about our environment.
The abundance of food that awaits us at every trip to the supermarket simply wouldn't exist if not for the chemical concoctions destroying the unwanted organisms that harm crops. But their misuse can often have destructive consequences.
The problem is pesticides are damaging by nature. Professor Lorraine Maltby explains: "Pesticides are designed to be biologically active and can therefore adversely affect biodiversity and the benefits people derive from ecosystems. That means there's no such thing as a truly safe pesticide – a safe pesticide is one that doesn't work."
That begs the question: what's an acceptable effect for a pesticide and what isn't? In using pesticides, can we ever be sure we won't be affecting the life around us?
Published by the European Food Safety Authority, the latest guidance document on the environmental risks of pesticides in aquatic ecosystems has drawn on scientific developments to improve risk assessment, including research by Professor Maltby and her team at Sheffield.
The guidance has been applicable to any EU member state wanting to register a pesticide since 2015 and by March 2020, 22 per cent of pesticide registrations submitted to the EU were not approved for use due to unacceptable environmental impacts identified using this guidance. Among its effects, the guidance has identified specific goals for protecting aquatic life as well as informed key decisions for risk assessors. It will steer us towards solving the puzzle of how to use pesticides to deliver the effects we want at minimal cost to the planet.
And it's a new approach to answering the fundamental question of 'acceptable effect' in pesticides.
Since 2003, Professor Maltby and her team have been building up an evidence base to better equip the world with dealing with these chemicals. As well as laboratory experiments and field investigations into how pesticides affect both single species and communities of different organisms, studies were also conducted in model mimics of freshwater ditches.
Using information gathered from literature and industry files, it was also possible to carry out modelling and analyses to predict the effects and sensitivity of these species to pesticides under realistic conditions.
It's this focus on working from a real-life framework that really matters, that has formed the basis for Professor Maltby's work on the document.
Weighing up these ecosystem services with the other considerations – the human, the economic, the social – and relating it to what people need and care about may at last allow us to start thinking about pesticides in a holistic way.
---
Propelling the UK to jet zero
Sustainable aviation fuels are vital to reducing the UK's carbon emissions and the commitment to keep global warming increases within 1.5 degrees celsius. 
The UK aviation industry is responsible for around seven per cent of total UK carbon emissions, a number which is growing fast. Making sustainable aviation fuels a viable commercial option for the aviation sector could reduce UK emissions in 2050 by 32 per cent. 
SAF-IC will help the UK to determine the best pathways to net zero aviation, and play a crucial role nationally and internationally in delivering truly sustainable flight.

Professor Mohamed Pourkashanian

Director of the University of Sheffield Energy Institute and Managing Director for the Sustainable Aviation Fuels Innovation Centre
Achieving what has been termed 'jet zero' means transforming all aspects of aerospace manufacture and supply chain. Our world-leading facility, the University of Sheffield Advanced Manufacturing Research Centre (AMRC), part of the High Value Manufacturing Catapult, is helping to do just that – by developing new concepts with industry, scaling up production and deploying globally competitive new methods of manufacture.
The University of Sheffield's Energy Institute is also cementing its commitment to act in this area by breaking ground on a new centre that will lead research, innovation and commercial testing of sustainable aviation fuels, part-funded by the European Regional Development Fund.
The new Sustainable Aviation Fuels Innovation Centre (SAF-IC) will allow the capture of CO₂ and green hydrogen, convert them into sustainable aviation fuels and analyse their performance all in one single location. This provides the missing link to help producers of sustainable aviation fuels bring their products to market. Having such a facility in the UK will accelerate regulatory approvals of new fuels and give the UK certification capabilities. 
The centre is part of the University's Energy Institute, which carries out research across a wide range of fields including energy generation, use and storage, and carbon capture, utilisation and storage technology. Working with industry partners and government to find solutions and translate pioneering research into tangible impact, the Institute focuses on six research pillars; electrical energy storage, nuclear, circular economy, wind, conventional power and hydrogen. 
Director of the University of Sheffield Energy Institute and Managing Director for the Sustainable Aviation Fuels Innovation Centre, Professor Mohamed Pourkashanian, said: "SAF-IC will help the UK to determine the best pathways to net zero aviation, and play a crucial role nationally and internationally in delivering truly sustainable flight. 
"One of the most unique and critical aspects of SAF-IC is that the centre will be the first of its kind to research fuels which are made without any fossil fuels in the process, including improving understanding of how we can use bioenergy with carbon capture and storage (BECCS) to make a negative emissions fuel. 
"SAF-IC will enable businesses and academics to drive forward their research and technology at a swift pace thanks to its technical and clearing house abilities, allowing the nation to work in line with the targets set by the Department for Transport for net zero emissions from aviation by 2050."
---
Making an impact locally and globally
At the University of Sheffield our Grantham Centre for Sustainable Futures has pioneered a unique combination of training, research and experience for the next generation of sustainability researchers to ensure our students are ready to tackle the challenges of climate change well before they graduate.
The Centre brings together experts from academia, business and policy to create a more sustainable future through innovative real-world solutions to make an impact both locally and globally.
From co-creating sustainable solutions to life at the Zaatari refugee camp such as recycling old mattresses to make hydroponic systems, to using recycled plastic to improve the global soil crisis – The Grantham Centre takes what might seem counterintuitive ideas into tangible solutions.
On a local level The Grantham Centre helped forge an innovative partnership with a Sheffield farm to help reduce plastic waste in University cafes by 87,000 single-use plastic bottles a year.
By switching to milk churns from local dairy farm Our Cow Molly, the carbon footprint of milk delivery to the University has been dramatically reduced by over 65 per cent – equivalent to 6.5 tonnes of CO2 every year.
Dr Rachael Rothman, Co-Director of the Grantham Centre for Sustainable Futures and Academic Lead for Sustainability at the University said: "It is so important we work together to reduce single use packaging and this project is an excellent example of how impact can be achieved by interdisciplinary, collaborative working. It is fantastic to see the milk churns in action in University cafes, reducing the carbon footprint of the milk delivery by over 65 per cent. We are continuing the research, investigating how to make the cleaning processes as efficient as possible and hope to roll out reusable churns across the city."
---
Investing in the future
Six Grantham Scholars are attending COP27 in Sharm el-Sheikh to represent some of the diverse work being cultivated in Sheffield which is making a significant impact across the globe. From engineering, bioscience, water and energy the Scholars will meet with world leaders, climate experts and policy makers to help influence how we can all work together to mitigate the effects of climate change on our planet.
Grantham Scholar David Rapley from the University of Sheffield's School of Biosciences, is studying ways to increase resistance in rice to a parasitic weed. David attended last year's Conference of the Parties - COP26 held in Glasgow and used the opportunity to immerse himself in the epicentre of climate change policymaking that is working together to mobilise and deliver on net zero, protection of communities and habitats and reaffirmation of COP pledges.
"Global food demand is set to increase by 70 per cent by 2050. Plus it is one of the main drivers of climate change," said David.
"I research the genetic mechanisms behind rice resistance to the parasitic weed, Striga hermonthica. Striga causes devastating cereal crop yield losses of 40-100 per cent. And it causes an economic yield loss of up to USD seven billion, affecting the poorest subsistence farmers in sub-Saharan Africa.
"Identifying and utilizing the genetic basis of crop resistance to Striga is arguably one of the most durable methods of dealing with Striga and its challenge on food security.
"The eyes of the world will once again be on the climate change decisions made by the global powers. I am especially keen to hear their pledges and to see how far the international community has come in addressing these challenges."
The eyes of the world will be on Sharm el-Sheikh for COP27, but finding practical solutions to global food, energy and climate challenges creating a sustainable future for everyone is the future, and it will be Sheffield Made.
Contact
For further information please contact:
Our sustainability strategy
We have set the principles and direction for our sustainability strategy 
Flagship institutes
The University's four flagship institutes bring together our key strengths to tackle global issues, turning interdisciplinary and translational research into real-world solutions.