100% of the electricity we buy is generated by solar, hydro and wind power.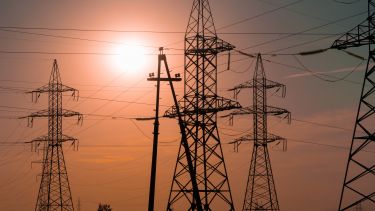 Electricity 
The University is a large consumer of electricity. We know that as a socially responsible organisation, we must also ensure that we embody the values that we champion on campus. In May 2020, we signed contracts to purchase electricity from Bryt Energy, a 100 per cent renewable electricity supplier, to power all of the University's research, teaching and administrative buildings in Sheffield and at our Advanced Manufacturing Park. 
This means that the electricity we buy for campus is sourced entirely from solar, hydro and wind power generation. Biomass does not form a part of our electricity supply.  
Electricity is the University's largest contributor to its direct carbon emissions. Moving to truly renewable electricity, and signing with a company that is dedicated to adding further renewable generation, was a big step on our journey to becoming a carbon-neutral university.
The climate emergency demands that we explore new ways of thinking. As well as greening our supply, we are constantly retrofitting buildings to maintain the highest efficiency standards and encouraging behaviour change in our staff and students. All of our new buildings are constructed with energy efficiency considered throughout their design. 
On-site generation

The University generates electricity at a number of sites around campus, including a limited number of solar panels, a wind turbine at the Advanced Manufacturing Park and through our highly efficient gas combined heat and power (CHP) generators (see below for more information). We are continually exploring options for increased capacity, however, as a city centre campus our options for on-site generation are limited. Most of our older buildings were not designed with solar panels in mind, instead using their roof space plant and other equipment, saving valuable internal space. 

Decisions over on-site generation are carefully considered to balance whether they are carbon-, and financially-, viable investments. 
---
Heating
Providing low-carbon heating to the University is a particular challenge. Many options for decarbonising heating are dependent on infrastructure changes as well as being financially challenging. 
For many years the University was part of the Veolia District Energy Network. Veolia takes unrecyclable residential waste that would otherwise be sent to landfill and burn this to create energy to heat a network of buildings in Sheffield. Whilst the network is a great low-carbon initiative, it has had many costly and inconvenient faults over recent years. When the heating has failed in the past, we have relied on diesel boilers which are hugely expensive and have a high environmental impact. Disruption to our energy supply can cost significant amounts of money as well as potentially halting our ability to deliver world-leading research, much of which requires tightly controlled temperatures.
Green alternatives such as solar and wind are fantastic energy sources, but only for electricity supply and not for heating. Over coming years, large scale energy storage technology will become available and we will continue to monitor this carefully to ensure we are taking the trajectory required to meet our sustainability targets.
Therefore, in order to ensure security of energy supply, the University has invested in new heating infrastructure through the form of highly efficient gas combined heat and power generators (CHPs). These will provide heating at the lowest possible carbon cost currently viable for the scale needed.
We will continue to work with our academic and student bodies to reduce energy demand on campus and to search for opportunities to move towards clean energy technologies.
Transformer

The Transformer energy centre will consist of a CHP system to simultaneously generate heat and electricity for our buildings.

A CHP system works through the supply of high temperature heat from a gas-driven boiler. The high temperature heat drives a gas or steam turbine-powered generator to heat buildings nearby. The gas CHP will provide us the secure and reliable heating supply that is crucial to protecting our research. Gas is currently the only way to provide the reliable and continuous heating required.

We have procured a highly efficient CHP with very high reliability and low noise emissions. In addition, we have invested heavily in heat network infrastructure. This gives us the connectivity needed to be able to plug other heat sources into the network in future, if more sustainable options become available.

The CHP will also produce a small proportion of the University's electricity demand and we have upgraded significant parts of the main electricity ring. The remainder of the electricity demand is supplied through the grid from our 100% renewable electricity contracts.

Social Sciences building

Our new Social Sciences building will include not only solar panels but a unique geo-exchange system and CHP. 14 boreholes will be drilled 200 metres deep below the main building. These boreholes will use the ground as a battery to draw up heat or store heat depending on the time of year. This technology will significantly reduce the operational carbon footprint of the building. 

Water flowing through these boreholes will be brought to the surface at around 18 degrees centigrade, delivering a starting point for heating or cooling. This water will be heated by a highly efficient gas CHP to bring the building temperature to the required level. Heat will be distributed around the building using a combination of technologies, including traditional wet radiators, underfloor heating, and an air handling plant. The CHP will also generate some electricity for the building.

It is anticipated that this heat network will eventually be extended to other nearby University buildings, providing low-carbon heating to more of our estate. The network is designed so new technologies can be 'plugged in' when lower carbon alternatives become available.
---
Our sustainability strategy
We have set the principles and direction for our sustainability strategy