Between 2005-2019 we cut our carbon emissions by 47%. But we recognise that it is our responsibility to reach net-zero carbon emissions to help combat the climate emergency and drive the transition to a sustainable future.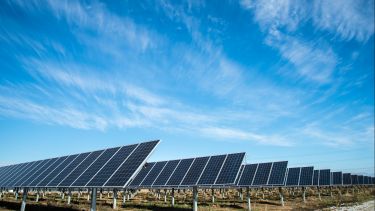 Off
The university sector is research-intensive and attracts students and academics from around the world. As a result, it is a significant producer of carbon emissions from the research and teaching carried out on campus to the international travel involved in our research. Alongside our impact, universities are visible institutions that can drive change forward. Our students have campaigned for sustainable change in their education and on campus and we are determined to continue to play a leading role locally, regionally and nationally in creating a sustainable transition. 
As a large research-intensive university, Sheffield has large associated Scope 1 and 2 emissions due to the energy we consume, with many labs and research facilities that require specific operational conditions and energy-intensive equipment. We also have a number of old and listed buildings that are not energy efficient and, as a city centre campus, large-scale on-site low-carbon energy generation is not practical.
Scope 3 emissions add a further level of complexity; they are very difficult for institutions to control and yet are much larger than the Scope 1 and 2 emissions. The University has much less ability to directly influence its Scope 3 emissions which are embedded in complex global supply chains, often many times removed from the University itself. This makes them difficult to track and reduce. Despite the difficulty, it is vitally important that we begin to understand and reduce our Scope 3 emissions.
The challenge of achieving net-zero is therefore large and complex. We are working to align all of our efforts to achieving this aim, while not losing sight of the economic and social needs of our University community. 
Taking action
Despite growing our estate and research activity in recent years, our absolute and relative emissions have continued to fall.
Between 2005 and 2019, the University cut its Scope 1 and 2 carbon emissions by 47%, exceeding our targeted 43% reduction over the same period, even while our estate grew by 23 percent. While this has been partly due to wider grid decarbonisation, improvements have also been achieved by investing heavily in energy saving technologies including LED lighting, new boilers, heating and cooling controls and energy efficient equipment.
So far we have taken some key steps towards reducing the emissions associated with our activities:
We have switched the University's procured electricity supply to a 100% renewable electricity supplier. 
We have divested our endowment investments away from fossil fuel extraction and processing. 
We are introducing further support and guidance on business travel to support an inclusive, sustainable and wellbeing-orientated approach to international travel and research.
We continue to electrify our fleet vehicles on campus. Currently, 46% of our fleet is made up of electric vehicles and other low carbon alternatives and we aim to reach 100% as soon as possible.
We are continuing to invest in active travel infrastructure, connecting the University to the wider city. We continue to offer staff a cycle to work scheme including e-bikes, refurbish and sell cut-price bikes to students, and support a sustainable travel incentive app run by Better Points offering rewards for walking, cycling and public transport usage.
We consider energy efficiency and a sensible approach to space management throughout our retrofitting and estate development activities. 
We make sure to plant two trees for anyone one which needs removing on our estate so that our campus helps clean our air and remains a habitat for local wildlife.
Our sustainability strategy
We have set the principles and direction for our sustainability strategy