Conference of the Parties (COP)
We're one of only a small number of UK universities invited to observe and take part in the annual United Nations Conference of the Parties (COP)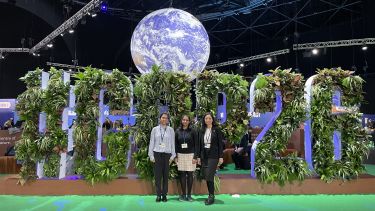 Off
As part of our long-standing status as a registered observer for the United Nations Framework Convention on Climate Change (UNFCCC) COPs, University of Sheffield academics and students have been attending COP for a number of years to share our expertise and knowledge with global leaders. 
Our representatives at COP are available for media comment about their research and the experience of attending the conference. For more information contact the University Media Team.
COP27
In 2022, University of Sheffield representatives were present at COP27 to share our research and help contribute towards the aims of the conference. We prioritise PhD and early year researchers who have a research interest in COP as attendees, helping them to build their knowledge and understanding of global climate politics and communicate their experience back to the wider University and public audiences.
Participants
Grantham Centre for Sustainable Futures
Other departments
Eiman Alshamari (Information School)
Nada Adham (Department of Electronic and Electrical Engineering)
Kelli Kennedy (Department of Politics and International Relations)
Melis Tekin (School of Architecture)
Laetania Belai Djandam (Health and Human Science)
Previous COPs
Information about our attendees and activities at previous COPs can be found here.
Our sustainability strategy
We have set the principles and direction for our sustainability strategy