Education for Sustainable Development
As a University, our greatest contribution to sustainability solutions comes from the students we nurture to become the researchers and business leaders of the future.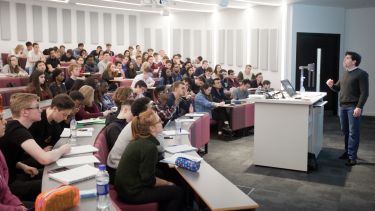 Off
We take the responsibility of preparing students for the world of work seriously. Regardless of their course, our students need to understand the challenges and opportunities sustainability provides. We're committed to providing a rounded education, ensuring that all of our graduates leave Sheffield with the knowledge and skills to make a difference in their chosen profession.
---
What is Education for Sustainable Development?
Our aspiration is to equip our students with the knowledge, skills, values and attributes needed to work and live in a way that will bring about solutions to the urgent environmental, economic and social challenges that we face. We're working to embed Education for Sustainable Development (ESD) into the Sheffield student experience, both within the formal curriculum and in their wider student experience while at Sheffield.
ESD takes a holistic definition of sustainability, as set out by the UN's Sustainable Development Goals. It aims to make sustainability relevant to all students, no matter what subject they study, and help to produce conscious and informed global graduates. While it can include measures to combat the climate emergency, depending on degree subject, it might also include: climate justice, disaster risk reduction, biodiversity, poverty reduction, sustainable consumption, human rights, social equality and responsible citizenship. 
Embedding Education for Sustainable Development
We have developed and published the Sheffield Five-Step Framework for Education for Sustainable Development. Developed by Dr Caroline Hart in the School of Education, the Five-Step Framework offers a step-by-step guide for embedding Education for Sustainable Development across the institution.
This framework is now being used by departments to embed ESD in their courses. Many departments and courses already have sustainability as a core focus, but for others this process may take longer. We're investing in resources and guidance to help develop our institutional understanding of ESD and the priorities of our students. You can find more guidance and resources on ESD on our Elevate webpages. 
Read our Five-Step Framework for ESD (554 KB, PDF)
Tracking our progress
The ESD Working Group is responsible for driving and tracking progress towards integrating ESD in our courses. It is made up of professional service and academic staff with responsibility for sustainability and curriculum-based decisions, along with student representatives. It includes senior representatives from relevant areas and reports to the Sustainability Steering Group, which in turn reports directly to the University Executive Board.
Membership of the ESD Working Group

Professor Matt Marshall
Deputy Vice-President for Education

Helen Smith
Head of Careers / Deputy Director of Academic Programmes & Student Engagement

Professor Rachael Rothman
University Academic Lead for Sustainability

Dr Alison Riley
Academic Development Adviser

James Merryclough
Sustainability & Communications Manager

Dr Joanne Thompson
Senior University Teacher, Academic Unit of Medical Education

Dr Lee Crookes
University Teacher, Department of Urban Studies and Planning

Liam Hand
President, Sheffield Students' Union

Sam Timson
Welfare & Sustainability Officer, Sheffield Students' Union

Alison Romaine
Education Officer, Sheffield Students' Union
The ESD Working Group reports on a quarterly basis to the Sustainability Steering Group, which reports bi-monthly to the University Executive Board.
Our sustainability strategy
We have set the principles and direction for our sustainability strategy