We're committed to helping our students gain the skills, confidence and experience they need to have a career with impact.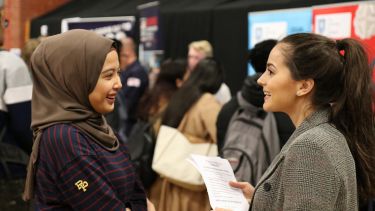 Off
We believe that our students deserve to be presented with the broadest possible range of options for their future careers. We empower students to identify, seek out, and make informed choices about their future working life, helping them to achieve careers with social, environmental and economic impact.
At Sheffield, we want to ensure that companies in sustainable industries are well represented on campus and that our students have a good awareness of environmentally- and socially-focused career paths. 
We're continuing to expand our relationships with organisations that offer sustainability-related job opportunities. We're also asking more questions of the organisations that visit campus about their commitment to sustainability, encouraging employers to provide greater transparency and be ambitious in their sustainability strategies.
Our sustainability strategy
We have set the principles and direction for our sustainability strategy