Sustainability has long been an issue considered in our daily operations. The need to respond to the climate emergency, however, demands a more radical and strategic approach.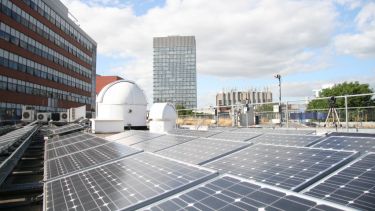 In writing a wide-ranging and ambitious strategy, we recognise the unique opportunity that universities have to respond to our global challenges.
In October 2018, the University published its Year 1 - Principles and Direction strategy. This document set out our approach to sustainability at Sheffield. It aligned the University with the international scientific consensus and approach embodied in the UN's Sustainable Development Goals and the Paris Agreement. It kickstarted some key actions but its primary focus was to set a course for our sustainability journey at Sheffield.
Year 1 - Principles and Direction (PDF, 1.6 MB)
---
Our Strategy  
Over the past year, sustainability leads have been working on an updated five-year strategy and action plan. A key element of this work was a targeted consultation with internal academic experts and key professional services staff and students. This feedback has informed the drafting of the strategy, making sure that our work is suitably ambitious and fit to meet the challenges of the climate emergency, whilst being deliverable for an institution with a global research-intensive outlook.   
The strategy will discuss broad themes including energy, food, waste, procurement, education and regional engagement. Underpinning this discussion is an action plan structured around five of the UN's Sustainable Development Goals and further broken down by core themes. 
The action plan focuses on aspirations for what we would like the University to look like by the end of the five year strategy. Actions and associated metrics are attached and the departments, teams or job roles responsible for progressing these actions are detailed. We want to be as transparent in the delivery of our strategy as possible. The Sustainability Delivery Group will ultimately be responsible for central project management and monitoring the delivery of the strategy.
Work is currently ongoing to make sure that draft sustainability work is fully embedded within the new University Vision. This will ensure that sustainability is a key institutional priority. The new sustainability strategy is due to be published in autumn 2020.