Biochemistry and Genetics
MBiolSci
Biochemistry, Genetics, Microbiology and Molecular Biology
Apply for this course
You are viewing this course for 2021-22 entry.
Course description
This course is for students who want to pursue a career in industrial or academic research, with the majority of the fourth year devoted to a major research project which will take place either in industry or in an academic lab.
You'll study these two highly complementary subjects that are fundamental to biotechnology and medicine. You'll learn about proteins, enzymes, hormones and receptors, the structure and expression of genes, inheritance and mutations. We'll also introduce you to how biochemistry and genetics can be applied to the major challenges affecting humanity today, from understanding and treating a range of diseases to how we feed a global population and how new drugs are designed.
Our degrees all start with core subject and skills modules that provide the foundation for your studies. As you progress through your degree, you'll have a chance to explore your core subjects in greater depth, choose optional modules across the biosciences to help broaden your knowledge and skills and participate in a research activity. Moving to a different degree course is possible, especially in the first year, and depending on your qualifications.
Advanced accreditation by the Royal Society of Biology, which shows employers that you've developed the practical skills and scientific knowledge that they're looking for.
Modules
The modules listed below are examples from the last academic year. There may be some changes before you start your course. For the very latest module information, check with the department directly.
Choose a year to see modules for a level of study:
Title: Biochemistry and Genetics MBiolSci course structure
UCAS code: CC7C
Years: 2021
In your first year, you'll spend six hours in the lab each week learning the practical skills and knowledge that every bioscientist needs, including how to establish bacterial cultures, assess bioenergetics and perform gene cloning. Analysis classes will equip you with the skills you'll use outside the lab, from interacting with your data to interpreting your findings. Your lectures will give you a broad understanding of the molecular biosciences, allowing you to explore what you're most interested in.
Core modules:
Practical Molecular Bioscience 1

This module introduces students to the practical skills that underpin modern molecular bioscience. By carrying out a wide range of laboratory-based experimental work in the areas of biochemistry, genetics, microbiology and molecular biology, students develop expertise in basic laboratory techniques and an understanding of laboratory safety, as well as a broader appreciation of the nature of experimental science and experimental planning. The theoretical basis of the laboratory exercises is reinforced by a series of non-laboratory-based `analysis sessions¿ and a data skills strand. This module also provides tutorial-based support for the development of transferable skills, such as the preparation and delivery of oral and written presentations.

30 credits

Biochemistry

This module provides a broad introduction to Biochemistry and examines the molecules that carry out and control all the chemical reactions in biological cells. The basic chemical concepts underlying the structures of biomolecules are covered, together with the functions and mechanisms of action of biomolecules and the interplay of metabolic pathways. The regulation of these pathways is addressed as well as cellular signalling and the important role and structure of biomembranes. These processes are set in the context of the molecular details of the cellular cytoskeleton and considered via the energetics of enzyme driven reactions.

20 credits

Genetics

This unit introduces the principles of genetics and considers the application of these principles to diverse aspects of biology and human welfare. The genetic systems of higher organisms and microbes are described, including mechanisms of gene transmission and genetic exchange, mutation, and gene mapping. Human examples are stressed where appropriate. Applications include fundamental studies in other biological disciplines, such as evolutionary and developmental biology, as well as topics more directly concerning human welfare, such as the genetic and biochemical bases of inherited disorders, prenatal diagnosis, genetic counselling, gene therapy, and the genetic basis of antibiotic resistance in bacteria.

20 credits

Microbiology

This module is an introduction to the broad subject area of microbiology. Topics covered will include: origin of life; microbial diversity; comparative anatomy of prokaryotic and eukaryotic cells; virus structure and function; bacterial cell structure and function; archaeal diversity; eukaryotic microbial diversity, metabolic diversity of microorganisms; food and industrial microbiology; microbial ecology; biogeochemical cycles; bacterial growth and its control; bacterial pathogenicity. The final part of the module will cover the principles of immunity, including cellular and molecular components of the immune system and integration of the immune system.

20 credits

Molecular Biology

This module provides an introduction to molecular biology and is focused on how cells store and express genetic information, together with the application of this knowledge to genetic engineering. In the first part of the module, the structural organization of eukaryotic cells and the storage of genetic information at the molecular level will be considered. The molecular mechanisms by which genetic information is used and how genes can be ¿switched on and off¿ will then be addressed. We shall then consider how specific proteins are targeted to their site of action within the cell. The second part of the module is concerned with how loss of controlled gene expression within cells can lead to cancer, and how our knowledge of gene expression can be applied to clone DNA in order to engineer proteins and cells.

20 credits
In your second year, you'll begin learning more advanced scientific techniques, both in the lab and in lectures, with topics including experimental design, genome editing using CRISPR/Cas9 and protein purification. You'll continue to take analysis classes to develop your data handling skills further and you can choose to study modules like "Molecules to Market", allowing you to work in teams to come up with pioneering science enterprise ideas to launch a virtual business.
Core modules:
Practical Molecular Bioscience 2

This module provides detailed knowledge in key areas of practical molecular bioscience, emphasising the integration of the disciplines of biochemistry, microbiology and genetics. An important aim of the module is to provide experience in the preparation of written laboratory reports, and in the correct interpretation and representation of biological data. Laboratory, computer and data analysis sessions build on the skills gained during first year and allow students to develop a high level of technical competence and theoretical understanding. Tutorial-based support is also provided for the enhancement of transferable skills, such as the preparation and delivery of oral and written presentations.

30 credits

Biochemistry 2

This module provides an advanced treatment of the biochemical topics introduced in earlier modules, to provide a deep understanding of the underlying chemical principles and molecular interactions governing life in cells. Topics covered include reaction and ligand binding kinetics, enzyme catalysis and chemical mechanism, protein structure and function, small molecule drug development and methods in which these processes are studied experimentally.

20 credits

Biostructures, Energetics and Synthesis

This module aims to furnish students with a working knowledge of the structures and functions of proteins and nucleic acids, in order that they gain an appreciation of the crucial relationship between structure and function. Both cytosolic globular and membrane proteins will be considered, as well as an introduction to nucleic acid structure. The module also explains the basic principles of how energy is made available (transduced) for essential biological functions, such as ATP synthesis and solute and protein transport. To achieve this understanding, the nature of biological membranes and the energy transducing proteins associated with those membranes are considered, and the principles of chemiosmosis, light absorption and biological redox reactions are discussed. Finally the module provides an understanding of the general principles underlying the biosynthesis of complex biomolecules from simpler precursors, and the control of these processes, with particular relevance to biotechnology.

20 credits

Genes, Genomes and Chromosomes

This module aims to provide the student with a clear understanding of how genomes are organised within cells and how the expression of specific genes can be regulated. The first part of the module discusses the structural features of chromosomes and how they contribute to the maintenance and evolution of the genome; the development of sequencing techniques and their application to genome sequencing projects; the use of scoring systems to determine related DNA sequences and the application of sequencing technologies to measure gene expression, identify protein binding sites within DNA, analyse long range nucleic acid interactions within genomes and study DNA methylation patterns. The second part of the module addresses experimental approaches to address the function of specific genes and how genetic information is expressed in a regulated manner. Both classical and molecular genetics techniques to study gene function will be described. DNA repair and recombination mechanisms will be addressed, along with the use of reporter gene fusions. The regulation of gene expression at the molecular level will be explored through the consideration of (post-) transcriptional control mechanisms and intercellular signalling pathways.

20 credits

Genetics 2

This module builds upon the introduction to genetics provided by MBB162 Genetics. A range of eukaryotic genetic systems will be considered, including humans and a number of model organisms, ranging from yeasts and filamentous fungi to Drosophila melanogaster, Caenorhabditis elegans, Arabidopsis thaliana and Mus musculus. Topics to be covered include methods for isolating and genetically analysing mutants with specific phenotypes, extranuclear inheritance, developmental genetics, cytogenetics, quantitative inheritance, and population genetics.

20 credits
In your third year, you'll complete an extended research project alongside your chosen specialist modules. This research project will reflect an area of molecular bioscience that interests you and will take place either in the lab or in wider society. Depending on your interests and career goals, you can choose a project from experimental science, clinical diagnostics, industrial biotechnology, molecular systems and computing, science communication or education and outreach.
Core modules:
Project

This module is a research project in the molecular biosciences that allows students to apply their core subject knowledge to develop key skills in an area related to their career aspirations. Students have the opportunity to design and plan an investigation, and undertake that investigation either within the Department or externally. Projects choices include laboratory based research; biotechnology; computational biology and bioinformatics; science communication; science teaching in a local school; and clinical diagnostics. All projects are undertaken under the supervision of a member of academic staff, with most placements within the Department, but a small proportion of students undertake projects in other locations, such as the Medical School. Students will develop skills in the collation, interpretation, presentation and communication of data and ideas. Students will submit their work in the form of a formal written report and present their research to the department during a showcase poster event.

30 credits

Literature Review

In this module students are required to write a literature review on a topic chosen from a wide range suggested by members of staff. Students will develop a range of transferrable key skills associated with searching for, analysing and critically evaluating information from the literature, together with presentation skills in writing and presenting their review.

20 credits
Optional modules:
Biochemical Basis of Human Disease

After an initial introductory lecture, the next five lectures will cover basic issues in the control of normal cell proliferation and differentiation including intracellular signals generated by agonist/receptor binding, the role of cell surface receptors and adhesion molecules in regulating cell function, the role of protein kinases and transcription factors in cellular responses to extracellular signals, and apoptosis. The other twelve lectures will cover clinical pathologies involving abnormal cell proliferation, diffentiation and inflamation ie athersclerosis; abnormal coagulation and ischaemia reperfusion injury; renal glomerulosclerosis and transplantation; and thyroid disease.

10 credits

Biochemical Signalling

The aim of the module is to give students an understanding of the mechanisms by which mammalian cells communicate. Students will acquire knowledge of: cell-cell communication involving hormones and growth factors; cell surface receptors, their characterisation and specificity; the role of G-proteins in signal transduction; intracellular signals and reversible phosphorylation mechanisms. Examples considered in detail are: cyclic AMP, protein kinase A; inositol phosphates in calcium regulation; diacylglycerol and activation of protein kinase C; calcium as a second messenger. Examples of oncogene derived proteins in signalling will be considered.

10 credits

Biochemistry Data Handling

It is important for biochemists to be able to handle a range of biochemical data confidently, and to be able to analyse the data to establish its meaning and value, to recognise when the data provided are inadequate, and to consider new experiments which would provide the necessary information. The course aims to give students the background to be able to carry out these tasks. Students will develop skills in the handling and analysis of biochemical data, in the evaluation and presentation of results, and in problem-solving.

10 credits

Genetic pathways from zygote to organism

Multicellular organisms develop from a single zygote and in the case of humans, culminates in a mature human body consisting of over a trillion cells and around 200 different cell types. This module will examine the developmental mechanisms and genes that regulate pattern formation and cell identity in multicellular eukaryotes. We will focus on the role of key genes in the regulation of different developmental processes and the mechanisms that determine the correct temporal and spatial expression of these genes. We will illustrate these principles using examples from model organisms including Mus Musculus, Caenorhabditis elegans, Drosophila melanogaster and Arabidopsis thaliana. These systems have significantly informed our understanding of human disease but also demonstrate the different mechanisms through which cell fate and complexity are controlled.

10 credits

Genetics Data Handling

Analysis and interpretation of data are essential skills for any geneticist. The purpose of this module is to develop these skills through instruction and practice on genetic data involving conventional and molecular studies of micro-organisms and higher organisms. Students will have the opportunity to develop their ability to apply routine methods of analysis and interpretation to common types of genetic data to think creatively in the analysis and interpretation of data of unfamiliar type or form and to propose and test hypotheses.

10 credits

Genome Stability and Genetic Change

The course examines in detail the mechanisms which generate genetic variation at the molecular level, with an emphasis on eukaryotic organisms. It aims to demonstrate that the chemical properties of deoxyribonucleic acid in combination with physical and chemical entities within the environment dictate the rate and nature of base pair changes. Cellular organisms have evolved a highly conserved set of DNA repair mechanisms to combat different forms of DNA damage. One of these mechanisms, recombination, is also used to re-assort genetic information and is a fundamental property of most eukaryotic sexual cycles. Recombination has been co-opted in time to regulate important genomic re-arrangements associated with gene expression and this will be discussed in detail.

10 credits

Genomic Science

A top-down approach to biology, simultaneously investigating the structure and function of the entire genome and its products, both contrasts with and complements the traditional gene-by-gene approach, allowing us a birds-eye view. In this module, we cover how genome sequencing can be used to understand the structure of human populations, profile microbial diversity and to trace the origins of disease outbreaks. We then discuss how methods such as RNA-seq, ChIP-seq and 4C can be used to investigate the genome-wide transcriptional profile, the chromatin landscape and the three-dimensional structure of the genome. Finally we describe the use of technologies such as mass spectrometry to investigate the complete proteome of a cell. The module builds on the material from the level 2 module Genes, Genomes and Chromosomes, to illustrate how cutting-edge genomic and proteomic methods can be used address fundamental biological questions.

10 credits

Human Evolutionary Genetics

This module will provide students with an understanding of how genomics has shaped our understanding of the evolution of modern humans. This will be achieved through lectures, independent reading and a computational biology practical. Topics covered will include: the evolution of modern humans; the history of how humans colonised the world; how the Neanderthal genome has revealed hybridisation between Homo sapiens and Neanderthal man; how human genomes can tell us about the history and causes of modern genetic disorders; how our genomes reveal past episodes of selection; and how life history theory is used to study natural selection and evolution in pre-industrial humans.

10 credits

Human Reproduction and Fertility

This module will address the processes underlying fertility: that is, the hormone cycle underlying female egg production, gametogenesis, fertilisation, preimplantation development and implantation. The module will then consider reasons for infertility, assisted conception, cryopreservation of gametes and embryos, and cloning and stem cells. Chromosomal abnormalities that are inherited or arise during gametogenesis limit fertility. The nature of these abnormalities and the ways these arise from mistakes in meiosis and the consequences for fertility will be covered in detail.

10 credits

Membrane Protein Structure and Function

The aim of this module is to impart a thorough understanding of the structure and function of membrane proteins. A major theme is the structural basis of energy transduction in membranes. Membrane protein complexes mediate the transfer of excitation energy, electrons and protons upon which all life depends. They also control the entry and exit of proteins, ions, nutrients, drugs and antibiotics from cells and the transfer of signals across membranes. We will examine membrane proteins involved in respiration and photosynthesis. The principles underlying the efficiency of energy transduction and redox chemistry taking place in these complexes will be covered. We will look at how harvested energy is then coupled to movement of molecules and ions across membranes. There will be particular emphasis on the role of structure in determining specificity and directionality in vital transport process.

10 credits

Molecular Immunology

The aim of this course is to provide students with a knowledge of how multi-cellular organisms have evolved defence mechanisms to agents that are foreign to the body. The course will provide an understanding of the molecules and cells involved in normal immune defence mechanisms. This will include an account of differences between innate and adaptive immunity, humoral and cellular immunity, structure/function relationships in antibody classes, antibody synthesis and the genetic mechanisms for antibody diversity, molecular basis of T-cell activation, role of cytokines in adaptive immunity and inflammation. Immunological methods for the production and application of antibody molecules as tools for research, diagnosis and treatment will also be discussed. The final part of this course examines the molecular basis of inherited and acquired immune deficiency diseases and places particular emphasis on the genetic and immunological methods employed to identify the underlying causes of such processes.

10 credits

Plant Biotechnology

This course considers applications of genetic engineering to biotechnology. This has resulted in novel technologies where recombinant proteins are used as therapeutics, or where crop plants are engineered. The new technologies will also have a major impact on society, raising issues of its economic effect on existing agricultural industries, ethical and moral issues in respect of human medicine, and ecological issues in respect of the accidental or deliberate release of engineered organisms. The course aims to teach the underlying technology and to educate the students in the broader safety and ethical issues raised by the subject.

10 credits

Protein Folding and Misfolding in Disease

The course aims to describe a range of supramolecular structures and the methods used to study the assembly of these complexes in vivo and in vitro. Students will have an opportunity to acquire knowledge and understanding of the following: folding of molecules: background thermodynamics; folding pathways; investigating intermediates; kinetic labelling; mutagenesis; modules of folding; the role of disulphide bonds; accessory proteins; isomerases; rotamases; chaperones. Protein domains; homodimers; allosteric proteins; repressors; heterodimers; particularly leucine zippers; multienzyme complexes; larger protein complexes. Case studies of assembly of multi-subunit complexes in vivo and in vitro: collagen, tobacco mosaic virus; ferritin: ATCase; structures of an allosteric enzyme. Techniques for the study of variations in structure of enzyme and assembly intermediates.

10 credits

The Genetics of Human Disease

This module will address the ways in which genetic factors influence our lifetime health. Single disorders are individually rare, but collectively common, affecting as much as 5% of new born and young children. Common diseases such as cancers, diabetes, heart disease and psychiatric disorders are familial, and twin and other family studies suggest they have a high heritability. The module will focus on the methodology used to identify the genetic factors involved; that is, whole exome sequencing to identify the causative mutation in single gene disorders, and Genome Wide Association Studies (GWAS) to identify the risk alleles underlying the susceptibility to common diseases. The rapid advance in the understanding genetic basis of disease has led to the increasing importance of the genetic diagnostic laboratory in the NHS. The scientific tests used in the genetic diagnostic laboratory and the real-life ethical and social issues that arise during genetic counselling will be addressed.

10 credits

The world of RNA

This module will analyse the vital roles that RNA plays in the life of a cell and how RNA is increasingly used as a tool to understand biology. The module will cover the following 'cutting edge' research topics: RNA interference, CRISPR Genome Editing, non-coding RNAs, together with the latest work on well known RNA based activities. These include transcription, RNA splicing, RNA stability, RNA export and translation and how all these processes are coupled in the cell to ensure efficient, quality-controlled gene expression. The module aims to present the latest innovations and discoveries in the RNA world and their application.

10 credits
In your fourth year, the majority of your time will be devoted to a major research project. You can choose between spending a year in industry and completing your project at a company such as AstraZeneca, GSK or Unilever, or undertaking projects in one of our world-leading research labs within the department or the University of Sheffield Medical School.
Core modules:
Advanced Literature Review

This unit builds upon the skills in literature searching and interpretation developed in the Library Project and Data Handling units at level 3. It is designed to lead to a comprehensive understanding of the literature, approaches and techniques relevant to the Extended Research Project (MBB403) or Project in Industry (MBB404). It will result in the production of a literature review appropriate for inclusion in a postgraduate thesis. Each student will be allocated a supervisor who is not also the supervisor of MBB403 or MBB404. The exact nature and scope of the literature review will be determined by discussion between the student and the supervisor, with additional input from the supervisor of MBB403 and MBB404. Assessment will be on the basis of the literature review.

20 credits

Advanced Research Topics

This unit will develop the ability of students to acquire information through the medium of research seminars. It will give insight into the development of scientific ideas, and acquaint students with the most recent developments in selected areas. Students will attend a series of seminars, given as part of the departmental research seminar programme, and will write a brief report on a selection of talks. They will also undertake more extensive research into the scientific literature relevant to a subset of topics.

10 credits

Introduction to Research Methodology

This unit provides an opportunity to revise and update fundamental practical techniques used routinely in biological research and in addition introduces some advanced methods, with particular emphasis on stimulating research across disciplines by raising awareness of the opportunities afforded by complementary technologies. The course covers aspects of immunology, molecular biology and genetics, functional genomics, cell biology, structural biology, bioinformatics, and intellectual property rights. A variety of teaching formats, including formal lectures, tutorials, discussion groups and a element of practical work and/or demonstrations are used.

10 credits
Optional modules:
Extended Laboratory Project

This unit provides an extended period of laboratory work, with training in experimental techniques, record keeping and writing up. Projects are supervised by a member of staff and related to ongoing research projects within the Department, although a small proportion of students undertake projects in other locations such as hospitals and the Medical School. This unit is designed to provide students with experience of undertaking investigations independently on a specific research topic, so that they can develop a research oriented approach, and gain experience of lab work in preparation for a future career in science.

80 credits

Project in Industry

This unit provides training in research methods in molecular biology, in an industrial lab, by means of an extended project. Training is also provided in record keeping and writing up. Projects are supervised by industrial research staff, in liaison with a member of MBB staff: this will include a site visit. This unit is designed to provide students with experience of undertaking investigations independently on a specific research topic, in an industrial setting.

80 credits
The content of our courses is reviewed annually to make sure it's up-to-date and relevant. Individual modules are occasionally updated or withdrawn. This is in response to discoveries through our world-leading research; funding changes; professional accreditation requirements; student or employer feedback; outcomes of reviews; and variations in staff or student numbers. In the event of any change we'll consult and inform students in good time and take reasonable steps to minimise disruption. We are no longer offering unrestricted module choice. If your course included unrestricted modules, your department will provide a list of modules from their own and other subject areas that you can choose from.
Learning and assessment
Learning
Our research-embedded teaching ensures you'll gain knowledge and understanding from the forefront of biochemistry and the molecular biological sciences. You'll learn through lectures, small group tutorials and workshops, practical sessions in the lab and research projects.
To support your learning, you'll have access to a virtual learning environment with interactive course materials. You'll also have a personal tutor throughout your course, to give you advice and guidance on both academic and pastoral issues.
Assessment
Throughout the course you will be assessed through a variety of methods, including exams, tests, presentations, coursework and practical work.
Programme specification
This tells you the aims and learning outcomes of this course and how these will be achieved and assessed.
Entry requirements
Standard offer
Access Sheffield offer
The A Level entry requirements for this course are:
AAA
including Chemistry and another science
The A Level entry requirements for this course are:
AAB
including Chemistry and a second Science subject
A Levels + additional qualifications | AAB, including Chemistry and another science subject + B in a relevant EPQ; AAB, including Chemistry and another science subject + A in Core Maths AAB, including Chemistry and another science subject + B in a relevant EPQ; AAB, including Chemistry and another science subject + A in Core Maths
International Baccalaureate | 36, 6 in Higher Level Chemistry and another science 34 including 6,5 in Chemistry and a second Science subject
BTEC | Interim-Reformed: DD in Applied Science + A Level grade A in a science subject (Biology, Chemistry, Human Biology, Physics, Psychology, Maths and Further Maths) + interview. Reformed: D*DD in Applied Science, including modules in Applications of Inorganic Chemistry, Applications of Organic Chemistry and Practical Chemical Analysis and no more than one of the following: Forensic Evidence Collection and Analysis, Forensic Fire Investigation or Forensic Traffic Collision Investigation + interview BTEC Extended: (RQF) DDD Applied Science; BTEC Dip + A Level: DD Applied Science + B in Science A Level
Scottish Highers + 2 Advanced Highers | AAAAB + AA, including Chemistry and another science subject AAABB + AB, including Chemistry and another science subject
Welsh Baccalaureate + 2 A Levels | A + AA, including Chemistry and another science subject B + AA, including Chemistry and another science subject
Access to HE Diploma | 60 credits overall in a relevant subject with Distinctions in 39 Level 3 credits, including Chemistry and Biology units, plus Merits in 6 Level 3 credits. Applicants are also interviewed. 60 credits overall in a relevant subject with Distinctions in 36 Level 3 credits, including Chemistry and Biology units, plus Merits in 9 Level 3 credits. Applicants are also interviewed.
English language requirements |
You must demonstrate that your English is good enough for you to successfully complete your course. For this course we require: GCSE English Language at grade 4/C; IELTS grade of 6.5 with a minimum of 6.0 in each component; or an alternative acceptable English language qualification
Other requirements
Acceptable science subjects are Chemistry, Biology/Human Biology, Physics, Psychology Maths and Further Maths

GCSE Maths grade 6 or grade B
Biochemistry, Genetics, Microbiology and Molecular Biology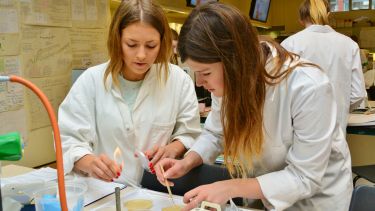 Biosciences at Sheffield is home to over 120 lecturers who are actively involved in research at the cutting edge of their field. You'll learn from scientists who are helping to solve some of the biggest global challenges, from global food shortages and antibiotic resistance in MRSA to degenerative illnesses such as Alzheimer's and combating infectious diseases like Covid-19.
We're a close-knit community where every student gets the support and encouragement needed to achieve their best work. Whether it's joining one of our student-led societies and taking part in nights out, trips abroad and quizzes with lecturers, or volunteering, fundraising and organising your own events, there are lots of opportunities to get involved.
Biosciences students are based across Firth Court, the Alfred Denny, Florey and Addison buildings. We are at the heart of the University campus, adjacent to the Students' Union and just a 15-minute walk from the city centre.
Facilities
Our students have access to world-class laboratory and computing resources for biological research and are trained in specialist teaching laboratories, supported by teaching assistants and our technician team.
Biosciences at Sheffield is home to state-of-the-art facilities, including super resolution light, cryo-electron and atomic force microscopy, NMR and X-ray facilities, a Biological Mass Spectrometry facility and the NERC Biomolecular Analysis Facility, which provides molecular genetics facilities and training to the UK science community.
We also have controlled environment facilities that can simulate any past, present and future climate, leading equipment for DNA analysis, and facilities for cell culture used in studying immunology, medically important microbes and biotechnology on campus.
Biosciences at Sheffield
Why choose Sheffield?
The University of Sheffield
  A Top 100 university 2021
QS World University Rankings
  Top 10% of all UK universities
Research Excellence Framework 2014
  No 1 Students' Union in the UK
Whatuni Student Choice Awards 2019, 2018, 2017
---
Biochemistry, Genetics, Microbiology and Molecular Biology
Top 10 in the UK for Biological Sciences
The Times and Sunday Times Good University Guide 2020
UK top 10 for overall satisfaction in Genetics, Microbiology and Cell Science
National Student Survey 2020
94% satisfaction for teaching
National Student Survey 2020
Top 5 for Biological Sciences Research
Research Excellence Framework 2014
Our graduates are among the UK's top ten most targeted by leading employers
High Fliers Research 2020
---
Graduate careers
Biochemistry, Genetics, Microbiology and Molecular Biology
Our courses equip students for a wide range of careers, from scientific roles to graduate schemes with top employers. Whether you want to pursue a career in science, apply your skills in industry, or continue your studies, bioscience graduates are highly sought after due to their specialist laboratory skills, ability to solve problems, handle and analyse data, and effectively communicate complex ideas to a range of audiences.
As well as progressing onto a masters programme or PhD, our students secure roles in biotechnology and pharmaceutical companies like GSK, Pfizer, AstraZeneca and Redx, the NHS Scientist Training Programme (STP) and government bodies like Public Health England.
Transferable skills are embedded and developed throughout our degrees, which means year on year our graduates join high-profile organisations like Microsoft, HSBC, KPMG, United Kingdom Civil Service, Unilever and Wellcome. You can also apply your degree to other varied careers including brewing, bioinformatics, marketing, medical writing, genetic counselling, agrochemicals, teaching and science policy.
Fees and funding
Fees
Additional costs
The annual fee for your course includes a number of items in addition to your tuition. If an item or activity is classed as a compulsory element for your course, it will normally be included in your tuition fee. There are also other costs which you may need to consider.
Visit us
University open days
There are four open days every year, usually in June, July, September and October. You can talk to staff and students, tour the campus and see inside the accommodation.
Taster days
At various times in the year we run online taster sessions to help Year 12 students experience what it is like to study at the University of Sheffield.
Applicant days
If you've received an offer to study with us, we'll invite you to one of our applicant open days, which take place between November and April. These open days give you the chance to really explore student life here, even if you've visited us before.
Campus tours
Campus tours run regularly throughout the year, at 1pm every Monday, Wednesday and Friday.
Apply for this course
Make sure you've done everything you need to do before you apply.
How to apply When you're ready to apply, see the UCAS website:
www.ucas.com
The awarding body for this course is the University of Sheffield.