Physics and Astrophysics with Study Abroad
MPhys
Department of Physics and Astronomy
Apply for this course
You are viewing this course for 2021-22 entry.
Course description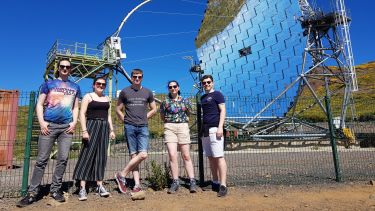 This is a broad and intellectually stimulating degree that includes core physics knowledge and a thorough grounding in astrophysics. You'll study the workings of the universe, from the planets of our solar system to the most distant galaxies.
You'll learn how to analyse astronomical data, draw conclusions and present results. You can spend time in the astronomy laboratory and use our robotic telescope to take your own data.
In your final year, you'll complete a project in an area that interests you. You'll spend your third year studying in either North America or Australasia.
Accredited by the Institute of Physics (IOP) for the purpose of fully meeting the educational requirement for Chartered Physicist.
Modules
The modules listed below are examples from the last academic year. There may be some changes before you start your course. For the very latest module information, check with the department directly.
Choose a year to see modules for a level of study:
Title: Physics and Astrophysics with Study Abroad MPhys course structure
UCAS code: FF3M
Years: 2021
Core modules:
Mathematics for Physicists and Astronomers

This module provides the necessary level 1 mathematics for students taking physics and/or astronomy degrees. The following topics will be covered: basic algebra (functions, coordinate systems, algebraic manipulation etc), Taylor and binomial series, common functions of one variable, differentiation and integration techniques, basic complex numbers, first and second order differential equations, vector calculus, properties and applications of matrices and elementary probability theory.

30 credits

Fields and Quanta

This module introduces the key concepts of fields and quanta: electric and magnetic fields, the behaviour of electric charges and currents, vectors and densities, potentials, quantum states and their evolution, the probabilistic nature of fundamental physical law, and the breakdown of classical physics. This module will teach you how physics problems relate to these fundamental concepts, and how those concepts are used to construct solutions.

25 credits

Motion and Heat

This module introduces and applies the key concepts of motion and heat: force, equations of motion, phase space, determinism and free will, symmetry and conservation laws, waves and oscillations, coherence and classical frequency-time uncertainty, the laws of thermodynamics, thermal equilibrium, entropy and the arrow of time. You will learn how physics problems relate to these fundamental concepts, and how those concepts are used to construct solutions. You will apply the key concepts to design experiments to test scientific hypotheses. You will develop your data analysis and communication skills and to use different sources of information in your learning. You will work independently and as part of a group, developing a wide variety of study skills that will prepare you for the rest of your degree programme.

25 credits

Introduction to Astrophysics

One of four half-modules forming the Level-1 Astronomy course, PHY104 aims to equip students with a basic understanding of the important physical concepts and techniques involved in astronomy with an emphasis on how fundamental results can be derived from fairly simple observations. The course consists of four sections: (i) Basic Concepts, Fluxes, Temperatures and Magnitudes; (ii) Astronomical Spectroscopy; (iii) Gravitational Astrophysics. Parts (i),(ii) and (iii) each comprise some six lectures. The lectures are supported by problem classes and laboratory work.

10 credits

Observing the Night Sky

This module aims to equip the student with a grounding in the observational and computational data analysis skills they will need as part of an astronomy degree programme, and is an essential pre-requisite of the more advanced handling of astrophysical data that will be expected as part of Levels 2, 3 and 4. The module consists of a mixture of taught material, workshops, and practical activities in positional astronomy, telescope optics, practical observing skills, basic python programming, and astrophysical data analysis.

10 credits

Our Evolving Universe

The course provides a general overview of astronomy suitable for those with no previous experience of the subject. The principal topics covered are (1) how we deduce useful physical parameters from observed quantities, (2) the structure and evolution of stars, (3) the structure of the Milky Way, and the classification, structure and evolution of galaxies in general, (4) an introduction to cosmology and (5) extrasolar plantets and an introduction to astrobiology. All topics are treated in a descriptive manner with minimal mathematics.

10 credits

The Solar System

One of four half-modules forming the Level-1 Astronomy course, PHY106 has five main sections. (i) provides a brief survey of the characteristics, composition and origin of the various planets, their satellites, the asteroids and comets and the motions and interactions of these bodies; (ii) discusses the internal structures of the planets, the Moon and other major bodies; (iii) is concerned with their surfaces and the processes that shape them, impacts, erosion, plate tectonics etc.; (iv) discusses planetary atmospheres and ionospheres, their origins and why they differ from one planet to another; (v) is concerned with planetary magnetism and its origins.

10 credits
Core modules:
Classical and Quantum Physics

This module provides a foundation for advanced studies in physics by developing integrated skills and knowledge associated with the core topics of physics. These topics include quantum mechanics, classical physics, optics, thermal physics, electromagnetism and the properties of matter. Key mathematical methods are taught alongside the physics topics. Laboratory and computing skills are applied to the topics to reinforce key concepts, develop investigative, experimental and group working skills and develop a wide range of approaches to solving problems. The module also helps students place their physics knowledge and skills in a global context by providing opportunities to apply these attributes to external facing problems. These opportunities support the development of transferable skills such as group working, project management and information literacy.

70 credits

Astronomical Spectroscopy

This level 2 module provides an overview of astronomical spectroscopy for astrophysics dual students, covering how spectrographs work, the nature of spectra, atomic physics relevant to astronomical spectroscopy, line broadening mechanisms (natural, pressure, thermal) and the Curve of Growth for the determination of ionic abundances in stellar atmospheres, plus spectral diagnostics of ionized nebulae. Content from lectures are reinforced through an exercise involving specialist astronomical software relating to nebular diagnostics, plus the manipulation of stellar spectroscopic datasets using the programming language Python for the calculation of ionic abundances.

10 credits

Galaxies

This Level 2 Astronomy half-module aims to provide a comprehensive introduction to galaxies. It consists of six parts: (i) astronomical distance determination and galaxy classification; (ii) the properties of the main stellar and a gas components of our Milky Way galaxy, and its local environment; (iii) the properties of spiral galaxies; (iv) the properties of elliptical galaxies; (v) active galaxies; (vi) galaxy evolution. Students¿ presentation and research skills are developed through a 2500 word essay assignment.

10 credits

Observational Astronomy

This level 2 module builds upon astronomy material taught in level 1 and aims to equip students with the skills and understanding to plan, obtain and analyse optical imaging data of astronomical objects. Topics include astronomical telescopes, instrumentation, electronic detectors and data analysis in the Python computing language.

10 credits

Special Relativity & Subatomic Physics

Special relativity is a key foundation of modern physics, particularly in the contexts of particle physics and astrophysics where E = mc2 and relativistic speeds are crucial concepts. In this module, the fundamental principles of special relativity will be explained, emphasising the energy-momentum four-vector and its applications to particle collisions and decays. Applications to nuclear physics include nuclear mass & binding energy, radioactive decay, and nuclear reactions. We will also cover the structure of the nucleus (liquid drop and shell model) and, building on first year quantum physics, the concept of isospin, ending with an introduction to the quark model.

10 credits

Stellar Structure and Evolution

The module aims to provide an understanding of the physical processes occurring in stars and responsible for their internal structure and evolution from the main sequence to white dwarfs, neutron stars stars and black holes. It builds on Introduction to Astrophysics (PHY104) and seeks to explain the evolutionary phenomena described in Our Evolving Universe (PHY111).

10 credits
You'll spend your third year studying in either North America or Australasia.
Core modules:
Research project

Students will undertake a supervised research project during the whole of the 4th year of an MPhys degree, applying their scientific knowledge to a range of research problems experimental and/or theoretical projects spanning the research expertise of the Department. Along with applying their knowledge, students will manage their project, ensuring that they develop skills in time management, project planning, scientific record keeping, information retrieval and analysis from scientific and other technical information sources.

60 credits

Galaxy Formation and Evolution

This module will cover one of the most exciting and fast moving topics in current astrophysics research, the formation and evolution of galaxies from an observational perspective. Starting with a brief historical introduction, the module will then summarise what we can learn about galaxy evolution from studies of galaxies in the local Universe, before discussing the results obtained from recent deep field observations of the high redshift Universe. The final part of the module will concern the important role that active galactic nuclei play in galaxy evolution.

10 credits

Star Formation and Evolution

The module will cover advanced astrophysics topics involving observations and theory of star and planet formation, plus the evolution of low, intermediate and high mass single stars, close binary evolution including their end states (white dwarfs, neutron stars, black holes), supernovae and gamma ray bursts.

10 credits
Optional modules:
Advanced Electrodynamics

This module gives a detailed mathematical foundation for modern electrodynamics, starting from Maxwell¿s equations, charge conservation and the wave equation, to gauge invariance, waveguides, cavities and antennas. After a brief recap of vector calculus, we explore the role of the scalar and vector potential, the multi-pole expansion of the field, the Poisson and Laplace equations, energy and momentum conservation of the fields, and Green¿s functions. We conclude with a relativistic treatment of the fields.

10 credits

Advanced Particle Physics

The module provides students with a comprehensive understanding of modern particle physics. Focussing on the standard model it provides a theoretical underpinning of this model and discusses its predictions. Recent developments including the discovery of the Higgs Boson and neutrino oscillation studies are covered. A description of the experiments used to probe the standard model is provided. Finally the module looks at possible physics beyond the standard model.

10 credits

Advanced Quantum Mechanics

This module presents modern quantum mechanics with applications in quantum information and particle physics. After introducing the basic postulates, the theory of mixed states is developed, and we discuss composite systems and entanglement. Quantum teleportation is used as an example to illustrate these concepts. Next, we develop the theory of angular momentum, examples of which include spin and isospin, and the method for calculating Clebsch-Gordan coefficients is presented. Next, we discuss the relativistic extension of quantum mechanics. The Klein-Gordon and Dirac equations are derived and solved, and we give the equation of motion of a relativistic electron in a classical electromagnetic field. Finally, we explore some topics in quantum field theory, such as the Lagrangian formalism, scattering and Feynman diagrams, and modern gauge field theory.

10 credits

An Introduction to General Relativity

This module introduces coordinate systems and transformations in Euclidean space. The principles of special relativity are reviewed, with emphasis on the coordinate transformations between systems moving at constant velocities. Our discussion of general relativity begins with an introduction to the principle of equivalence. We introduce the Christoffel symbols and the curvature tensors. We study examples of phenomena affected by general relativity, the rate of clocks and the redshift and bending of light in a gravitational field. Finally, we examine space time in the vicinity of the event horizon, the geometry of a non-spinning black hole, and the geometry of wormholes.

10 credits

Biological Physics

This module will introduce students to biological physics, that is, the application of principles and tools from physics to biological systems. Biological materials are often soft condensed matter with properties between those of simple liquids and solids. In addition biological matter is usually out of equilibrium due to internal biochemical sources of energy. Students will begin to explore the world of biological cells and biopolymer macromolecules, such as DNA. They will see how physics can help understand biological systems through mathematical models and experimental imaging techniques and how this can lead to new physics and applications in biology.

10 credits

Dark Matter and the Universe

Dark matter, though still unidentified and not yet directly detected, is established as a major constituent of the universe according to modern cosmology. In this course, we will review the astrophysical and cosmological evidence for the existence of dark matter, critically assess the various candidates that have been put forward, and discuss direct detection methods for the two most popular candidates¿WIMPs and axions. The course has a multidisciplinary flavour combining work in astronomy, particle physics, solid state physics, detector technology and philosophy, encouraging development of skills in all these.

10 credits

History of Astronomy

The module aims to provide an introduction to the historical development of modern astronomy. After a brief chronological overview and a discussion of the scientific status of astronomy and the philosophy of science in general, the course is divided into a series of thematic topics addressed in roughly chronological order. We will focus on the nature of discovery in astronomy, in particular the interplay between theory and observation, the role of technological advances, and the relationship between astronomy and physics.

10 credits

Magnetic Resonance: Principles and Applications

The module will provide an overview of the basics of magnetic resonance, and then consider its applications in systems ranging from macroscopic living organisms, as in magnetic resonance imaging (MRI) widely used in hospitals, to nano-scale systems where control of single or a few spins is now possible and can also be used for nano-imaging. Special attention will be paid to recent advances in solid-state nano-NMR and the control of single electron spins in solid state nano-systems using spin resonance techniques.

10 credits

Optical Properties of Solids

This course covers the optical physics of solid state materials. It begins with the classical description of optical propagation. It then covers the treatment of absorption and luminescence by quantum theory, and the modifications caused by excitonic effects. The phenomena are illustrated by discussing the optical properties of insulators, semiconductors, and metals. The infrared properties of ionic systems are then discussed, and the course concludes with a brief introduction to nonlinear crystals.

10 credits

Particle Astrophysics

The LHC accelerates protons to kinetic energies of up to 7000 times their rest mass - a huge technological achievement. Yet, every second, over 500 million particles with energies greater than this collide with the Earth. Where do these particles come from, and how are they accelerated to these astonishing energies? These are, in fact, still open questions in astrophysics. In this module, we will look at the observational evidence for particle acceleration in astrophysical objects, the mechanisms available to accelerate particles, and some of the likely sources, including supernovae and supernova remnants, neutron stars, and active galaxies

10 credits

Physics Communication and Impact

This module works towards the planning and delivery of some form of science communication such as a public talk, outreach activity or interactive digital media, presenting fundamental concepts in physics and/or current research in the discipline. The students will then examine their communication medium to develop an assessment of the impact / effect their work could have on a wider audience. They will also critically explore science communication and how it can be (mis)portrayed in mainstream media.

10 credits

Physics in an Enterprise Culture

This is a seminar and workshop based course with a high level of student centred learning. The unit will introduce students to the methods and skills associated with the research / business management, planning, costing, intellectual property issues, patenting and marketing. It will broaden students understanding of the mechanics of project planning and research commercialisation. The course is divided into two main themes:Theme 1: Research proposal. Here, students have to make a reasoned case for a new and original piece of research. Students will form part of a series of small panel-meetings to assess the strengths and weaknesses of work submitted by other students on the course. Theme 2: Business proposal. Here, students are expected to propose a new technological design, product, invention or service, and pitch the idea to a group of experts.

10 credits

Semiconductor Physics and Technology

This module builds on the core solid state physics modules to provide an introduction to semiconductor electronic and opto-electronic devices and modern developments in crystal growth to produce low dimensional semiconductor structures (quantum wells, wires and dots). Band structure engineering, the main physical properties and a number of applications of low dimensional semiconductor structures are covered.

10 credits

The Development of Particle Physics

The module describes the development of several crucial concepts in particle physics, emphasising the role and significance of experiments. Students are encouraged to work from the original literature (the recommended text includes reprints of key papers). The module focuses not only on the particle physics issues involved, but also on research methodology - the design of experiments, the critical interpretation of data, the role of theory, etc. Topics covered include the discoveries of the neutron, the positron and the neutrino, experimental evidence for quarks and gluons, the neutral kaon system and CP violation etc.

10 credits

The Physics of Soft Condensed Matter

Soft condensed matter is a generic name for a class of materials that play a crucial role in technology as well as providing fascinating and timely scientific problems. These complex materials are typified by polymers, gels and colloidal dispersions, whose properties often seem intermediate between ordinary liquids and solids. Familiar examples from everyday life include plastics, soaps and detergents, foodstuffs, and indeed the material from which living organisms are constructed. Only relatively recently has it been realised that despite the complexity of these materials elegant and simple physical principles often underlie their behaviour; this course provides an introduction to these principles.

10 credits
The content of our courses is reviewed annually to make sure it's up-to-date and relevant. Individual modules are occasionally updated or withdrawn. This is in response to discoveries through our world-leading research; funding changes; professional accreditation requirements; student or employer feedback; outcomes of reviews; and variations in staff or student numbers. In the event of any change we'll consult and inform students in good time and take reasonable steps to minimise disruption. We are no longer offering unrestricted module choice. If your course included unrestricted modules, your department will provide a list of modules from their own and other subject areas that you can choose from.
Learning and assessment
Learning
You'll learn through lectures, small group tutorials, programming classes, practical sessions in the lab and research projects.
Entry requirements
Standard offer
Access Sheffield offer
The A Level entry requirements for this course are:
AAA
including Maths and Physics
The A Level entry requirements for this course are:
AAB
including Maths and Physics
A Levels + additional qualifications | AAB, including AA in Maths and Physics + A in a relevant EPQ AAB, including AA in Maths and Physics + A in a relevant EPQ
International Baccalaureate | 36, 6 in Higher Level Maths and Physics 34 with 6,5 in Higher Level Maths and Physics
BTEC | Not accepted Not accepted
Scottish Highers + 2 Advanced Highers | AAAAB + AA in Maths and Physics AAABB + AB in Maths and Physics
Welsh Baccalaureate + 2 A Levels | A + AA in Maths and Physics B + AA in Maths and Physics
Access to HE Diploma | 60 credits overall in Science with Distinctions in 39 Level 3 credits (all in Mathematics and Physics), and Merits in 6 level 3 credits 60 credits overall in Science with Distinctions in 36 Level 3 credits (all in Mathematics and Physics), and Merits in 9 level 3 credits
English language requirements |
You must demonstrate that your English is good enough for you to successfully complete your course. For this course we require: GCSE English Language at grade 4/C; IELTS grade of 6.5 with a minimum of 6.0 in each component; or an alternative acceptable English language qualification
Other requirements
Students must have passed the practical element of any science A Level taken
Department of Physics and Astronomy
Is time travel possible?
Are there habitable planets in other star systems?
Can we make a quantum computer?
Our courses explore the laws of the universe from subatomic particles to stars and galaxies. You'll join a community of researchers and students looking for answers to some of the biggest questions in the universe.
All our undergraduates get hands-on experience working alongside staff on real research projects. We host numerous general and specialist seminars by physicists from around the world.
The Department of Physics and Astronomy is based in the Hicks Building, which is next door to the Students' Union, and just down the road from the library facilities at the Information Commons and the Diamond. The School of Mathematics and Statistics is also based here.
Facilities
Our students are trained in newly refurbished teaching laboratories and can access a range of specialist technologies, from the telescopes on our roof to our state-of-the-art Quantum Information Laboratory.
In their final year, MPhys students are based in a specialist research laboratory where scientists are studying technologies such as 2D materials, photovoltaic devices and advanced microscopy tools.
Department of Physics and Astronomy
Why choose Sheffield?
The University of Sheffield
  A Top 100 university 2021
QS World University Rankings
  Top 10% of all UK universities
Research Excellence Framework 2014
  No 1 Students' Union in the UK
Whatuni Student Choice Awards 2019, 2018, 2017
---
Department of Physics and Astronomy
Top ten in the UK for research output
Research Excellence Framework 2014
Russell Group top five for overall satisfaction
National Student Survey 2019
---
Physics and Astrophysics with Study Abroad
UK top 10 for overall satisfaction in Astronomy
National Student Survey 2020
Graduate careers
Department of Physics and Astronomy
They are making an impact in many areas of society. Some are following careers in aerospace, telecommunications, teaching, defence and energy research. Others are achieving success in computing, accountancy and consultancy.
Organisations employing our graduates include Ernst & Young, BAE Systems, Rolls-Royce, Toshiba, Museum of Science and Industry, Thales and the Home Office. Many of our graduates continue to PhD research and become research scientists in academia or industry.
Further information
Study abroad
You will spend your third year studying physics at one of our partner universities in the USA, Canada, Australia or New Zealand.
MPhys or BSc?
Our BSc courses focus on core knowledge and skills. The MPhys courses have an additional element of research work experience and more opportunity to study topics in greater depth. If you plan to follow a career as a research scientist, an MPhys degree would be most appropriate.
A built-in insurance offer
If you firmly accept as your first choice an offer for our MPhys courses, but your A Level grades are AAB, you're guaranteed a place on the BSc.
Fees and funding
Fees
Additional costs
The annual fee for your course includes a number of items in addition to your tuition. If an item or activity is classed as a compulsory element for your course, it will normally be included in your tuition fee. There are also other costs which you may need to consider.
Additional funding
Visit us
University open days
There are four open days every year, usually in June, July, September and October. You can talk to staff and students, tour the campus and see inside the accommodation.
Taster days
At various times in the year we run online taster sessions to help Year 12 students experience what it is like to study at the University of Sheffield.
Applicant days
If you've received an offer to study with us, we'll invite you to one of our applicant days, which take place between November and April. These applicant days have a strong department focus and give you the chance to really explore student life here, even if you've visited us before.
Campus tours
Campus tours run regularly throughout the year, at 1pm every Monday, Wednesday and Friday.
Apply for this course
Make sure you've done everything you need to do before you apply.
How to apply When you're ready to apply, see the UCAS website:
www.ucas.com
The awarding body for this course is the University of Sheffield.