Architecture and Landscape
BA
School of Architecture
Department of Landscape Architecture
Apply for this course
You are viewing this course for 2022-23 entry.
Course description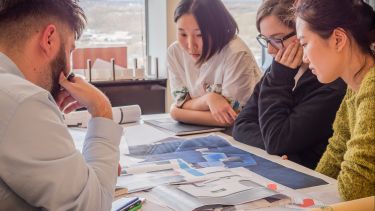 This course offers a unique opportunity to gain a professional qualification from the RIBA and the Landscape Institute. It includes core modules from architecture and landscape and specialist modules that address our principle aim: the integration of architecture and landscape design.
In the first year you might develop proposals for a small building in a public landscape. By the third year the building and its environment will be more complex and may focus on a substantial piece of urban design.
This course offers a unique opportunity to become a leading urban designer of the future. The programme leads to qualifications in both disciplines, making for highly employable graduates with truly holistic and critical awareness of the built environment.
The course takes advantage of the close relationship between two of the country's leading architecture and landscape architecture courses.
Lectures are delivered by staff from both departments at the forefront of their field, ensuring that a rich, diverse and current knowledge base is delivered. This knowledge is then used to support studio teaching where it is tested and developed through a variety of studio-based design projects.
The course is accredited by the Landscape Institute (LI) the Royal Institute of British Architects (RIBA) and gives exemption from RIBA and LI Part 1, making it the only such course in the UK.
The professional environment is keen to employ graduates from the course because of their unique dual educational experience. The course has run for over a decade and produces highly skilled alumni working at some leading UK and globally-significant practices.
Dual and combined honours degrees
Recognised by the Royal Institute of British Architects and Landscape Institute as giving exemption from Part 1.
Prescribed by the Architects Registration Board (ARB) subject to periodic review by ARB, for the purposes of entry onto the United Kingdom Register of Architects.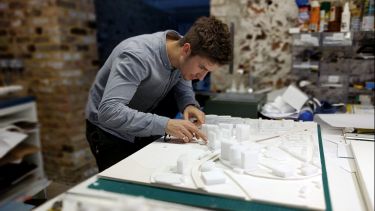 Modules
A selection of modules are available each year - some examples are below. There may be changes before you start your course. From May of the year of entry, formal programme regulations will be available in our Programme Regulations Finder.
Choose a year to see modules for a level of study:
Title: Architecture and Landscape BA course structure
UCAS code: KK13
Years: 2021
Core modules:
Introductory Environmental Design Studio

This unit is designed to introduce students to architectural and landscape design in a studio context. The module will be structured through a series of short design projects, which students will be asked to respond to in an imaginative and critical manner. Methods of representation will be introduced, including model-making, technical drawing and sketching. Students will study freehand and three-dimensional abstract design as a means of evaluating, creating and representing designs. Experimentation, subjectivity and objectivity will enhance the learning process. An integrated project brief for the final semester studio project is taught jointly across the department of Landscape Architecture and Architecture and reviewed and assessed jointly. This integrated project enables students to apply the skills and knowledge they have acquired in Landscape and Architecture to a single project site.

30 credits

Architectural Design (Landscape) 2

A course of studio based practical architectural design work which aims to: widen perception of architecture; introduce issues of cultural and technological significance; generate the interpretation and solution of a series of wide ranging design problems. The technical aspects of the work aims to: develop an understanding of the way building structure, construction and services inform, interpret and contribute to the architectural design process; and provide the opportunity for the demonstration of that understanding as an essential component of practical architectural design.

20 credits

The Dynamic Landscape

This unit is designed to further develop the landscape design skills and knowledge gained in the 1st semester. The module runs over 12 weeks and will be largely studio-based, but there will be field trips and visits. Based on one site students will work through all the stages of design development from site analysis through to final presentation. Precedent will be used to inform practice and students will undertake self-directed study to build knowledge of the theoretical basis of the design approach in such settings. Students will further develop their understanding of and use of landform manipulation, vegetation and other built structures to create a variety of space and experience. Studio exercises and seminars will be central to the learning process. Particular emphasis will be placed on the interaction with water and approaches to the 'water's edge' in the landscape. Graphic skills, freehand and technical, needed to convey ideas at both the design development and the presentation stage (essential to the landscape architect ) will be developed with further teaching in the area of digital design communication. Development of the knowledge of vegetation, particularly native trees, and its use and place in the landscape will take place through taught sessions, field study and individual research.

20 credits

Environment and Technology 1

This module is the first in a series on building environment and technology. It introduces the constructional and structural principles of small buildings and the ways in which buildings modify the thermal aural and visual environments.

10 credits

Environment and Technology 2

A continuation from ARC107, this module describes the constructional and structural principles of small buildings and the way in which buildings modify the sensory environment.

10 credits

Humanities 1

The overall aim of this module is to provide you with an understanding of how the field of architecture is positioned in relation to contemporary as much as to past issues. It will provide basic knowledge of particular moments in the recent history of the architecture and will familiarise you with some of its figures, concerns and events. Though the emphasis is on western architecture, it will include and encourage discussion of the way the architecture has been shaped and is being shaped around the world. As an Architectural Humanities module, it will not only focus on the history and theories of architecture but will also emphasise a more interdisciplinary approach that mobilises the knowledge and methods of the humanities. The module will look at 'situating' as the way in which the position, voices, agendas of, and issues concerning architecture are expressed and represented. It is a means to invite you to define your personal interest and take on architecture discipline and practice and to develop your own agenda within this wide open-field. This module will contribute to your development as a critical thinker and researcher who can evolve informed and rigorous arguments in both words and images.

10 credits

Humanities 2

ARC104 concerns the reciprocal relationship between architecture, the built environment and society, exploring the issues through a broad range of case studies. It will focus on a range of buildings, mainly dwellings. Through a multidisciplinary and cross-cultural approach, cases will include, for instance, vernacular, indigenous and everyday buildings to show how architecture worked when people built for themselves directly without recourse to building specialists and mechanised technology. The course seeks to establish that architecture works through different categorisations, such as style, symbolic references, typologies, use, materiality, meaning, structure, layout, form, but also through the framing of human activities and rituals. The cross-cultural approach prompts the question if there are aspects that remain specific to a local context and if in some cases, some of these can be regarded as universal, or not.

10 credits

Reading the Designed Landscape

This module introduces students to the full scope and diversity of landscape architecture and the role of landscape architects in tackling contemporary social and environmental issues, presenting and giving examples of the areas of practice known as planning, design and management, with particular reference to the Sheffield area. The role of the Landscape Institute is also introduced. The aim of this module is to familiarise students with the range of work undertaken by landscape architects and the challenges the profession faces.

10 credits
Core modules:
Architectural Design (Landscape ) 3

A course of studio based practical architectural design work which builds on the experience of the first year design studio. The scale of projects addressed increases from those encountered in the first year, with more complex briefs. Consideration is given to issues of sustainability, the relation of buildings to their urban context and the design of outside spaces. The technical aspects of the work aim to further deveop an understanding of building structure, construction, materials and services in relation to the overall design concept.

30 credits

Architectural Design (Landscape) 4

ARC238 follows on directly from ARC237. Together they form an integrated sequence of projects for the second year architectural desgn studio course. ARC238 continues the practical architectural design work of ARC237, but concentrates on the design of a medium-sized public building, including the integration of technical and environmental elements.

30 credits

Urban Ecological Design and Planting

This module will focus on fundamental principles related to designing with nature in urban environments. The emphasis will be on natural processes and the interrelationship between various landscape components in the design process. The module introduces the use of plants in urban and landscapes to develop designed plant communities that are successful in supporting biodiversity, human richness of experience and specific functional needs.

20 credits

Cultural Studies - urban landscape

The series of lectures, presentations and discussions is concerned with exploring the history, forms and meaning of designed landscape. The main objective is to provide inspiration and motivation for both the intellectual and creative facets of design activities. The insight into landscape culture and practices will provide the basis on which to develop thought patterns and solutions to landscape issues with a particular emphasis on urban spaces.

10 credits

Environment and Technology 3

ARC207 introduces the technology of medium-scale buildings. It comprises three lecture courses: Construction and materials, Architectural Structures (steelwork) and Environmental Design (thermal analysis and systems).

10 credits

Humanities 4

ARC 204/254 consolidates the production of architecture through buildings and designs with the production of disciplinary and interdisciplinary knowledge, with a particular overall focus on the contemporary condition.

10 credits

Materials of Landscape - Construction Design

The module gives a broad introduction to different approaches to designing and detailing a typical range of landscape structures in different design contexts. It introduces a basic understanding of the properties of different construction materials and how appropriate detailing can support sustainable design. Students are required to produce a design solution and accompanying construction details for an area of open space related to the architecture housing project ARC 226/238. All drawings are produced using computer aided design software.

10 credits
Core modules:
Architectural Design (Landscape) 5

A course of studio based practical architectural design work which builds on the lessons learnt in the first and second year design studio. The studio based design projects involve schemes of greater complexity than previously, with emphasis placed on the integration of knowledge gained durnig the three year course. Projects focus on the importance of physical context, and in particular to the landscape and urban design context. Students are encouraged to make connections between their architectural design and landscape design. A wider range of building types is introduced that require analytical studies relating to urban design, precedents and philosophical approaches. The associated technical studies closely relate to the design projects and are seen as an integral part of the design process.

30 credits

Architectural Design 6

A course of studio based practical architectural design work which builds on the lessons learnt in the first and second year design studio. The studio based design projects involve schemes of greater complexity than previously, with emphasis placed on the integration of knowledge gained during the three year course. Projects focus on the importance of physical context, introduce a wider range of building types, and require analytical studies relating to urban design, precedents and philosophical approaches. The associated technical studies closely relate to the design projects and are seen as an integral part of the design process.

30 credits

Advanced Planting Design

This module builds on the understanding of plants and planting design gained through LSC240 Urban Ecological Design and Planting. It develops understanding of plant selection, establishment and management on landscapes sites. Planting design skills are further developed by a more complex project that provides students with the opportunity to explore the latest issues in planting design.
It is integrated with LSC308 Integrated Urban Design Project, in that it follows the same overall development brief and site.

10 credits

Environment and Technology 5

The module describes the technology and environment of medium-scale buildings. It consists of the following lecture courses: Acoustics, Lighting, Services, Environment and Sustainability, Management, Practice, Law and Architectural structures (structural form).

10 credits

Humanities 5

ARC 303 is the final module in a sequence of humanities courses over the three years of the architecture degree. ARC 303 specifically focuses on urban history and theory and integrates architecture and related issues with a wider urban context. ARC 303 presents key factors and principles of urban development, historical and contemporary urban design and planning theories and exemplifies these through a series of urban case studies.

10 credits

Integrated Urban Design Project

The KK13 Integrated Project provides an opportunity to develop landscape and building design proposals for an area of urban regeneration from initial urban analysis and strategies through to detailed planting and construction for both landscape and architecture. It will allow you to apply the knowledge and skills that you have acquired in architecture and landscape to date and to develop a more detailed appreciation of issues relating to urban design.

10 credits

Landscape Construction Design

The module aims to further develop knowledge and skills in detailed construction design. It focuses on developing the ability in students to demonstrate appreciation and knowledge of landscape/architecture materials and assembly. It will enable students to:
- determine a materials and construction strategy in response to site conditions and design framework;
- demonstrate technical and design proficiency in exploring the interaction and material assembly for a selected area of architecture and landscape through the production of models, diagrams, integrated sections and construction documents.


10 credits

Site Planning for Housing

Students will study integrated design, using a real housing site to show they have learned, assimilated and are capable of undertaking the design process. They will be guided and constrained by a brief. Group work will include the following aspects: different aspects of site analysis, site visits, development and understanding of the brief, concept development, incorporating brief and site constraints, and strategic studies of similar sites. Individual work will include the design of a site layout plan at an appropriate scale, the production of technical, working drawings, including planting plans and construction details and perspective sketches and other relevant graphical representations.

10 credits
The content of our courses is reviewed annually to make sure it's up-to-date and relevant. Individual modules are occasionally updated or withdrawn. This is in response to discoveries through our world-leading research; funding changes; professional accreditation requirements; student or employer feedback; outcomes of reviews; and variations in staff or student numbers. In the event of any change we'll consult and inform students in good time and take reasonable steps to minimise disruption. We are no longer offering unrestricted module choice. If your course included unrestricted modules, your department will provide a list of modules from their own and other subject areas that you can choose from.
Learning and assessment
Learning
We adopt the model of architectural education which focuses primarily around the design studio. This is supported by lectures, seminars, field trips and workshops.
Our approach to architectural education is underpinned by our world-class research and our strong links to practice. In the design studio you will be guided by academic tutors and practicing architects who bring their expertise to your projects. Some run their own practices, others specialise in areas such as sustainable design, all bring the latest in architectural thinking to help guide your projects.
Assessment
You will be assessed through both group and individual coursework, which may include design portfolios, written reports or presentations. Feedback will be given via individual and group tutorials and studio based design reviews.
Programme specification
This tells you the aims and learning outcomes of this course and how these will be achieved and assessed.
Entry requirements
The A Level entry requirements for this course are:
AAA
The A Level entry requirements for this course are:
AAB
A Levels + additional qualifications | AAB + B in Core Maths AAB + B in Core Maths
International Baccalaureate | 36 34
BTEC | D*DD in a relevant subject DDD in a relevant subject
Scottish Highers + 1 Advanced Higher | AAAAB + A AAABB + B
Welsh Baccalaureate + 2 A Levels | A + AA B + AA
Access to HE Diploma | 60 credits overall in a relevant subject, with 45 credits at Level 3, including 39 credits at Distinction and 6 credits at Merit 60 credits overall in a relevant subject, with 45 credits at Level 3, including 36 credits at Distinction and 9 credits at Merit
English language requirements |
You must demonstrate that your English is good enough for you to successfully complete your course. For this course we require: GCSE English Language at grade 4/C; IELTS grade of 6.5 with a minimum of 6.0 in each component; or an alternative acceptable English language qualification
Other requirements
Relevant BTEC subjects include Applied Science, Art and Design, Business, Construction and the Built Environment, Engineering or IT

Evidence of artistic ability in the form of a portfolio is also required
School of Architecture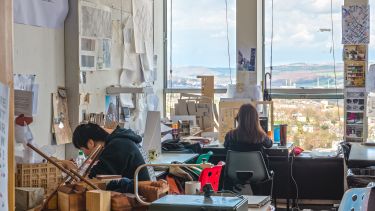 Come to Sheffield and join some of the best architecture students in the UK - our students have won prizes at the RIBA Student Awards and the Royal Academy Summer Show. They've been shortlisted in the European Architecture Medals and the Inspiring Graduate Awards. Our staff are doing world-class research, helping to make the school a leader in our field across the UK and internationally.
We believe in architecture that makes a difference. We know that it has the potential to improve the lives of those who inhabit and use it.
Through our internationally-acclaimed teaching and research, we explore the social, spatial and environmental implications of architecture. As a Sheffield student, you will engage with real issues affecting the built environment.
We encourage you to explore ideas and collaborate with other students. Through group tutorials and peer review you'll learn how to express your opinions, and value the opinions of others. Sheffield is the perfect place to develop your personality as a designer.
We provide a balance of theory, design work and professional experience. We have a strong design studio culture. The studio acts as a laboratory for trialling your creative and critical ideas, and for developing fundamental architectural skills. You'll share ideas during group tutorials and review other students' work. This encourages you to express your own opinion and to value the opinions of others, as you begin to develop your personality as a designer.
The School of Architecture sits high up in the Arts Tower, offering unrivalled panoramic views across Sheffield and beyond. This is where you will spend the majority of your time in the design studio.
You'll also attend lectures across the campus and take advantage of our drawing labs and facilities for woodwork, metalwork, casting and architectural model making.
Facilities
Our generous open-plan studios promote collaboration and you will be able to take advantage of our drawing labs and facilities for woodwork, metalwork, casting and architectural model making.
You'll have access to the latest digital techniques in our computer labs which host a suite of professional Building Information Modelling and Computer Aided Design software. You can also take advantage of our digital review facilities and will have access to 360 degree capture technology.
Workshops and tutorials are embedded into each course to ensure you have the skills you need.
School of Architecture
Department of Landscape Architecture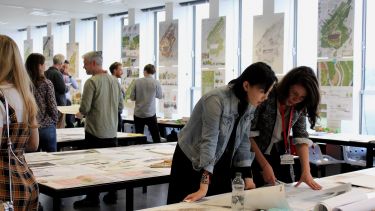 Landscape architecture is about the design, planning and management of places that benefit people and nature. Landscape architects create spaces between buildings that are both inspirational and functional. If you have a flair for creativity and a passion for improving the environment and people's lives, then landscape architecture could be for you.
You'll learn from experts who are involved in some of the most exciting landscape design work in the world today.
Sheffield is a dynamic city and an ideal place in which to study landscape architecture. Its changing face has been shaped by department-led initiatives like Grey to Green and Love Square, which give students the chance to be involved with live projects and see the difference landscape architecture can make. Sheffield combines the urban with awe-inspiring views of the neighbouring Peak District, making it a rich learning and research environment.
Department of Landscape Architecture students are based in the Arts Tower; an iconic building with panoramic views across Sheffield. You'll also attend lectures at venues across campus and travel further afield for site visits.
Facilities
Our studios facilitate digital and hands-on design practice and are equipped with everything you'll need, including drawing boards, a wireless network and kitchen space.

Department computer suites come supplied with high specification computers, a range of industry standard and specialist software and are supported by an in-house team of IT and graphics experts.
Department of Landscape Architecture
Why choose Sheffield?
The University of Sheffield
  A top 100 university 2022
QS World University Rankings
  Top 10% of all UK universities
Research Excellence Framework 2014
  No 1 Students' Union in the UK
Whatuni Student Choice Awards 2020, 2019, 2018, 2017
---
School of Architecture
4th in the UK for architecture
The Complete University Guide Subject Tables 2021
---
Department of Landscape Architecture
Top 5 for landscape
The Times and Sunday Times Good University Guide 2022
No 1 landscape department for student satisfaction
National Student Survey 2021
3rd in the UK for landscape
Complete University Guide 2022
---
Graduate careers
School of Architecture
Our graduates often go into architectural practice for a year or two before doing a two-year MArch in Architecture - either at Sheffield or another school. Our graduates also pursue careers in the built environment or move on to a specialist masters course.
Employers include AHMM, ARUP, Building Design Partnership, Haworth Tompkins Architects, Feilden Clegg Bradley, Grimshaw Architects, Hawkins\Brown, and Penoyre & Prasad.
Graduates on our Architectural and Interdisciplinary Studies degree course are well prepared for a career in the built environment in roles such as: built environment consultant, government and local authority advisor, creative and strategic policy maker, architectural critic and journalist, and arts and heritage manager.
Department of Landscape Architecture
Our graduates are in demand. Industry figures come to our end-of-year exhibition and advertise vacancies with us. Graduates work all over the world and find employment in private practice, community development agencies, local authorities and national governments.
Alumni include a former President of the International Federation of Landscape Architects and multiple RHS medal winners.
Our selection process
After you've applied, we'll ask you to submit a portfolio of your own artwork. We'll be looking for observation skills, criticality, invention and representation. The portfolio should consist of ten reproductions of art or design work. You'll receive full details of the requirements, format, submission and assessment criteria after we've received your application. If your portfolio is of a really high standard, we may make you a lower grade offer.
Generally we don't ask candidates to attend an interview. However, if you're a mature student or if you don't have conventional academic qualifications, we may invite you to an interview.
Fees and funding
Fees
Additional costs
The annual fee for your course includes a number of items in addition to your tuition. If an item or activity is classed as a compulsory element for your course, it will normally be included in your tuition fee. There are also other costs which you may need to consider.
Visit us
University open days
There are four open days every year, usually in June, July, September and October. You can talk to staff and students, tour the campus and see inside the accommodation.
Taster days
At various times in the year we run online taster sessions to help Year 12 students experience what it is like to study at the University of Sheffield.
Applicant days
If you've received an offer to study with us, we'll invite you to one of our applicant days, which take place between November and April. These applicant days have a strong department focus and give you the chance to really explore student life here, even if you've visited us before.
Campus tours
Campus tours run regularly throughout the year, at 1pm every Monday, Wednesday and Friday.
Apply for this course
Make sure you've done everything you need to do before you apply.
How to apply When you're ready to apply, see the UCAS website:
www.ucas.com
The awarding body for this course is the University of Sheffield.
Recognition of professional qualifications: from 1 January 2021, in order to have any UK professional qualifications recognised for work in an EU country across a number of regulated and other professions you need to apply to the host country for recognition. Read information from the UK government and the EU Regulated Professions Database.