You are viewing this course for 2022-23 entry. 2023-24 entry is also available.
Course description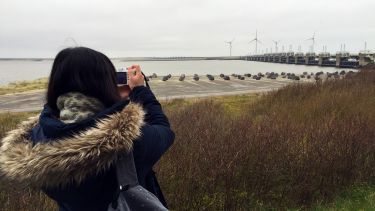 Are you interested in cities and how they are developed? Do you like to think creatively about how urban spaces might work better for people? Are you concerned about social problems in cities and how we tackle the injustices that come with city life?
Our BA Urban Studies programme is a three year honours degree that gives you the opportunity to study the urban and built environment using cutting-edge theories and practices in politics, economics, design, sociology and geography. You'll develop a deep critical awareness of how cities work - and when they don't - and how the fortunes of city dwellers around the world can depend on the actions of global financiers, national politicians, and community activists.
We teach you key analytical and practical skills to prepare you for the workplace. We also allow you to specialise in the aspects of the subject that most interest you.
We also offer the flexibility to transfer between BA Urban Studies and MPlan Urban Studies and Planning, a year or more into your studies.
You can also spend part of your course in another country such as the USA, Denmark, France or Italy.
Modules
A selection of modules are available each year - some examples are below. There may be changes before you start your course. From May of the year of entry, formal programme regulations will be available in our Programme Regulations Finder.
Choose a year to see modules for a level of study:
Title: Urban Studies BA course structure
UCAS code: L722
Years: 2022, 2023
Core modules:
Development, Planning and the State

The module provides an introduction to spatial planning in theory and practice, exploring arguments for and against spatial planning and the rationale for state intervention into land and property development. The first part of the module covers key debates on the purposes of planning, the historical development of planning as a state activity and the current structure of national, regional and local government. The central part of the module introduces key aspects of the English planning system and key debates about its role and purpose. The final third of the module explores how spatial planning responds to major societal challenges.

20 credits

Economics for Spatial Planning

This module provides an introduction to economic concepts and theories and to the way in which they are applied to the analysis of selected markets and policy challenges. The module seeks to offer an economic perspective on planning issues by focusing on land market and urban development. The overall aim of the module is to develop students' understanding of the economic environment within which planners and other urban professions operate and to enhance understanding of economic theory and the property market in general.

10 credits

Information and Communication Skills

The skills needed to be able to find, evaluate, summarise and critically evaluate information are all vital to success in an undergraduate degree programme, and are also key transferable skills. This module provides basic knowledge of a range of methods for information-gathering and forms of communication. The teaching is delivered through a mix of lectures, tutorials and seminars, with students expected to take more responsibility for their own learning as the module progresses. Lectures provide basic knowledge on method for information gathering and forms of communication, whilst seminars, tutorials and a range of exercises are used to develop these skills

10 credits

Understanding Sheffield; place, work, folk

The aim of this module is to provide you with an introduction to Sheffield with a particular focus on place, people, the local economy and urban change. You will be introduced to some of the theories, information and techniques that planners use in their efforts to understand and create better places and the module will develop your skills of analysis for assessing the social, economic and environmental qualities of urban places. Through a series of site visits, you will gain a basic understanding of several different areas in Sheffield so that you develop a broader appreciation of the city's strengths and some of the contemporary challenges that it faces.

20 credits

Professional Skills Development (L1)

* A foundation to articulate the skills-based nature of study in USP.
* An opportunity to recognise the importance of, and your responsibility for, the development of key professional and employability-related skills.
* A series of support sessions to help you get the most out of your learning experience and prepare you for professional employment at the end of your studies.

This module seeks to deliver a range of professional and employability-related skills over the academic year, tailored to each student cohort, to introduce skills development and to tailor support towards the final stages of study.


The Environmental Challenge

Humans are altering the climate, with significant impacts on livelihoods, wellbeing, equality, and the environment across the globe.  While international organisations and governments are crucial in mitigating and adapting to these threats, individual and small group collective action are also essential in creatively exploring how the necessary changes can be realistically and equitably implemented.

 

This module uses the community linked to the University as a Living Lab.  Focusing on one aspect of daily life in which there is potential for more mitigation or better adaptation, you will identify and plan an investigation or intervention (a 'project') to take a step towards more or better climate action.  You will need to justify your choices by elaborating what you would consider success, how you would deliver it, as well as assessing the impact of its wider implementation.

10 credits

The Making of Urban Places

This module will introduce you to cities and urbanisation, from the very first settlements to contemporary metropolises, using examples from across the world. The module focuses on thinking about the role of cities within societies and civilisations throughout history. The first half, on the history of urbanisation and urban settlement, looks at how various forces have shaped cities, and the outcomes of urbanisation for cities and their populations. The second half, on contemporary global urbanisation challenges, examines some of the major global challenges facing cities today. Throughout, we will explore influential ideas which have changed our thinking about cities, and look at how urban governments and planners have sought to respond to the challenges of urbanisation.

20 credits

Urban Analytics

This module will serve as an introduction to quantitative research methods, with a specific focus on data sources, analysis methods and presentation techniques for policy analysis in social science. It will expose students to a wide variety of substantive issues surrounding the use of data in practice and enhance their understanding of methods used in the real world policy settings. Students will access and use a range of different datasets, covering demographics, property, and land use. They will be required to demonstrate competence in accessing, analysing and presenting such data in order to gain a deeper understanding of key issues.

10 credits
Optional modules (20 credits from a range of modules including):
Housing, Home and Neighbourhood

Issues relating to housing, homes, streets and neighbourhoods that we live in are in the news every day. Whether this is over concerns about housing shortages, affordability, housing bubbles, 'generation rent', social housing, housing evictions, Covid lockdown, city-centre housing, DIY and 'grand designs', or debates about the domestic sphere, 'home as a haven', 'benefit streets', flooding and shack settlements, housing is often at the centre of social science research. This module aims to introduce students to this broad and diverse subject by drawing on the expertise of staff who research across these multiple themes. The module focuses on contemporary concerns, while maintaining an appreciation of the impact of historical trends (e.g. the Global Financial Crisis of 2007/8). The module will make use of cases from the UK and abroad to illustrate trends, arguments and challenges. The module introduced students to various concepts and debates relating to housing, as well as indicating the linkages to housing and urban policy.

10 credits

Cities

The main aim of Cities and Inequality  is to introduce you to our urban condition in a global context, with particular attention to the multiple forms of inequality that pervade urban life. Drawing on a wide range of expertise within the Department, we will introduce you to a range of key issues in contemporary urban studies and help you to understand more about the roots of urban problems and questions of social differentiation and injustice in a range of global urban contexts. The course also aims to develop students' capacity for comparative urban analysis

10 credits

Living with Environmental Change

This module will introduce students to a wide range of critical environmental issues facing the world today from physical science and social science perspectives. Using a range of environmental problems evident in the Global North and Global South (such as climate change, habit loss, water resources, land-use change, agriculture), the physical and social processes implicated will be examined. Drawing on a range of examples, students will critically explore the causes, consequences, management and solutions to environmental issues and learn how to question assumptions about environmental processes.

20 credits

Why Geography Matters

Geography helps us plan for the future by investigating social and physical processes as they interconnect from the past through to the present. Geographers actively contribute to contemporary debates across the sciences, social sciences, and humanities.  We address some of the most pressing issues facing the modern world, from climate change to food security, informing policy and practice. The module provides a challenging but accessible insight into the origins of the discipline and how these translate into the cutting edge of contemporary geographical research, and how this helps us understand our changing world. Serving as a bridge between the general introductory modules, and the more specialist modules taught at levels 2 and 3, this module provides an opportunity for students to engage with topical issues in contemporary human and physical geography led by academics actively engaged in cutting edge research on those subjects. Because you will be exposed to a wide range of topical areas and multiple approaches to these you will have the opportunity to enhance your understanding of the contexts and perspectives that inform  decision making and how those decisions can result in greater or lesser social justice.  You will also be able to develop your ability to apply knowledge to real world examples.

20 credits

Exploring Human Geographies

The module provides an introduction to key principles, relations and processes that contribute to social, cultural, economic and environmental aspects of human geography.  It looks at spatial patterns of power, inequality and interdependence produced by economic and cultural globalisation, how those are experienced at the local scale, and how they have changed over time.  It outlines key concepts and current debates shaping how human geographers approach these issues by drawing on examples from around the world and at a variety of geographical scales.  It highlights the value of a geographical perspective on the world we live in.

20 credits
Core modules:
Researching the city: applied skills for practice

Level Two study of urban design, urban management, social research methods and the distinctiveness of place is enhanced by learning about how to conduct research in urban context. Students taking this module will consider various topics, such as the impact of planning policy, flood management, urban ethnicity and social segregation, housing developments, or issues in the use of public space, through learning about and, circumstances permitting, conducting field investigation. They will be introduced to a range of qualitative and quantitative research skills and techniques, as well as interpretative methods.

20 credits

Professional Skills Development (L2)

This module will provide a space for you to consider, plan and reflect on your personal and professional development as you complete your degree programme. It will support you to identify and reflect on the professional and technical skills gained through your other modules as well as the transferable skills covered in the Sheffield Graduate Attributes.  It will provide information, advice and support in order to help you get the most out of your learning experience and, through developing self-awareness and reflective skills, to prepare for professional employment or higher-level study. It will also provide an opportunity for you to practice some of the skills required for success in the recruitment process.
Optional modules:
Design and Development Project

This module explores the interrelationship between planning, design and development profitability. It examines the structure of real estate markets, the roles and objectives of the various stakeholders involved in the development process and the main aspects of development appraisal. At the same time, the module introduces the physical dimensions of urban planning and considers the urban design process and proposals for improving urban space. Students will work towards producing a development proposal that balances profitability with good design and in doing so, will learn to balance the competing demands of planning, design and real estate markets.

20 credits

Profit, Planning and Context

The module explores the relationship between the activities of profit-seeking business, the use and development of land and the planning activity. It provides an elementary introduction to the economics of land and property development and explores how these pressures interact with lifestyle choices to shape the use of land and property and the implication for public planning. The first part provides a brief introduction to measuring the performance of businesses and investments. The remainder of the module looks at the use of land and property for housing, retail, leisure, employment and transport uses in 'urban' contexts

20 credits

Spatial Analysis

The aims of the module are to provide students with a broad introduction to the basic concepts of GIS and how they can be used for the spatial analysis of a wide range of data for planning purposes. The assessments will (a) test students' individual understanding of key concepts and their ability to think about the potentials and limitations of using spatial analysis to solve planning related problems; and (b) assess students' skills in the practical application of GIS and spatial analysis to a contemporary planning-related problem.

20 credits

Urban Design and Place-Making

The overall aim of the module is to improve students' understanding and critical appreciation of the ideas, practices and techniques of urban design, focusing particularly on the contemporary context for place-making.

20 credits

Urban Theory

This module aims to develop student's imaginative engagement with the nature of urban life and human settlement. Urban theory refers to writing and thinking devoted to 'seeing' and understanding urban life - ideas are critical to how we engage with the key features and problems of the urban world. Theory is also important to our understanding of how cities work in practice - how we understand and view urban life is critical to the development of cities and to efforts seeking to make them more socially just, sustainable and better places to live. Urban Theory introduces a range of ideas and key concepts in urban studies with a view to understanding how cities have developed and how they 'work' in broad terms. The module considers a range of thinkers, ideas and problems.

20 credits
Core modules:
Dissertation

This module allows students to develop and manage an individual research project. Building on their topic idea paper (submitted for TRP215) where they identified a research topic of interest, students will refine their topic selection, develop an appropriate research design to address this, and conduct primary or secondary research to provide critical insight and analysis of the research issue. The module aims to develop students' skills in scoping and refining an appropriate research topic, and expand and deepen their knowledge of social research methods, in order to support them to design and undertake an appropriate and feasible programme of research. The module will contribute to a deeper understanding of the role of research in relation to theoretical and practical dimensions of urban studies and planning, and will allow students to deepen their own knowledge in a chosen field of specialist planning concern. The module will be of interest and practical use to students in carrying out their individual research projects, and in introducing a range of research, analytical and writing skills that will be useful in future careers.

40 credits

Professional Skills Development (L3)

This module will provide a space for you to consider, plan and reflect on your personal and professional development as you complete your degree programme. It will support you to identify and reflect on the professional and technical skills gained through your other modules as well as the transferable skills covered in the Sheffield Graduate Attributes.  It will provide information, advice and support in order to help you get the most out of your learning experience and, through developing self-awareness and reflective skills, to prepare for professional employment or higher-level study. It will also provide an opportunity to learn advanced skills required for success in the recruitment process.
Optional modules:
Decolonising Geographies

This module examines Indigenous geographies through Indigenous storytelling and film as a way to understand the need to decolonise geography. It examines how race, racism, Indigenous rights, settler colonialism, settler responsibility, white supremacy, land rights, dispossession and genocide shape geographies of place, space and landscape, as well as more affirmative visions of Indigenous futures. Topics covered include geographies of identity, emotions, memory, racism, colonialism, gender, landscape, and visual representation. The aim of this module is to centre Indigenous narratives, voices and knowledge to understand geography differently while simultaneously critiquing the current whiteness of academic geographical discourse. Trigger warning - this module engages with potentially distressing and challenging themes of rape, murder, abuse, loss and violence.

20 credits

Consumption and Sustainability

In this module we critically engage both 'consumption' and 'sustainability' and work with key debates and approaches that help us to understand what produces and maintains patterns of consumption. We will examine some key debates about material culture and mass consumption. The module studies the social relationships which come together around consumption at a variety of scales, from the body and the home to the national and the trans-national. What can different current approaches tell us about how we can move towards sustainable and socially just patterns of consumption while enjoying a good life?

20 credits

Urban Transformations

From the industrial-era modern cities of the Global North such as Manchester and Chicago to the fragmented, sprawling mega-cities of the contemporary Global South such as Lagos and Delhi, urban theorists have sought to understand the interplay of power, everyday practice, and social, political, economic, and cultural processes that both transform and are transformed by urban space. Pulling together critical social science and humanities-informed perspectives, the module draws from interdisciplinary theory and research to engage with urban transformations in both the Global North and the Global South. Topics may include transformations in urban theory, urban uprisings, urban infrastructure, and the role of film and literature in documenting and anticipating urban change.

20 credits

Values, Theory and Ethics in Spatial Planning

Drawing on insights from theoretical debates in planning and policy studies the module explores the assumptions underlying spatial planning practice and the challenges confronting practitioners. Firstly, it explores the values underpinning planning to understand why we plan, the nature of the challenges planning seeks to address and the dilemmas and conflicts these generate for planning practice. Secondly, it presents diverse theoretical approaches that planning has taken to address these dilemmas and conflicts. Thirdly, it examines the implications different planning theories have for the values of planning and the ethical frameworks available to planners in deciding how to act. Lectures will employ real-world cases and dilemmas faced by individual practitioners in their day-to-day work. Seminars will involve discussion based on films and other relevant material. Workshops will support students in the application of the approaches and theories discussed to specific cases, in preparation for the assignment.

20 credits

Transport and Infrastructure Planning

This module will provide students with an introduction to planning and policymaking in relation to the provision of transport and other types of infrastructure. The module develops students' ability to think critically about the framing of transport and infrastructure policy using an appreciation of historic developments, current practices and debates, transport and infrastructure planning examples from the UK and abroad. It will focus on how planners working at a range of spatial scales can give shape to effective transport and infrastructure strategies, which balance a range of environmental, social and economic objectives.

20 credits

Housing Policy and Governance

The aims of this Chartered Institute of Housing (CIH) accredited module are to build on substantive knowledge, theory and skills about housing. Emphasis is placed on policy, practice, strategy analysis and understanding the links between housing, planning, social policies and outcomes at national, regional and local levels. The module further aims to: increase understanding of contemporary issues and debates in housing and housing policy and strategies; understand the causes and manifestations of problems, dilemmas and conflicts in housing systems and policy processes; and to develop abilities to synthesise and apply knowledge by understanding and critically assessing potential policy approaches to addressing housing problems.

20 credits

Environmental Policy and Governance

This unit aims to help students analyse environmental policy. It provides an overview of the principal elements of contemporary environmental governance, and an introduction to the process of systematic policy evaluation in relation to a policy element of your choice. The module draws attention to the contested and complex nature of the policy environment, and the role of the competing interests in relation to policy on the environment. Through individual investigation of a specific element of policy, you will explore the multi-level nature of environmental policy, contested and competing policy goals, and one approach to understanding how policy brings about change.

20 credits

Creative Geographies: Media, Imaginaries and Politics

Place, in all its forms, has long inspired creativity, while the works that result are themselves inherently spatial.  This module will explore work from several historical and contemporary creative movements and associated cultural producers in context.  Why did their work arise where it did?  What difference did that place (or places) make to their aesthetic thought and expression?  How was space itself integral to their creative work?  This module will guide students through the intricate relationship between art across various media, geography, and the political.  Emphasis will be put on specific types of space and place as sites and mediums of aesthetic thought and creative practice.  Core themes will include identity, place and displacement, historical imaginations and the built environment, and creativity and socio-spatial transformation.

20 credits

Challenging Development

The aim of this module is to critically examine the development process within a global context, drawing on examples from developed and developing nations. Attention is given to the different ways in which we in the West understand 'development', and how we can reflect more critically on our position, and the power relations within this process. Drawing on debates within development geography, and other disciplines, the course is structured around three themes: the development industry, the poverty agenda and the local-global nexus. Topics covered may include: neoliberalism and state governance, humanitarian intervention, gender and empowerment, protests and social movements, corporate social responsibility, participation and empowerment, local forms of resistance, environmental action and change.

20 credits

Democracy and Citizenship: Dilemmas and Tensions

This module explores how a geographical approach helps us to analyse events such as controversial election results, divisive immigration policies, and contentious social activism. The two key concepts of democracy and citizenship are used to engage with contemporary debates and theories to draw out the links between geography, policy and society, and the ways in which these are responded to by citizens, communities, civil society, and political parties. Particular attention is paid to the ways in which these interactions are played out across and through multiple scales, from the global to our everyday lives.

20 credits

Sociology of Health, Illness and Medicine

This module explores sociological aspects of health, illness and medicine. It will focus on issues of health inequality exploring the ways in which patterns of health and disease vary according to class, gender and race. It also provides a critical examination of biomedicine, highlighting the contemporary challenges faced by medicine as a profession. Furthermore, it will focus on new dynamic developments in science and medicine linking health with the Internet and exploring the rise of the new genetics. The aim of this course is to provide students with a critical understanding of the role of health, illness and medicine within contemporary society.

20 credits

Perspectives on inequalities

This module is co-taught with local agency, community and family members. It asks students to think about the everyday experiences of inequality. It explores some of the core theoretical frameworks for interrogating inequality, and then explores everyday reality to apply the theories and concepts. The involvement of practitioners, community members and families means that the module is interactive and requires full attendance, in order to ensure a respectful experience for external contributors.

20 credits

Applied Volcanology

Volcanoes are an enigmatic force of nature. Understanding the way they behave and how they are monitored is a key aspect in hazard assessment. The module will cover a range of topics related to volcano monitoring, underpinned by an overview of the current state-of-the-art in volcanic science. In particular, the module will combine a theoretical basis of understanding for ground-based and satellite-based volcano monitoring capabilities with practical applications. Via lectures, lab practicals, and field-based activities, students will benefit from hands-on operation of monitoring equipment through to processing and interpretation.

20 credits
The content of our courses is reviewed annually to make sure it's up-to-date and relevant. Individual modules are occasionally updated or withdrawn. This is in response to discoveries through our world-leading research; funding changes; professional accreditation requirements; student or employer feedback; outcomes of reviews; and variations in staff or student numbers. In the event of any change we'll consult and inform students in good time and take reasonable steps to minimise disruption. We are no longer offering unrestricted module choice. If your course included unrestricted modules, your department will provide a list of modules from their own and other subject areas that you can choose from.
Learning and assessment
Learning
We offer field classes in the UK and Europe, typically including a core field trip in your second year. You will also have the option to spend a part of your degree studying at one of our overseas partner universities.
You'll be able to access course-related software such as Geographic Information Systems (GIS) software as well as cutting edge facilities including our virtual reality (VR) studio. 
All our teaching is research-led. Our teaching staff are world-leading researchers and experts in their field: in the latest Research Excellence Framework (REF 2014), the Department of Urban Studies and Planning was ranked as the #1 RTPI-accredited planning school in the UK.
Our expertise ranges from UK and international planning to real estate, geographical information systems (GIS) and global urban development.
Assessment
Our courses are assessed through exams, group work, live projects, policy reports, essays and independent studies.
Programme specification
This tells you the aims and learning outcomes of this course and how these will be achieved and assessed.
Entry requirements
The A Level entry requirements for this course are:
ABB
A Levels + additional qualifications BBB + B in a social science related EPQ; BBB + B in Core Maths
International Baccalaureate 33
BTEC Extended Diploma DDD in a relevant subject
Scottish Highers AAABB
Welsh Baccalaureate + 2 A Levels B + AB
Access to HE Diploma 60 credits overall in a relevant subject, with 45 credits at Level 3, including 30 credits at Distinction and 15 credits at Merit
Other requirements
The A Level entry requirements for this course are:
BBB
A Levels + additional qualifications BBB + B in a social science related EPQ; BBB + B in Core Maths
International Baccalaureate 32
BTEC Extended Diploma DDM in a relevant subject
Scottish Highers AABBB
Welsh Baccalaureate + 2 A Levels B + BB
Access to HE Diploma 60 credits overall in a relevant subject, with 45 credits at Level 3, including 24 credits at Distinction and 21 credits at Merit
Other requirements
Department of Urban Studies and Planning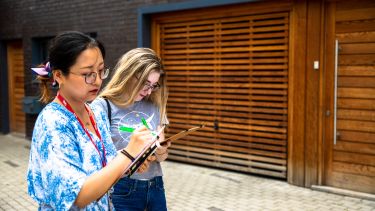 We're an internationally-renowned centre of excellence for the study of planning, urban studies and real estate, which includes environmental policy and international development. We help make better, healthier and more sustainable places.
We're the top-rated Royal Town Planning Institute (RTPI)-accredited planning school in the UK, according to the Guardian University Guide 2022.
Our courses will equip you with the knowledge and skills to build a successful career in planning and other urban studies and environmental professions.
Our students are at the heart of a vibrant academic community, contributing to the department through our student-staff committee, evaluation processes and involvement in organised events.
Our staff are approachable and we have an excellent staff-student ratio, resulting in a genuinely friendly and inclusive academic environment. Our cutting-edge research feeds directly into our teaching, and you'll be taught by world-leading academics in urban studies and planning.
We have an intellectual reputation for theoretical strength, especially in the fields of urban inequalities and social justice. Alongside this, many of our staff are involved in practical projects with a commitment to producing positive change in the world.
We work with national governments, international bodies such as the UN, research councils, private business, the voluntary sector, and local communities in Sheffield, the UK and abroad.
We're a supportive and friendly department where academics and students interact on a day-to-day basis. For this reason, we operate an open door policy and students do not need to book an appointment to talk to their lecturers.
Our award-winning building sits in the beautiful surroundings of Weston Park, alongside one of the main University libraries.
Facilities
Urban Studies and Planning students at Sheffield enjoy exclusive access to their own flexible study space, including high-spec networked computers with the latest specialist design and mapping software, as well as dedicated virtual reality (VR) and design facilities.
Department of Urban Studies and Planning
Why choose Sheffield?
The University of Sheffield
  A top 100 university 2022
QS World University Rankings
  92 per cent of our research is rated in the highest two categories
Research Excellence Framework 2021
  No 1 Students' Union in the UK
Whatuni Student Choice Awards 2020, 2019, 2018, 2017
Department of Urban Studies and Planning
No 1 accredited planning school in the UK
The Guardian University Guide 2022
Top 5 in the UK for planning
The Times and Sunday Times University League Table 2022
3rd in the UK for planning
The Complete University Guide 2020
No 1 RTPI accredited planning school in the UK
Research Excellence Framework 2014
---
Graduate careers
Department of Urban Studies and Planning
Our Placements, Employability and External Relations team maintains close links with external organisations to ensure that you have access to the world of work. This supports you in gaining an insight into many different professions.
A dedicated Professional Skills module will help develop your career plans and can support you in finding work experience and completing a placement year, which will help you gain practical experience in the workplace.
Most of our graduates go on to work in planning or a related career in the built environment professions, including housing, transport planning, real estate, development control, forward planning, regeneration, urban design, heritage and conservation.
Recent graduates have gone on to work for public and private sector organisations such as AECOM, Arup, CBRE, Deloitte, Harrow London Borough Council, Sheffield City Council and the Lake District National Park Authority. More than half of our graduate planners take up posts with planning consultancies and several are employed by major global built environment firms.
Our alumni frequently return to the department to give talks on cutting-edge planning topics. Several alumni sit on our Liaison Board, ensuring our courses are in tune with the needs of employers. Many alumni work at organisations which can offer work placements, or deliver guest lectures within our modules and attend other events.
Fees and funding
Fees
Additional costs
The annual fee for your course includes a number of items in addition to your tuition. If an item or activity is classed as a compulsory element for your course, it will normally be included in your tuition fee. There are also other costs which you may need to consider.
Visit us
University open days
There are four open days every year, usually in June, July, September and October. You can talk to staff and students, tour the campus and see inside the accommodation.
Taster days
At various times in the year we run online taster sessions to help Year 12 students experience what it is like to study at the University of Sheffield.
Applicant days
If you've received an offer to study with us, we'll invite you to one of our applicant days, which take place between November and April. These applicant days have a strong department focus and give you the chance to really explore student life here, even if you've visited us before.
Campus tours
Campus tours run regularly throughout the year, at 1pm every Monday, Wednesday and Friday.
The awarding body for this course is the University of Sheffield.
Recognition of professional qualifications: from 1 January 2021, in order to have any UK professional qualifications recognised for work in an EU country across a number of regulated and other professions you need to apply to the host country for recognition. Read information from the UK government and the EU Regulated Professions Database.