Dental Hygiene and Dental Therapy
Higher Education Diploma
School of Clinical Dentistry
Key details
UCAS code

DENU103

27 months

/

Full-time

April start
Industry placement
Course description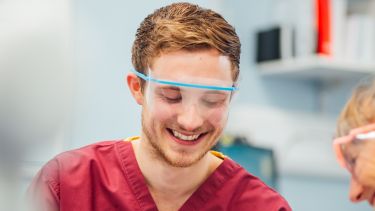 A 27-month full-time course (with an April start date) enabling students to gain professional accreditation as dental hygienists and dental therapists.
We recognise the importance of training the dental team together so you'll learn alongside dental students in a way that prepares you for practice.
You'll also benefit from our outreach training programme. It's one of the most rigorous placement programmes in the UK. Treating patients of all ages and backgrounds in real work environments sharpens your skills and gives you a head start in your career.
Our students find the course provides them with opportunities to explore ideas, apply what they have learned and to achieve their best.
Your teaching is driven by world-class research so you'll learn about the new techniques and advances that are rapidly taking place in the field of dentistry. Our research is multidisciplinary with a mix of biomedical, engineering and social scientists working together for the advancement of clinical excellence.
The General Dental Council quality assures and approves qualifications for registration, for the following registrant groups: Dentists; dental hygienists; dental therapists; dental nurses; clinical dental technicians; dental technicians; and orthodontic therapists.
Modules
A selection of modules are available each year - some examples are below. There may be changes before you start your course. From May of the year of entry, formal programme regulations will be available in our Programme Regulations Finder.
Choose a year to see modules for a level of study:
Title: Dental Hygiene and Dental Therapy Higher Education Diploma
UCAS code: DENU103
Years: 2022, 2023
Year one - starts in April
At the beginning of the first year you'll develop your understanding of the anatomy and physiology relevant to dentistry. You'll also be introduced to a range of study skills to help you thrive at University.
After the first month you'll begin clinical skills training so you can treat patients. You'll be introduced to the concept of putting patients' needs first, as well as careful and thorough instrumentation. Alongside this you'll visit and assist on clinics to help build your confidence and communication skills in a clinical environment – we place great emphasis on helping you become a caring, competent and confident member of the dental team.

Throughout the first year you'll also develop your knowledge and understanding in other subject areas including law, ethics and professionalism, health promotion and education and oral disease. Our course is very dynamic and within no time you'll be treating patients under close supervision in the Dental Hospital.
Highlights
Virtual reality operative dentistry
During your first year you'll benefit from our simulation suite, where you can practise dentistry in a virtual reality environment. This state of the art, innovative technology provides real-life visual, auditory and tactile sensory feedback and will enable you to learn, develop and improve your operative dentistry skills. This fun learning and teaching opportunity is a unique feature of our programme and complements the 'traditional' training you will undertake in the clinical skills learning environment on 'phantom heads'.
Integrated learning and teaching
At Sheffield we recognise the importance of training the dental team together. During your first year you'll complete some of your clinical skills training alongside our dentistry students. You'll also attend a series of integrated lectures. This integrated teaching approach will help prepare you better for practice.
Themes
Currently our first year learning and teaching is divided up into the following themes:
Study Skills and Personal Development
Dental Foundation
The Human Body in Health and Disease
Law, Ethics and Professionalism
Pre-Clinical Skills I
Health Promotion and Education I
Clinical Practice
Oral Disease I
Pre-Clinical Skills II
Pre-Clinical Skills III
Health Promotion and Education II
Dental Radiography
Year two
The second year is mainly clinical – you'll be treating your own patients and will be expected to show a commitment to compassionate, high-quality care. You'll rotate around different specialist departments within the Charles Clifford Dental Hospital, helping to broaden your clinical experience.
There will be the opportunity to attend Sheffield Children's Hospital to assist with oral surgery and you'll visit care homes to train staff in oral health care. You'll also benefit from clinical experience in the School's Dental Practice Unit. In addition you'll further your knowledge and understanding in important areas of dentistry.
Highlights
Oral health promotion project
During your second year you will work towards an oral health promotion project. Oral health promotion is one of the roles pivotal to all dental personnel and this project will give you the opportunity to plan and deliver your very own scheme to promote oral health for a targeted group of people. This is an exciting opportunity to make a real impact, with previous schemes launched in primary schools and residential care homes.
Outreach training
During the second year you will spend part of your time working as a team in a range of primary care settings currently in Yorkshire and the East Midlands. We use carefully selected placements in community dental services and general dental practices. Our pioneering outreach training programme provides a real working environment to encourage your professional development. It will give you an exciting opportunity to see and treat a variety of patients and maximise your clinical and communication skills.
Typically you will work in three placements, two days a week, each for around two months. Usually these will be in contrasting settings. As a working member of a dental team you will learn from the inside how the services operate and gradually build confidence and speed of working in your new role. Transferring skills learned in the Dental Hospital to new working environments should ease your move into employment upon qualification.
Many students find this outreach training a challenging but rewarding and reassuring part of the course. It's one of the most rigorous placement programmes in the UK, giving you a head start in your career.
Themes
Currently our second year learning and teaching is divided up into the following themes:
Clinical Practice
Dental Radiography
Health Promotion and Education III
Outreach
Oral Disease II
Principles of Practice
Year three
The third year consists of one term only.
By the time you reach the third year and the last few months of the course, you will have acquired a vast range of knowledge, skills and experience. Our principles of practice theme will inform you of the important issues you will confront in the workplace and help ensure you begin your career as a well-rounded professional.
Highlights
Near peer teaching
During the third year, you will have the opportunity to apply for the innovative near peer teaching scheme. If your application is successful, you'll take on the role of clinical tutor, teaching our junior students as part of their pre-clinical skills training. It will enable you to develop expertise in teaching, give you an insight into the clinical teaching profession and consolidate your previous learning. Many students have found this scheme very rewarding and enjoyable.
Themes
Currently, our third year learning and teaching is a continuation of our second year themes.
The content of our courses is reviewed annually to make sure it's up-to-date and relevant. Individual modules are occasionally updated or withdrawn. This is in response to discoveries through our world-leading research; funding changes; professional accreditation requirements; student or employer feedback; outcomes of reviews; and variations in staff or student numbers. In the event of any change we'll consult and inform students in good time and take reasonable steps to minimise disruption. We are no longer offering unrestricted module choice. If your course included unrestricted modules, your department will provide a list of modules from their own and other subject areas that you can choose from.
Learning and assessment
Learning
You'll learn through lectures, clinical skills learning environment work, clinical sessions and tutorials. A strong emphasis is also placed on directed self-learning.
Many of our staff are internationally respected for their research. Some are general dental practitioners with years of clinical experience.
Assessment
Throughout the course, you will be assessed by a variety of methods including written and practical examinations, assignments and an extensive project. As part of your final examination you will present a patient for whom you have provided an extensive range of treatments.
You'll also have to demonstrate you clinical competence in a range of key clinical skills expected of a qualified dental hygienist and dental therapist. Through our broad range of assessment methods you will develop a wide collection of transferable skills.
Programme specification
This tells you the aims and learning outcomes of this course and how these will be achieved and assessed.
Entry requirements
These are the minimum requirements for our April 2023 intake that must be met by the deadline for receipt of applications. Pending qualifications, due after the deadline for receipt of applications, will not be taken into consideration. 
Entry requirements for our April 2024 intake will be published in the new year. 
5 GCSE at grade C / grade 4 to include Mathematics, English Language and Science.
Plus one of the following options:
Level 3/4 Dental Nurse Qualification plus 1 A Level in a relevant Science subject (preferably Biology) at grade C.
Post-qualification certificates in Dental Nursing can strengthen an application but cannot be used to meet the minimum requirements.
Level 5/6 Dental Nurse Qualification.
2 A Levels to include one in a relevant Science subject (preferably Biology) at grade CC.
Access to Higher Education Diploma (60 credits with 45 at Level 3 at grade Merit) including 36 Level 3 credits in relevant Science units (preferably Biology) at grade Merit. 
An Access to Higher Education Diploma can also be used in lieu of two GCSEs, however you must still have GCSE grade C / level 4 in Mathematics, English Language and Science.
BTEC National Diploma at grade MM including 90 credits or 540 GLH of relevant Science subjects (preferably Biology) at grade Merit.
2:2 degree in a relevant scientific subject.
We will consider other national and international qualifications on an individual basis. If your qualifications aren't listed here, please contact us to discuss your application.
Applicants with international qualifications are also encouraged to submit a certificate of comparability from UK NARIC with their application form.
Proof of all qualifications will be required.
Clinical requirements

Our School also has a series of clinical requirements for clinical students. Before accepting an offer of a place, you must confirm you will comply these requirements.

Personal qualities and experience

You must possess a high level of manual dexterity and demonstrate attention to detail. You must also demonstrate excellent verbal and written communication skills, and have the ability to work as a team, think logically and respond positively to feedback. You must have a genuine interest in the care and treatment of patients, be empathetic and act without discrimination.

You are strongly advised to spend some time observing dental care professionals to ensure you have a good understanding of the profession.

The School offers a free online course via Future Learn which explores the impact dentistry has on our lives. You may find it useful to complete our discover dentistry course before you apply.

We also seek to select dental students with values and behaviours which align with the values of the NHS Constitution.

These are:

Working together for patients
Commitment to quality of care
Improving lives
Respect and dignity
Compassion
Everyone counts

 The NHS core values form part of the NHS constitution. You are advised to take a look at the NHS constitution before you apply.
School of Clinical Dentistry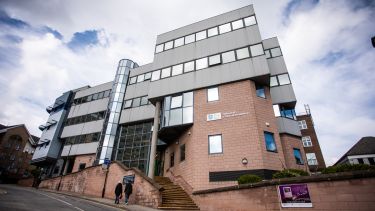 Our teaching is driven by world-class research. You'll learn about the new techniques and advances that are rapidly taking place in the field of dentistry.
We believe in training the whole team together. Our dentistry and dental hygiene and therapy students learn alongside each other in a way that helps to prepare them for practice. Our combination of integrated teaching and practical experience produces caring, confident professionals.
Our students find that our courses provide them with opportunities to explore ideas, apply what they have learnt and achieve their best. This is reflected in the National Student Survey where we consistently achieve high scores for overall student satisfaction.
We're committed to delivering an exceptional student experience. Our staff are involved in the quality assurance of teaching in Sheffield and other universities. Many have been recognised for their outstanding contributions to learning and teaching and commitment to professional development through professional bodies such as the Association for Dental Education in Europe and the Higher Education Academy (HEA) and some have gained national recognition, such as the ADEE Excellence in Dental Education Award, Principal Fellow of the Higher Education Academy and National Teaching Fellow. 
Many of our staff are also internationally respected for their research. Some are general dental practitioners with years of clinical experience.
Our placement programme for students is outstanding. You'll learn the value of evidence-based dentistry and how to apply it to clinical practice.
We also have links with the Medical School and the local community.
Our placement programme for students is outstanding. You'll learn the value of evidence-based dentistry and how to apply it to clinical practice.
Dentistry students are based at the School of Clinical Dentistry, situated within the University campus to the west of Sheffield. The school has a very close working relationship with the adjacent Charles Clifford Dental Hospital, a specialist facility offering dental services to people in Sheffield and surrounding areas. This is where most of our teaching takes place.
Facilities
We aim to provide a stimulating interdisciplinary environment, with access to some excellent facilities. In our virtual simulation suite you can practice dentistry in a virtual reality environment.
We have dedicated research facilities and laboratories for tissue culture, molecular biology, materials science, histology-microscopy and electrophysiology, all with dedicated technical support.
We continually seek to improve our range of facilities to meet the needs of our student and research community.
School of Clinical Dentistry
Why choose Sheffield?
The University of Sheffield
  A top 100 university
QS World University Rankings 2023
  92 per cent of our research is rated as world-leading or internationally excellent
Research Excellence Framework 2021
  Top 50 in the most international universities rankings
Times Higher Education World University Rankings 2022
  No 1 Students' Union in the UK
Whatuni Student Choice Awards 2022, 2020, 2019, 2018, 2017
  A top 10 university targeted by employers
The Graduate Market in 2022, High Fliers report
---
School of Clinical Dentistry
Top 10 in the UK for Dentistry
The Times Good University Guide 2022
The Complete University Guide 2022
The Guardian University Guide 2022
The University of Sheffield is within the top 100 in the world for clinical and health subjects
Times Higher Education (THE) World Subject Rankings 2021
Graduate careers
Our graduates can register with the General Dental Council and work in dentistry as dental hygienists and dental therapists. Career opportunities exist in local NHS and private dental practices, hospital services, community dental services and the Ministry of Defence. Others go on to research and teaching roles within universities or hospital trusts.
There are also opportunities within multinational organisations which specialise in healthcare and pharmaceutical products. You may even consider 'topping up' your qualification to a degree, studying for a postgraduate qualification, or studying to become a dentist.
Fees and funding
Fees
Additional costs
The annual fee for your course includes a number of items in addition to your tuition. If an item or activity is classed as a compulsory element for your course, it will normally be included in your tuition fee. There are also other costs which you may need to consider.
Additional funding
All eligible home students can apply for additional funding support from the NHS Learning Support Fund (NHS LSF). This includes a training grant of £5,000 per academic year.
Visit us
University open days
We host five open days each year, usually in June, July, September, October and November. You can talk to staff and students, tour the campus and see inside the accommodation.
Subject tasters
If you're considering your post-16 options, our interactive subject tasters are for you. There are a wide range of subjects to choose from and you can attend sessions online or on campus.
Offer holder days
If you've made an application to study with us, we may invite you for an interview. If you are then successful in receiving an offer, we'll invite you to one of our applicant days. These applicant days have a strong department focus and give you the chance to really explore student life here, even if you've visited us before.
Campus tours
Our weekly guided tours show you what Sheffield has to offer - both on campus and beyond. You can extend your visit with tours of our city, accommodation or sport facilities.
Apply
Online applications for our intake in April 2023 have now closed.
Applications will reopen in spring/summer 2023 for our April 2024 intake.
If you would like to receive email updates on our April 2024 intake, including notification of applications opening, please register your interest.
To apply for a place on our Higher Education Diploma in Dental Hygiene and Therapy course, you'll need to complete and submit an online application for Alternative Routes and Programmes at the University of Sheffield. Applications are not made through UCAS.
It is in your best interests to submit your application as early as possible. This will enable us to clarify any details necessary to assess your application fully.
Read the following carefully to find out more about the application process:
Step 1: Apply online

Read the following guidance before you fill out our online application. If you don't read this guidance, you may jeopardise the success of your application.

You should only submit an application if you will meet the minimum entry requirements by the deadline for receipt of applications.

Pending qualifications which are due after the deadline for receipt of applications will not be taken into consideration.

Your application will be automatically rejected if you don't meet the minimum entry requirements by the deadline for receipt of applications.

---

Create an application account

You'll need to set up an application account online. You'll need an email address in order to do this.

You'll have the option to save and return to your online application as many times as you like. Once you've filled in all the mandatory sections you'll be able to submit your application.

---

Review and submit your application

It's important you carefully fill in all the mandatory sections on the online application and supply the necessary documents. Most sections contain brief instructions on what information is required.

---

Additional questions

Supporting statements

You'll be asked to write four supporting statements. These are very important and you need to spend some time working on the content and structure of your answers. This is your chance to demonstrate your enthusiasm for the profession and your potential to thrive in a professional health care environment. Your answers should be personal to you and provide us with more details about your experiences and interests. Your statements can be the difference between being invited to a selection day or not. Particular attention should be paid to your spelling, punctuation and grammar. Attention to detail will be taken into consideration when assessing your application.

Education

You must include details of all your qualifications (including final grades/scores) to demonstrate you meet the minimum entry requirements. You should not apply if you don't meet the minimum entry requirements. For BTECs, Access Courses, Foundation Years, Foundation Degrees, Degrees and International Qualifications it's important you upload a copy of your transcript with a breakdown of modules and grades. If you have International Qualifications you are encouraged  to submit a certificate of comparability from UK NARIC. If any of your certificates or transcripts have been issued in a language other than English, you should include with them official, authenticated English translations. 

References

You need to supply one reference to support your application. This should be supplied by academic staff where you've previously studied or a current employer if employed in the healthcare sector. Referees should not be close friends or related to you. Your referee should provide their personal opinion and suitability to undertake the course, in particular your previous academic or clinical achievements and any distinct strengths and weaknesses. References should be supplied as scanned copies of signed letters on official letter headed paper and/or sent from an official email address of the organisation where the referee works. Without a reference your application is incomplete and will be unsuccessful.

Step 2: Attend our selection day

If your application is short listed, you'll be invited to attend a selection day.

During the selection day you will have a structured interview and take part in an interpersonal skills test.

Your interview will be conducted by two members of staff and will last approximately 15 minutes. All applicants will be asked the same questions.

The questions may cover:

motivation for the course
motivation for the profession and knowledge of current issues
evidence of independent thought
evidence of ability to apply knowledge
relevant experience, commitment and values

After your interview, you will undergo an interpersonal skills test. This will involve a group task.

During our selection day you will also have the opportunity to find out more about the innovative aspects of our course, tour the School and its first class facilities, and meet some of our current students. Further information will be provided nearer the time.

When all applicants have attended a selection day, a selection panel will meet to discuss every application in detail. The selection panel will take into account the observations made from the structured interview and the interpersonal skills test. The selection panel may also refer back to your personal statements and qualifications.

Our assessment methods are fair, valid, and applied consistently.

Step 3: Receive an offer

Once you have attended our selection day we will work quickly to let you know if your application has been successful. We will write to you with details of an offer.

All offers are initially conditional and include the receipt of a satisfactory enhanced Disclosure and Barring Service check and health clearance. Academic conditions may also be applied to your offer.

Once you have accepted our offer of a place we will be in touch with details on how to prepare for the start of our course. There will also be the opportunity to get to know your new classmates via our private Facebook group and attend an applicant open day.
The awarding body for this course is the University of Sheffield.
Recognition of professional qualifications: from 1 January 2021, in order to have any UK professional qualifications recognised for work in an EU country across a number of regulated and other professions you need to apply to the host country for recognition. Read information from the UK government and the EU Regulated Professions Database.
Any supervisors and research areas listed are indicative and may change before the start of the course.