Accounting and Financial Management and Economics
BA
Management School
Department of Economics
Apply for this course
You are viewing this course for 2024-25 entry. 2023-24 entry is also available.
Key details
A Levels

AAB


Other entry requirements
UCAS code

NL41

3 years

/

Full-time

September start
Dual honours
Optional placement year
Course description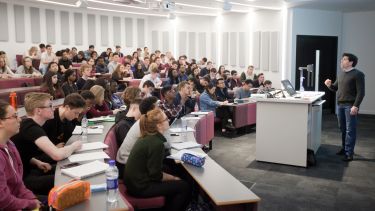 This is a dual honours course, which means you'll spend half your time studying with the Management School and half your time studying in the partner department, Economics. You'll get a solid grounding in both subjects, plus the chance to study specific areas in more detail. The subjects are given equal weighting.
The two subjects complement each other, which opens up even more career opportunities.
The way we teach the accounting and financial management side is the same, in principle, as the single honours course (Accounting and Financial Management). You take a lot of the same modules as a single honours student.
Dual and combined honours degrees
The Management School is Triple Crown accredited by AMBA, EQUIS and AACSB.
This course is accredited by the following bodies for the purpose of eligibility for Associate membership and exemption from some professional examinations: Institute of Chartered Accountants England and Wales (ICAEW), Association of Chartered Certified Accountants (ACCA), Chartered Institute of Management Accountants (CIMA) and CPA Australia.
Modules
A selection of modules are available each year - some examples are below. There may be changes before you start your course. From May of the year of entry, formal programme regulations will be available in our Programme Regulations Finder.
Choose a year to see modules for a level of study:
Title: Accounting and Financial Management and Economics BA course structure
UCAS code: NL41
Years: 2021, 2022, 2023, 2024
First year
Core economics modules:
Mathematical Methods for Economics 1

The aims of this module are: 1. To give an insight into the importance of mathematical methods in economic analysis. 2. To introduce a range of mathematical techniques. 3. To give an understanding of how and when to apply the techniques. The module will include revision of basic concepts, algebra, equations, exponential and logarithmic functions, differential calculus, optimisation, geometry

20 credits

Mathematical Methods for Economics 2

The aims of this module are: 1. To give an insight into the importance of mathematical methods in economic analysis. 2. To introduce a range of mathematical techniques. 3. To give an understanding of how and when to apply the techniques. The module will include revision of basic concepts, algebra, equations, exponential and logarithmic functions, differential calculus, optimisation, geometry

20 credits

Economic Analysis and Policy

This is a compulsory module for all single and dual honours students in Economics. The module provides students with an introduction to microeconomic and macroeconomic analysis together with examples of their application in order to develop students' understanding of the roles of both in economic policy making.

40 credits
Core accounting and financial management modules:
Introduction to Management Accounting

The aim of this module is to establish a firm understanding of the basic techniques of management accounting. The selection of accounting techniques is conditional on purpose; the management accountant's role therefore includes attention-directing, score-keeping, and problem-solving.

20 credits

Introduction to Financial Accounting

Financial Accounting is concerned with the ways in which the financial transactions of a business are recorded and summarised in financial statements. This module provides an introduction to the construction of financial statements and an understanding and evaluation of the principles and concepts on which they are underpinned. Once the principles have been established, the module further develops the practical understanding of the preparation of financial statements and focuses on the preparation, interpretation and limitations of company financial statements and the regulatory framework in which they are prepared.

20 credits

Foundations in Financial Management

This module aims to create a foundation of knowledge in the subject area of financial management, creating the required framework of skill and knowledge for financial decision making and to provide a base of knowledge for the related modules in levels 2 and 3. This module will achieve this by introducing the essential principles, theories and calculations within financial management. It will also introduce the contemporary issues and developments in financial markets. The module design and content expects to at least cover the contents of foundation level financial management related module syllabus of professional accounting bodies.

20 credits
Second year
Core accounting and financial management modules:
Financial Management

This unit takes the key themes and techniques that were introduced in MGT141, Introduction to Financial Management, and locates them in their institutional and intellectual setting to enable students to reflect critically on understandings of financial institutions and phenomena. The resulting understanding and skills of critique will enhance students' capabilities to reflect on the more specialist bodies of knowledge encountered in financial management and finance units in subsequent semesters. The unit uses a combination of conventional lectures to familiarise students with ideas and tutorials in which students are encouraged to show their understanding of and critically evaluate content of lectures.

20 credits

Intermediate Financial Accounting

This is an intermediate level financial accounting course, building on the level 1 'introductory' module (MGT132). It follows that some of the concepts, techniques and skills acquired during the study of that module remain examinable (revision exercises are provided throughout the module). In addition there is examination of a range of accounting standards and underpinning rationales, a review of the major conceptual debates currently preoccupying both accountants and standard-setters, and an exploration of the practical problems associated with the reporting of the results of limited companies and groups.

20 credits

Intermediate Management Accounting

This unit builds on the basic skills acquired in MGT102, viewing the management accountant as an important internal corporate communicator and provider of information for management decision and control purposes. Particular emphasis is placed on the management accountant's various methods of analysing and presenting different kinds of information, drawn from both internal and external sources. The unit distinguishes between the provision of management accounting services at policy, executive and operational levels. On the basis of this distinction, the management accountant is seen as centrally involved in the evaluation and implementation of alternative courses of action in organisations. The unit also examines the development of management accounting techniques in processes of sustainable organisational performance appraisal, analysis and reporting and considers such as strategic marketing, corporate social responsibility and ethics. Finally, the unit considers the developing contribution to be made by management accountants in the creation, evaluation and control of sustainable organisations.

20 credits
Core economics module:
Statistics and Econometrics

This module introduces dual honours economics students to Statistics and Econometrics and in particular how they are used in economics, to investigate economic relationships and to test economic theories. The first part of the module describes the key statistical ideas and methods that economics students need to know, and provides opportunities to practise their use. The second part of the module focusses on econometrics, providing students with the knowledge of how to model economic data, again with opportunities to develop practical experience in this area.

20 credits
Economics option modules - choose two:
International Economics

International Economics covers core aspects of international trade and international macroeconomics. The first part of the module analyses the patterns and volume of international trade, and its effects on growth and income distribution. The second part covers international capital flows, their causes and their effects on growth and macroeconomic stability.

20 credits

Labour Economics

This module develops theoretical models of the labour market, starting with the competitive model of the labour market through an analysis of supply and demand for labour. A range of issues that can affect outcomes in the labour market will be considered, with an emphasis on the study of empirical evidence concerning these issues.

20 credits

Public Economics

Public economics uses the tools of microeconomics and empirical analysis to study the impact of government policies on economic behaviour and the distribution of resources in the economy.

20 credits

Industrial Organisation

Industrial Organisation is a major branch of microeconomics. It considers the structure, operation and performance of industries and firms using both economic theory and empirical work.

20 credits

Economic Decision-making

In life we are constantly making economic decisions: whether to go to university; whether to leave a tip in a restaurant; whether to buy a house or rent; whether to declare all our income to the tax authority; whether to play the lottery; whether and how much to invest in the stock market. In this module we study economic theory and evidence related to decision-making in these different contexts with a view to understanding human decision-making, how it deviates from standard notions of economic rationality.

20 credits

Macroeconomic Policy

The module will focus on applying macroeconomic theory to a variety of economic policy issues. The module will consider fiscal and monetary policy and will include how policy responds to economic shocks. The course builds on the knowledge of the core first year economics modules.

20 credits

Intermediate Microeconomics

This module builds on Level 1 modules in microeconomics and mathematical economics, using the mathematical training to allow a more rigorous investigation of the principles of microeconomics. It aims to develop an understanding and ability to undertake economic analysis of models of the behaviour and interaction of economic agents (consumers, firms and government) in a market economy, the functioning of different types of industries, decision making under uncertainty and economic welfare.

20 credits

Intermediate Macroeconomics

The aims of this course are to provide firm grounding in the analytical tools of modern macroeconomics; to use these tools to understand critically the conduct of economic policy nationally and internationally. The course builds on level 1 modules in macroeconomics. The main subject areas covered are: Basic macroeconomic models: consumption/leisure choice, closed economy one period-macro models, models of search and unemployment; Savings, investment and government deficits: consumption/savings choice (two-period model), credit market imperfections, real intertemporal model with investment; Money and business cycles: flexible price models, New Keynesian economics (sticky prices), inflation; International macroeconomics: international trade, money in open economy; Economic growth: Malthus and Solow growth models, convergence, endogenous growth model.

20 credits

Economics of Financial Institutions

This module covers introductory monetary, banking and finance theory and issues relating to policy and regulation of the banking and finance system. The module introduces the basic concepts in money and banking while it supports and expands on the material provided in ECN201 and ECN202, the second year micro and macro modules.

20 credits
Third year
Core economics module:
Economics in Action

On this innovative module you'll undertake a number of projects related to the economic fields in the Applied pathway. You will demonstrate your abilities and skills by applying them to a range of issues explored in your final year, while acquiring new research skills. The module therefore has a strong emphasis on employability, and the skills you acquire will help you develop various examples of the Sheffield Graduate Attributes. In particular, key Sheffield Graduate Attributes you will develop are: (i) Translating knowledge - you will take the theories and techniques learned in your earlier core modules, and apply them to economic issues, problems and challenges raised and discussed in your applied modules. (ii) Critical thinking - you will need to critically appraise, analyse and interpret the evidence that you research on the economic issues you are considering from your applied modules, in order to be able to offer conclusions and recommendations. (iii) Communication - you will need to communicate your ideas, findings and conclusions using a variety of communication methods, that could be appropriate for different circustances, for example a formal report, a blog report for non-specialists, an oral presentation etc.

20 credits
Core accounting and financial management modules:
Advances in Financial Accounting

The module follows on from the financial accounting modules taken at levels one and two. It extends students' technical competency in financial accounting and allows for a deeper analysis of financial reporting issues in a number of key areas. Included on the module is the study of segmental reporting, consolidated balance sheets, consolidated profit and loss accounts, vertical group balance sheets, associated company accounts, joint ventures, the effects of changing prices in accounting, foreign currency translation, capital instruments, financial instruments, related- party transactions and the international harmonisation of accounting standards.

20 credits

Advances in Management Accounting

The module builds on MGT102 and MGT211 and concentrates on the application of techniques using a number of case studies. In addition, the module deals with the changing role of Management Accounting within organisations and new developments reflected by current issues in research.

20 credits
Accounting and financial management option modules - choose one:
Auditing

The aim of this module is to consider how successfully auditing carries out the roles that are assigned to it. An audit is the independent examination of, and expression of an opinion on, the financial statements of an enterprise. Audit has crucial roles to play in the processes of corporate and social governance, relating especially to the transmission of information to financial markets and individual/groups to whom organisations are accountable. In the 'audit society', the meaning of audit has broadened to embrace diverse forms of inspection and non-financial performance reporting. This course is designed to introduce students to the major issues in auditing theory and practice, making reference to current contexts.

20 credits

Case Studies in Accounting and Consultancy

This module is case study based and designed to equip students with the practical research skills needed to understand many contemporary problems faced by managers and accountants in a modern economy. The course locates key accounting and finance issues within a changing organizational and societal context. Each year a company case will be chosen to reflect contemporary themes and issues in the global economy, which in the past have included the shareholder value drivers of restructuring in the pharmaceuticals sector, banking after the financial crises, the social and economic effects of private equity takeovers of retails chains and creative accounting practices at large outsourcing firms.

The course therefore concentrates on developing students' 'grounded knowledge' rather than drawing on abstract or overly prescriptive theories. It is designed to encourage students to develop their own initiative and to 'learn-through-doing', with guidance and support given on how to use the university's extensive suite of databases. From this, students should develop highly refined, marketable research skills which will provide a deeper appreciation of key business issues in the real-world.

20 credits

Company Analysis and Valuation

This module is aimed at those students wanting to move into fund management / trading within global equity markets and who are targeting leading investment banks and fund managers as a career destination. The module will develop skills and understanding of a Bloomberg terminal and how to analyse and value companies using a range of techniques. The module will focus on using predominantly numerical techniques however these will be blended with other considerations which impact the value and performance of global listed companies. A wide range of global case studies will be used to demonstrate advanced valuation techniques and investment principles, thus giving students a sound grounding to take future professional qualifications with bodies such as the CFA. Tutorials will be based in a trading room enabling students to utilise a wide range of practical data sources and trading platforms, such as Bloomberg within the setting of a small and supportive class.

20 credits

Taxation in Theory and Practice

The theory of taxation examines the principal concepts, which are used to analyse the impact and incidence of direct and indirect taxation on (groups of) individuals and the economy as a whole. Practical taxation requires an understanding of basic tax law and the procedures for calculating the tax liabilities of individuals and companies.

20 credits

Accounting & Accountability: Theory & Practice

In recent years accounting has been the focus of criticism from a number of quarters. Audit failure, the collapse of the western banking system, market volatility, inequality, and the unprecedented challenges to business presented by climate change compel the profession and its standard-setting authorities to address a moral accountability in the face of changing societal expectations. This course challenges the traditional precepts upon which accounting processes, external reporting and its regulation are based. It gets you to question your own accounting education and think more deeply about generally-accepted practice in a democratic, capitalist economy.

20 credits

Emerging Markets Finance

The unit provides an understanding of the financial system and of finance and investments in emerging markets. The unit covers the essential elements of finance in emerging markets as well as institutional and policy issues affecting emerging markets. The first part of the unit looks at the main characteristics of emerging market finance in the light of economic reforms leading to financial liberalisation and market openness. The second part looks at the role of financial markets in financial globalisation and the last part will focus on reviewing recent financial crises and the lessons for future developments in emerging markets. (The financial crises covered in the module will not be restricted to the recent one only, it will also include the Latin American debt crisis 1982-89, East Asia crisis 1997-99 and Russian/Brazil debt crisis 1998).

20 credits

Applied Accounting and Financial Management: Business Simulation

This module provides students with a chance to apply the skills that they have acquired throughout their degree, through their own 'virtual company' within a simulated business environment. It aims to foster employability skills while also testing the competence of students with regards to both application of skills required by finance professionals, and also in the ability to critically reflect on performance and formulate new strategies following a period of management of an organisation.

The simulation presents students with challenges, not only in managing the company's output and finances, but also in important business areas such as human resources, handling legal issues, and sustainability.

20 credits
Economics option modules - choose two:
Education Economics

The amount of education possessed by individuals will influence their decisions in future. Education relates to issues such as health and labour market decisions. This module examines the demand for and provision of education, incorporating a mixture of economic theory such as human capital; rates of return to further and higher education and course type all of which directly relate to the labour market. Macroeconomic new growth theories are considered using empirical evidence. The graduate labour market is analysed, incorporating changes in the provision of higher education and an understanding of the rationale for the introduction of top-up fees. A final section considers schools, analysing and evaluating issues such as class size reduction, competition and selection, the performance of teachers, and the importance of pupils' family backgrounds, all in terms of their effect on pupil performance.

20 credits

Political Economy

Important economic processes cannot be fully understood without taking into account political and institutional factors and governments' political motivations. This module introduces insights from politics into the study of public policy and economic performance. In particular, it aims to give students: 1. an opportunity for interdisciplinary study within the undergraduate economics degree; 2. familiarity with the modern literature in theoretical and applied political economy; 3. an opportunity to develop their research skills through research-oriented assignments.

20 credits

International Trade

The first part of the course will cover neoclassical trade theories in which countries trade following their comparative advantage. The second part of the course deals with more recent trade theories based on economies of scale and/or imperfect competition that helps us to explain some recent patterns observed in the data. The third part of the course is an introduction to trade policy and the political economy of trade policy.

20 credits

Monetary Economics

This module covers monetary theory and monetary policy. It presents several economic models and discusses what monetary policy can and cannot do, as well as an introduction to the New Keynesian model. The module aims to enable students to apply the skills of economic analysis to the conduct of central banks and to the mechanisms underlying the monetary transmission mechanism.

20 credits

Development Economics

It takes the average worker in the UK less than ten days to produce the same amount of output as the average worker in the Democratic Republic of Congo produces over the course of an entire year. Earning the minimum wage in the UK easily puts you in the top 10% of earners worldwide. This module uses a mix of theory and empirics to seek to understand where these enormous gaps in standards of living between countries come from and how they evolve over time.

20 credits

Health Economics

Economics is the study of how society allocates its scarce resources across competing alternatives. This notion of scarcity is as relevant in the health care sector as it is elsewhere and, thus, it is important that the resources available to health and health care are used in the best possible ways. This course will: look at how best should be defined in the context of health care; consider the roles that market forces and governments might play in achieving the sector's objectives; and discuss what information is needed so that resources can be deployed where they will do the most good. The aims of the module are: 1. To enable students to develop a critical understanding of the basis of health economics.
2. To introduce students to the health economists' toolkit, the ways in which it can be used in to inform health care resource allocation, and its limitations.

20 credits

Economic Analysis of Inequality and Poverty

This module will cover the economic theories used for the analysis of inequality and poverty.
The theories will be backed by evidence from both the developed and the developing countries. The module starts off by a discussion of issues around measurement of inequality and poverty; the different measures that are used and the inherent assumptions behind these measures. We then move on to explain the existing global trends in inequality and poverty. Different theories are used to explain these trends; for example: role of human capital, poverty traps etc. Finally we discuss the policy response of different countries to address the issues of inequality and poverty, drawing on the specific examples of welfare programmes in the developed countries and the conditional cash transfers in the developing countries.

20 credits

Economics of Race and Gender

The Economics of Race and Gender first presents an overview of differential outcomes by gender and ethnicity in the UK labour market and discusses the possible drivers of these differences. It then presents economic theories of discrimination in labour markets before discussing the strategies that economists use to test for discrimination in the real world. The module ends with a discussion of the interplay between economics and psychology as a means to better understand when and why discrimination occurs.

20 credits

Behavioural Economics

Standard economic models can successfully model human behaviour. However, the strong assumptions required of economic actors in those models will make systematic mispredictions in some contexts. Behavioural economics tries to overcome the systematic mispredictions by adopting non-standard assumptions, often inspired by insights from other disciplines. The module will discuss empirical evidence that underpins these non-standard assumptions, and will reflect on how insights from behavioural economics can be relevant in real life.

20 credits

Environmental Economics

Economic choices shape nature just as nature can shape our choices. This module provides students with the opportunity to apply economic concepts and methods to issues related to the use and management of the environment and natural resources. The module explores issues, arguments and analysis of market failure in the protection of the environment. It also offers public policy responses to issues of sustainability and climate change.

20 credits

The Economics of Innovation

The aim of this module is to provide an overview of the economics of innovation. The module will study firms' incentives to invest in innovation and the resulting policy implications. In this module you will build on and expand your knowledge of microeconomics. Topics will include the relationship between market structure and innovation, the role of firm cooperation and the effects of mergers on innovative activities. The module will also look at the role of intellectual property rights / patent systems and policy interventions. As many innovations in recent years are in the area of digitalisation and platform ecosystems, the module will also provide a short introduction to the economics of platform markets.

20 credits
The content of our courses is reviewed annually to make sure it's up-to-date and relevant. Individual modules are occasionally updated or withdrawn. This is in response to discoveries through our world-leading research; funding changes; professional accreditation requirements; student or employer feedback; outcomes of reviews; and variations in staff or student numbers. In the event of any change we'll consult and inform students in good time and take reasonable steps to minimise disruption.
Learning and assessment
Learning
This dual honours course gives you a good grounding in both Accounting and Financial Management and Economics. You'll spend roughly half your time in each department. The two subjects complement each other, which opens up even more career opportunities.
Our multidisciplinary approach means that you will gain transferable skills like teamwork, remote working and time management to help you land the right job, as well as gaining the rigorous academic knowledge that you require to progress throughout your degree.
You'll attend lectures, seminars, workshops, computer labs and other programme level teaching with small group sizes. You'll be given reading or asked to prepare work in advance and contribute to discussions and group work during seminars. You'll use a variety of software packages in different IT environments, including Microsoft Office, Google, and Bloomberg, to develop your IT and online collaboration skills.
You'll also develop an advanced understanding of economics. You'll learn this subject through attending lectures, online videos, interactive workshops, tutorials and computer labs.
You'll be supported throughout your degree by your module leaders, tutors, personal tutors and our wider learning and teaching support such as the 301 Academic Skills Centre.
Our courses are based on world-leading research and our staff, many of whom have extensive industry experience, produce impactful research that influences policy and informs public debate.
You'll be taught by some of the top economic experts in their fields, who care passionately about their subject. Our staff advise government departments in the UK such as the Department for Work and Pensions, the Department for Education and the Low Pay Commission. Their expertise helps shape government policies and aims to improve people's lives.
Assessment
Your lecturers are here to support your development which is why you'll be given extensive feedback on your work. We use a range of assessment methods including, exams, online tests, group/individual presentations and coursework. You will also get lots of formative and summative feedback to help you progress and reach your potential.
Programme specification
This tells you the aims and learning outcomes of this course and how these will be achieved and assessed.
Entry requirements
Standard offer
The A Level entry requirements for this course are:
AAB
A Levels + additional qualifications ABB + A in a social science related EPQ; ABB + A in Core Maths
International Baccalaureate 34
BTEC Extended Diploma DDD in a relevant subject
BTEC Diploma DD + A at A Level
Scottish Highers AAAAB
Welsh Baccalaureate + 2 A Levels B + AA
Access to HE Diploma Award of Access to HE Diploma in a relevant subject, with 45 credits at Level 3, including 36 at Distinction and 9 at Merit
Other requirements
Native Language A Levels can be accepted if taken alongside an acceptable A Level subject
Access Sheffield offer
The A Level entry requirements for this course are:
ABB
A Levels + additional qualifications ABB + A in a social science related EPQ; ABB + A in Core Maths
International Baccalaureate 33
BTEC Extended Diploma DDD in a relevant subject
BTEC Diploma DD + B at A Level
Scottish Highers AAABB
Welsh Baccalaureate + 2 A Levels B + AB
Access to HE Diploma Award of Access to HE Diploma in a relevant subject, with 45 credits at Level 3, including 30 at Distinction and 15 at Merit
Other requirements
Native Language A Levels can be accepted if taken alongside an acceptable A Level subject
English language requirements |
You must demonstrate that your English is good enough for you to successfully complete your course. For this course we require: GCSE English Language at grade 4/C; IELTS grade of 6.5 with a minimum of 6.0 in each component; or an alternative acceptable English language qualification
Management School
We are a leading business school with Triple Crown accreditation (AACSB, AMBA and EQUIS). These awards have been achieved through the outstanding quality of our programmes, research output, support for students and alumni, and links with industry. We have a world-class reputation for high quality teaching, ground-breaking research and cutting-edge thinking.
You'll be part of a dynamic and engaging business school that puts you and your future at the heart of everything it does. We balance a rigorous academic foundation with practical skills to ensure you are ready for the world of work.
We want you to develop skills so you can apply course content in a company setting. Our close links with organisations keep us in tune with the changing demands of the workplace. We know what employers are looking for.
You'll learn from experts - many are former industry professionals and they work closely with businesses. Because our academics are world-leading researchers, your education will draw on the most current management theories.
We want you to engage with the academic content, be conscientious and take an independent approach to study.
We'll help you to be informed, innovative and proactive and do everything we can to support and enhance your career, steering you in the right direction with all the knowledge and skills you require.
You'll benefit from tailored on-site and online professional careers support, dedicated skills sessions and events with experts from world-leading organisations and professional bodies. These activities will help guide your personal and professional development to help you secure your dream placement, internship or graduate role.
Management School students are based in our building on Conduit Road which accommodates learning facilities such as lecture theatres, seminar rooms, trading and computer rooms, our academic and professional staff, the Courtyard Café, and our Futures First Employability Hub and Student Experience Office. Teaching takes place at various venues across campus.
Facilities
The Management School has invested in an impressive, fully-equipped financial trading room, built around Bloomberg and Refinitiv Eikon.
These terminals are used by traders, banks and multinational companies to trade financial securities, gain market insights and undertake research. Students will also have the opportunity to gain certification that demonstrates competence in these systems, which will add real value to your CV.
Management School
Department of Economics
We have an international reputation for practical and real-world economics.
You'll be taught by some of the top economic experts in their field and you'll receive the latest cutting-edge teaching from people who care passionately about their subject.
Our staff advise government departments in the UK such as the Department for Work and Pensions, the Department for Education, as well as advisory bodies such as the Low Pay Commission. Their research helps shape government policies and aims to improve people's lives. This research also informs what you will be taught in your modules.
Our graduates are in demand by some of the country's top economics employers such as the Bank of England, PwC, IBM and HM Treasury.
Department of Economics students are based in 9 Mappin Street. You may have some of your tutorials in this building, but other seminars and lectures may take place within other departments or central teaching space. We are based right in the heart of the campus, which is a great location to walk to many of the other University buildings and head into the city.
Facilities
Our state-of-the-art classrooms are in the same building as our staff offices. You'll also have your own social space with computer access.
Department of Economics
Why choose Sheffield?
The University of Sheffield
  Number one in the Russell Group
National Student Survey 2023 (based on aggregate responses)
  92 per cent of our research is rated as world-leading or internationally excellent
Research Excellence Framework 2021
  Top 50 in the most international universities rankings
Times Higher Education World University Rankings 2022
  Number one Students' Union in the UK
Whatuni Student Choice Awards 2022, 2020, 2019, 2018, 2017
  Number one for teaching quality, Students' Union and clubs/societies
StudentCrowd 2023 University Awards
  A top 20 university targeted by employers
The Graduate Market in 2023, High Fliers report
---
Management School
Triple Crown accredited
AACSB, AMBA and EQUIS
93% of Management School undergraduates are in employment or further study 15 months after completing their course
Graduate Outcomes 2019-20
Department of Economics
92% of economics students who graduated in 2020 were in employment or further study 15 months after leaving university
2019-20 Graduate Outcomes survey, UK undergraduates
Graduate careers
Many of our graduates work in traditional accounting roles as trainee chartered accountants or management accountants, but a growing number work in audit, insurance, banking, investment and consultancy roles.
Recent graduates are working for Barclays, British Airways, Ernst & Young, HSBC, Grant Thornton, KPMG and Santander.
Management School
We have a dedicated employability team who offer careers support, and can help you to find jobs or placement opportunities, and develop essential skills through workshops with industry experts. You're supported throughout your course and after graduation.
We work with businesses and organisations to ensure the content of our courses are up-to-date and relevant, and that the skills and experience you'll gain meet the demands of future employers
Sheffield University Management School careers
Department of Economics
Some of our graduates become professional economists in government, industry or the City. Others enter related professions - banking, ‭insurance, accountancy, sales and marketing, and ‭retail management.
Recent graduates are now working for the Bank of England, HM Treasury, the European Parliament, PwC, Deloitte, IBM and Rolls Royce. Some prefer to advance their knowledge by studying economics at postgraduate level.
Placements
Previous students have undertaken placements at BHP Grant Thornton, IBM, BDO, Lloyds Banking Group, Volkswagen Financial Services UK and the NHS, as well as smaller local companies. They go into roles in finance and accounting, tax, insurance and auditing.
Fees and funding
Fees
Additional costs
The annual fee for your course includes a number of items in addition to your tuition. If an item or activity is classed as a compulsory element for your course, it will normally be included in your tuition fee. There are also other costs which you may need to consider.
Visit us
University open days
We host five open days each year, usually in June, July, September, October and November. You can talk to staff and students, tour the campus and see inside the accommodation.
Subject tasters
If you're considering your post-16 options, our interactive subject tasters are for you. There are a wide range of subjects to choose from and you can attend sessions online or on campus.
Offer holder days
If you've received an offer to study with us, we'll invite you to one of our offer holder days, which take place between February and April. These open days have a strong department focus and give you the chance to really explore student life here, even if you've visited us before.
Campus tours
Our weekly guided tours show you what Sheffield has to offer - both on campus and beyond. You can extend your visit with tours of our city, accommodation or sport facilities.
Apply
The awarding body for this course is the University of Sheffield.
Recognition of professional qualifications: from 1 January 2021, in order to have any UK professional qualifications recognised for work in an EU country across a number of regulated and other professions you need to apply to the host country for recognition. Read information from the UK government and the EU Regulated Professions Database.
Any supervisors and research areas listed are indicative and may change before the start of the course.