General Engineering with an Industrial Placement Year
BEng (Hons)
2024-25 entry
General Engineering
Develop a broad knowledge and understanding of engineering on this four-year BEng (Hons) degree while developing skills in independent thinking and the professional skills necessary for a career in industry. You can take an optional year in industry between years two and three to gain first-hand employment experience.
Course description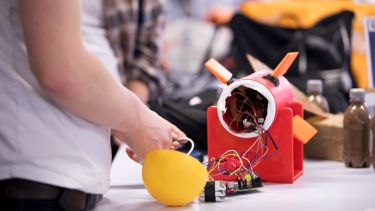 Taught by world-leading experts from our seven outstanding engineering departments, this four-year course will ensure you develop a broad knowledge and understanding of engineering, while developing skills in independent thinking and the professional skills necessary for a career in industry.
In an increasingly complex and challenging world, knowledge and expertise beyond a single discipline is valuable for 21st-century engineers.
During your first two years you'll study modules across all disciplines and look at engineering in an interdisciplinary context. At the end of year two, you'll choose a specialism from one of our subjects, covering a range of engineering fields.
You'll have the opportunity to spend the third year working in an engineering company. You'll be able to put your academic studies into context and improve your skills and employability. Most students are paid a salary during the placement. You will pay reduced tuition fees for that year.
While you are responsible for securing your placement, we have a dedicated Engineering Placement Team to help you. They will provide advice and support through the application process and beyond.
Being accepted onto the year in industry is subject to achieving a satisfactory performance. The year in industry is monitored and assessed by an academic member of staff and will appear on your final degree title.
We also offer a non-specialist stream, which allows you to continue studying a variety of disciplines. You'll spend your final year studying your chosen stream. The interdisciplinary ethos of your degree will be continued in an advanced research, or industry-led, final-year project.
Modules
A selection of modules are available each year - some examples are below. There may be changes before you start your course. From May of the year of entry, formal programme regulations will be available in our Programme Regulations Finder.
Choose a year to see modules for a level of study:
Title: General Engineering with a Year in Industry BEng (Hons) course structure
UCAS code: H102
Years: 2022, 2023
First year
Core modules:
Engineering Statics

The course provides the fundamental concepts and techniques used in Engineering Statics. Two-dimensional statics are covered including force and moment systems, free body diagrams, equilibrium, friction, and the application to structures (such as beams, frames and trusses) that will be encountered in aerospace engineering applications. No prior knowledge of statics is assumed; the treatment concentrates on physical understanding and applications in engineering, rather than using advanced mathematical treatments.

10 credits

General Engineering Mathematics

This module aims to reinforce students' previous knowledge and to develop new basic mathematical techniques needed to support the engineering subjects taken at Levels 1 and 2. It also provides a foundation for the Level 2 mathematics courses in the appropriate engineering department. The module is delivered via online lectures, reinforced with weekly interactive problem classes.

15 credits

Interdisciplinary Design I

Effective interdisciplinary design lies at the heart of the engineering of complex products and systems. It is important that engineers can communicate and work effectively together and have a common language and processes to manage projects effectively. This module will introduce concepts in, and tools for, interdisciplinary design and systems engineering important for effective project management. Students will start to develop critical thinking and an interdisciplinary approach to solving engineering problems. A strong focus of the module will be the use of a wide range of case studies to motivate ideas and allow students to demonstrate their learning.

15 credits

Introduction to Electrical Engineering

This unit presents an exciting introduction to electrical engineering. Students will learn about the core elements of circuits and how these are analogues of many other physical processes. Students will become adept at analysing fundamental passive and active circuits using a number of techniques. The fundamentals of engineering magnetics and large-scale power are also introduced. Electrical engineering is presented in the wider context of interdisciplinary engineering by identifying a number of crucial synergies. Students are encouraged to appreciate both the depth and fascination of electrical engineering as a distinct subject, and its broad application across the entire engineering discipline.

15 credits

Introduction to Materials Science and Engineering

Engineered materials are an integral part of our society, from being used in household objects and construction to nuclear reactors and spacecraft. Materials Science and Engineering bridges the gap between science and engineering, allowing us to improve the performance of existing materials, or produce new materials, to suit any application. This module introduces students to the fundamental principles of Materials Science and Engineering. Students will gain an understanding of how material properties are dependent on atomic structure and processing and an appreciation of how of Materials Science and Engineering underpins a wide range of engineering disciplines.

15 credits

Introduction to Process Engineering

Process analysis lies at the core of all chemical engineering design. Oil refineries to wastewater treatment plants all begin with this first step. This module introduces methods used to carry out material balances over a range of equipment and processes encountered in industry. This is then extended to the development of energy balances as applied to a wide range of chemical processes such as mixers, distillation columns, evaporators and reactors. The elementary techniques for the analysis of vapour-liquid and liquid- liquid equilibria are described, these are then applied to the design of a basic unit operation - distillation.

15 credits

Computer Problem Solving and Object Oriented Design

The first part of this module introduces basic concepts of computer programming, through an introduction to problem solving and the development of simple algorithms using the programming language Python. The module will stress the importance of good programming style and good code design and will introduce how an object-oriented approach can help to achieve these aims. The second part of this module introduces some of the fundamental principles of object oriented programming and software engineering using the Java Programming Language. In particular it covers the principles that underlie the structuring of software and introduces models of real-world systems. Techniques for developing sound programming techniques are introduced and applied.

20 credits

Thermofluids

The next generation of engineers will address the exciting challenges of commercial space flight, global water security, and sustainable energy generation, and many others. This module will develop the fundamental thermofluids basis and the necessary skills and interdisciplinary agility to address these global challenges. The module will give an introduction to the fundamental principles of thermodynamics required to analyse and design engineering processes, and the basic principles of fluid mechanics and their application to flow systems and devices. Real world examples will be used throughout, to highlight the importance of thermofluid systems and their integration with other areas of engineering.

15 credits

Global Engineering Challenge Week

The Faculty-wide Global Engineering Challenge Week is a compulsory part of the first-year programme. The project has been designed to develop student academic, transferable and employability skills as well as widen their horizons as global citizens. Working in multi-disciplinary groups of 5-6, for a full week, all students in the Faculty choose from a number of projects arranged under a range of themes including Water, Waste Management, Energy and Digital with scenarios set in an overseas location facing economic challenge. Some projects are based on the Engineers Without Borders Engineering for people design challenge*.

*The EWB challenge provides students with the opportunity to learn about design, teamwork and communication through real, inspiring, sustainable and cross-cultural development projects identified by EWB with its community-based partner organisations.
Second year
Core modules:
Electromechanical Energy Transformation

Energy transformation, the conversion of energy from one form to another, is a core aspect of engineering. For example, motor vehicles take chemical energy and transform to mechanical energy. Building on your knowledge of fundamental electrical engineering, this module provides an introduction to the energy transformation that can be accomplished through electrical and magnetic means. Electrical machines, magnetic transformers and power electronic converters are the core topics. Important related topics are also explored including an overview of energy distribution. You will also appreciate how electromechanical energy transformation can be relevant to many traditionally non-electrical disciplines.

15 credits

Further General Engineering Mathematics

A solid foundation in mathematics is essential to the development of a deep understanding of engineering. This module reinforces mathematical concepts met at Level 1 and develops further mathematical techniques and theory applicable across the full range of engineering disciplines. Students will gain an understanding of a range of mathematical techniques and confidence in applying these to solve problems.

15 credits

Interdisciplinary Design II

This module will further develop students interdisciplinary design skills placing more emphasis on applying their technical knowledge and the understanding gained across a range of modules to solving focussed engineering problems. Students will be expected to work more independently, demonstrating critical thinking, creativity and initiative in problem solving and evaluating design solutions. Students will further develop and apply systems engineering and project management approaches. The module will be based around two semester-long interdisciplinary classroom/laboratory design exercises conducted in multidisciplinary teams. Students will reinforce their group working skills and appreciation of wider issues and taking account of regulations.

15 credits

Mechanical and Functional Behaviour of Materials

Engineered materials are designed to perform in varying environments depending on their application. Applications such as aerospace and nuclear require materials to perform in extreme environments such as high stress and high temperature. This module will explore further the structure-processing-property relationship of materials and will introduce students to fracture mechanics, including cyclic fatigue, crack nucleation and propagation, and failure prediction. This unit will also introduce students to magnetic, electrical and optical materials and will describe how these properties are achieved. Students will develop a holistic approach to materials selection for engineering and industrial applications.

15 credits

Mechanics of Structures

This module builds on a fundamental knowledge of engineering statics to examine the macro scale mechanics and internal forces acting on solid structures. This will provide the knowledge required for further study in the design and analysis of structures from skyscrapers to spacecraft and wind turbines. Teaching is designed to provide a fundamental understanding of elastic and plastic structural analysis applied to trusses, frames and beams. Students will learn how to analyse stress, strain, elastic deflection and stability, to conduct qualitative analysis of structures and to apply elastic and plastic methods to engineering structures in examples from across the engineering disciplines.

20 credits

Systems and Control

Understanding the dynamics of systems and how to control the behaviour of these systems to meet stability and performance criteria is critical to a wide range of engineering disciplines. This module will show how the dynamics of many engineering systems can be modelled, analysed and controlled in a unified way. Using examples from across engineering, students will gain an understanding of how to unify these strategies in both continuous and discrete time. Students will learn how to design controllers to meet performance and stability criteria while appreciating the practical limitations and implications of these controllers.

15 credits

Thermal & Fluid Engineering

A deep understanding of the flows of fluids and heat are fundamental to the design and operation of a wide range of engineering systems and equipment. This module will add to the basic tools of thermodynamics and fluid mechanics by introducing diffusive processes, thermodynamic cycles, compressibility, exotic fluids and the various modes of heat transfer. Using examples from various engineering disciplines, the module will show how heat and mass transfer systems and advanced thermodynamic and fluid mechanics principles can be modelled and understood. Students will develop an appreciation of the parallels between various important processes, and their application to engineering design.

15 credits

Engineering - You're Hired

The Faculty-wide Engineering - You're Hired Week is a compulsory part of the second year programme, and the week has been designed to develop student academic, transferable and employability skills. Working in multi-disciplinary groups of about six, students will work in interdisciplinary teams on a real world problem over an intensive week-long project. The projects are based on problems provided by industrial partners, and students will come up with ideas to solve them and proposals for a project to develop these ideas further.

Process Engineering

This module covers the design of processes, including process safety and economics. The selection and design of process equipment found on a chemical plant as well as materials considerations are covered as well as an introduction to process analysis software. The unit also provides an introduction to process safety and loss prevention on industrial processes and will enable students, with further experience in industry, to carry out activities involved in the safety review of proposed and existing plants. 

10 credits
Third year
Core modules:
Engineering Year in Industry

The course enables students to spend, typically, their third year of a BEng or fourth year of an MEng working in a 'course relevant' role in industry. This provides them with wide ranging experiences and opportunities that put their academic studies into context and improve their skills and employability. Students will also benefit from experiencing the culture in industry, making contacts, and the placement will support them in their preparation for subsequent employment.

120 credits
Fourth year
In your fourth year you choose your specialism from:
Aerospace Engineering
Chemical Engineering
Civil Engineering
Control and Systems Engineering
Electrical Engineering
Energy & Sustainability
General Engineering
Materials 
Mechanical Engineering
Medical Technologies
Software Engineering
Core modules:
Individual Investigative Project

Students will undertake an individual project under the guidance of a member of academic staff. Projects will typically be industrial or research focussed and will require students to demonstrate initiative, independence, and creative and critical thinking to solve an engineering problem. Students will be expected to apply and develop their technical knowledge and understanding to an unfamiliar problem, taking account of various constraints and wider issues as appropriate. Students will be expected to apply appropriate project management tools and to communicate their work effectively, both orally and in writing.

30 credits

Finance and Law for Engineers

The module is designed to introduce engineering students to key areas of financial and legal risk that engineers should be aware of in their working environment. The module will draw directly on practical issues of budgeting, raising finance, assessing financial risks and making financial decisions in the context of engineering projects and/or product development. At the same time the module will develop students' understanding of the legal aspects of entering into contracts for the development and delivery of engineering projects and products and an awareness of environmental regulation, liability for negligence, intellectual property rights and the importance of data protection. Through a series of parallel running lectures in the two disciplines, the module will provide a working knowledge of the two areas and how they impinge on engineering practice. There will be a heavy emphasis on group working, report writing and presentation as part of the assessment supplemented by online exercises and an individual portfolio.

10 credits
The content of our courses is reviewed annually to make sure it's up-to-date and relevant. Individual modules are occasionally updated or withdrawn. This is in response to discoveries through our world-leading research; funding changes; professional accreditation requirements; student or employer feedback; outcomes of reviews; and variations in staff or student numbers. In the event of any change we'll consult and inform students in good time and take reasonable steps to minimise disruption.
Learning and assessment
Learning
The following are the main learning and teaching methods implemented within the programme:
lectures
tutorials
practical activities
coursework assignments (including oral, video and poster presentations)
Individual Investigative Project (final year)
design projects
online resources
Assessment
Students are assessed via a mix of the following:
examinations
coursework assignments
lab work
online tests
reports
group projects
presentations
design projects
dissertations
Programme specification
This tells you the aims and learning outcomes of this course and how these will be achieved and assessed.
Entry requirements
Standard offer
The A Level entry requirements for this course are:
A*AA
including Maths and Physics
A Levels + additional qualifications

AAA, including Maths and Physics + A in a relevant EPQ; AAA, including Maths and Physics + A in AS or B in A Level Further Maths

International Baccalaureate

38, with 6 in Higher Level Maths and Physics

BTEC Extended Diploma

D*DD in Engineering or Applied Science + A in A Level Maths

BTEC Diploma

D*D in Engineering or Applied Science + A in A Level Maths

Scottish Highers + 2 Advanced Highers

AAAAB + AA in Maths and Physics

Welsh Baccalaureate + 2 A Levels

A + A*A in Maths and Physics

Access to HE Diploma

Award of Access to HE Diploma in a relevant subject, with 45 credits at Level 3, including 42 at Distinction (to include Maths and Physics or another relevant science), and 3 at Merit + A in A Level Maths
Access Sheffield offer
The A Level entry requirements for this course are:
AAA
including Maths and Physics
A Levels + additional qualifications

AAA, including Maths and Physics + A in a relevant EPQ; AAA, including Maths and Physics + A in AS or B in A Level Further Maths

International Baccalaureate

36, with 6 in Higher Level Maths and Physics

BTEC Extended Diploma

DDD in Engineering or Applied Science + A in A Level Maths

BTEC Diploma

DD in Engineering or Applied Science + A in A Level Maths

Scottish Highers + 2 Advanced Highers

AAABB + AA in Maths and Physics

Welsh Baccalaureate + 2 A Levels

A + AA in Maths and Physics

Access to HE Diploma

Award of Access to HE Diploma in a relevant subject, with 45 credits at Level 3, including 39 at Distinction (to include Maths and Physics or another relevant science), and 6 at Merit + A in A Level Maths
English language requirements |
You must demonstrate that your English is good enough for you to successfully complete your course. For this course we require: GCSE English Language at grade 4/C; IELTS grade of 6.5 with a minimum of 6.0 in each component; or an alternative acceptable English language qualification
Graduate careers
General Engineering
Our courses prepare you for a career where you'll apply your creative problem-solving skills and your understanding of engineering principles to the real world, while working in multidisciplinary teams. These transferable skills can be applied in many sectors across the breadth of engineering and beyond.
Graduates from all of our courses are highly employable and work all over the world for companies such as Arup, Rolls-Royce, Boeing and IBM.
General Engineering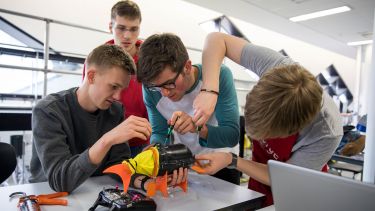 Sheffield is one of the UK's top engineering universities.
Gain a strong foundational knowledge of engineering disciplines from across our seven academic departments, before specialising in your area of interest in the final two years of your degree.
The majority of our engineering courses can be combined with a year in industry; this is a great way for you to boost your career prospects. You'll gain a wide range of hands-on experience and get the chance to apply what you've learnt in your studies.
The experience from a year in industry will be invaluable. It will improve your employability, you'll experience working in an industrial environment and you'll make crucial industry contacts. We'll support you in finding a year in industry or a summer placement.
When you become part of Engineering at Sheffield, you'll be taught in the best integrated engineering teaching space in the UK.
Facilities
Engineering students are mainly based in The Diamond, the University's dedicated engineering teaching facility. Here, you'll find state-of-the-art teaching and lab facilities which include cutting-edge, industry-standard equipment. You'll also have lectures and use laboratories in the Sir Robert Hadfield Building.
General Engineering
Why choose Sheffield?
The University of Sheffield
  Number one in the Russell Group
National Student Survey 2023 (based on aggregate responses)
  92 per cent of our research is rated as world-leading or internationally excellent
Research Excellence Framework 2021
  Top 50 in the most international universities rankings
Times Higher Education World University Rankings 2022
  Number one Students' Union in the UK
Whatuni Student Choice Awards 2022, 2020, 2019, 2018, 2017
  Number one for teaching quality, Students' Union and clubs/societies
StudentCrowd 2023 University Awards
  A top 20 university targeted by employers
The Graduate Market in 2023, High Fliers report
---
General Engineering
94% overall satisfaction
National Student Survey 2022
Top 3 in the Russell Group for overall satisfaction
National Student Survey 2022
Fees and funding
Fees
Additional costs
The annual fee for your course includes a number of items in addition to your tuition. If an item or activity is classed as a compulsory element for your course, it will normally be included in your tuition fee. There are also other costs which you may need to consider.
Visit
University open days
We host five open days each year, usually in June, July, September, October and November. You can talk to staff and students, tour the campus and see inside the accommodation.
Subject tasters
If you're considering your post-16 options, our interactive subject tasters are for you. There are a wide range of subjects to choose from and you can attend sessions online or on campus.
Offer holder days
If you've received an offer to study with us, we'll invite you to one of our offer holder days, which take place between February and April. These open days have a strong department focus and give you the chance to really explore student life here, even if you've visited us before.
Campus tours
Our weekly guided tours show you what Sheffield has to offer - both on campus and beyond. You can extend your visit with tours of our city, accommodation or sport facilities.
Apply
The awarding body for this course is the University of Sheffield.
Recognition of professional qualifications: from 1 January 2021, in order to have any UK professional qualifications recognised for work in an EU country across a number of regulated and other professions you need to apply to the host country for recognition. Read information from the UK government and the EU Regulated Professions Database.
Any supervisors and research areas listed are indicative and may change before the start of the course.