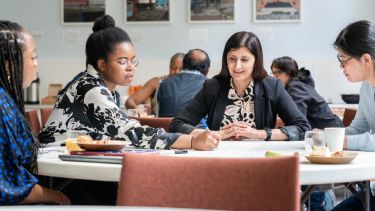 On
We deliver our best life-changing research, innovation and education when we work as One University. Through our continued commitment to equality, diversity and inclusion, we are building a collaborative community that is rich with talent and open to all.
---
We are investing an additional £6.3 million per year in staff salaries as part of changes to our grade boundaries. We worked alongside our local trade union colleagues on the changes that, together with the national pay award, saw more than 5,000 colleagues receiving up to a 6.5 per cent pay increase, and some colleagues receiving an increase of up to 16 per cent. The changes mean that our minimum pay rate will be £11.03 per hour.
---
Our University vision features four pillars: Research, Education, Innovation and One University. To support the delivery of the priorities of the One University pillar we have created five new Faculty Directors of One University, as well as equivalent leadership for Professional Services. The new One University Directors will lead various projects and initiatives in relation to equality, diversity and inclusion, wellbeing and sustainability to help create sustained improvement and positive change.
---
In spring 2022, we launched our new Disability Equality Strategy and Action Plan to improve the experiences of our disabled staff and students. A new Staff Disability Adviser has been appointed to provide expert support and offer guidance to staff and managers, including how to make positive changes in the workplace. The University has also joined the Business Disability Forum, which gives managers access to high quality advice and support.
---
Utilising the University Mental Health Charter, we continue to adopt a whole-university approach to mental health and wellbeing.
In March 2022, we approved an updated Mental Health Strategy. In May 2022, we launched a revised Stress Risk Management Policy and associated guidance that takes a more proactive approach to managing and controlling the causes of work-related stress.
Over the last year, we have promoted the Access to Work Mental Health Support Service, which provides free confidential mental health support for stress, anxiety, depression and low mood in the workplace. Staff and managers have been invited to attend information sessions hosted by the Department for Work and Pensions (DWP) and Remploy outlining the service.
The University's Counselling Service (UCS), which was the first University to be accredited by The Royal College of Psychiatrists and British Psychological Society (APPTS), was the first University to be accredited by The Royal College of Psychiatrists and British Psychological Society (APPTS), was praised highly in a recent review for its responsiveness and short waiting times.
We have also introduced three new student support groups: a Student-Parent Group, a group on Mental Health and Masculinity, an a Lunchtime Peer Support Group for neurodivergent students.
---
Our latest gender pay gap report in 2021 showed that the gap has reduced to 8.4 per cent, down from 11.1 per cent in 2017 and closer to our ambition to reduce the gap by five percentage points by 2025. The 2021 figures show a reduction in both our mean and
median gender pay gap compared with the three previous years, which once again compares well to other Russell Group universities. Our Senate and Council Committees now have an overall average of 44 per cent female membership. Six out of 13 colleagues on our Executive Board are female, including our Deputy Vice-Chancellor.
---
We continue to deliver against our priorities in our Race Equality Strategy and Action Plan and are working towards alignment with the Advance HE's Race Equality Charter, which aims to improve the representation, progression and success of minority ethnic staff and students within higher education.
We launched dedicated training on race equality for all staff and postgraduate researchers, as well as a programme of training on providing support to our BAME community of students.
We have appointed a dedicated member of staff in Student Recruitment and Admissions to address our representation and encourage more students from BAME backgrounds to apply to Sheffield.
---
We have developed a number of Equality, Diversity and Inclusion (EDI) strategies and action plans in recent years, and will be launching two new strategies in 2023: LGBT+ and Religion, Belief and Non-belief.
Further to this work, we have identified common themes across all of our EDI strategies and have used this to create a common framework. Standardising the format will enable us to avoid duplication, ensure we use resources efficiently and be able to easily identify and consider issues of intersectionality, including organisational culture, student recruitment, progression and outcomes, and staff recruitment and progression. We have also launched an ambitious programme of EDI training and development that features a range of guidance on topics including how to manage inclusively.
---
We are grateful for the support of our alumni, friends, volunteers and donors, who have made a difference to the lives of thousands of students by gifting and pledging £5.7 million of new charitable support over the year.
Forged in Sheffield
The Campaigns and Alumni Relations team are embarking on the University's first institution-wide fundraising and engagement campaign.
The campaign is designed to accelerate important avenues of research and provide greater support to our students at scale. Focus group meetings have taken place with alumni, friends and key regional partners.
Group briefings, with over 60 high-net-worth individuals, trustees and influencers have taken place across the year, held in Sheffield, London and New York. The campaign will be officially launched to the public in 2023
Our alumni volunteers
1,200 alumni and friends gave over 15,000 hours to support key strategic areas, with 6,500 students benefiting from alumni support. For the first time, Coach Café, our inspirational programme of alumni-to-student online networking events took place for every faculty. Over 240 alumni volunteers shared their professional experiences and advice with 664 current students to support them in their chosen careers, with a significant proportion of attendees coming from widening participation backgrounds. Our flagship London City Connections and Northern City Connections programmes saw a welcome return this year. Through this inspiring initiative, 75 students from widening participation backgrounds benefited from the skills, knowledge and connections of alumni in a range of professions.
The Firm
We launched The Firm, a new alumni- supported initiative that helps Law students learn more about legal careers. Part of The Susan Crosbie Leaders in Law Programme, it was made possible thanks to a gift in memory of alumnus Mark Crosbie.
We also added a new programme called Ask a Graduate to support international student recruitment through online panel events hosted by our international alumni volunteers. It aims to help international prospective students make the right decision about their future career. 35 alumni from 19 different countries volunteered their time. 10 sessions were held with a total of 986 offer holders attending. 
Big Walk 2022
325 walkers and more than 100 volunteers took part in the Big Walk 2022, helping to raise over £73,000 for genetic disease research at the University. That contributed to the £200,000 target which has been raised to build a bioreactor at the new Gene Therapy Innovation and Manufacturing Centre (GTIMC), located at the University's Innovation District. The new bioreactor will help researchers find new treatments for genetic diseases such as motor neurone disease (MND), dementia and other rare inherited diseases.
Increase in scholarships awarded 
The autumn student telephone campaign was relaunched in November, following a break in 2020 due to Covid restrictions. The new team of student callers exceeded the target forecast and raised over £120,000. We awarded 260 scholarships worth between £3,600 to £6,000 to undergraduates for the Experience Sheffield Scholarship scheme – which is an increase of 31 compared to the previous year.
---
We are continuing our work to embed sustainability in everything we do, with the ultimate aim of being one of the most sustainable research-intensive universities in the country.
Through our research we are finding practical solutions to global food, energy and climate challenges. Our teaching equips our graduates with an understanding of the challenges facing the planet and how to use their skills and knowledge to make a difference. We are also working to ensure that our campus and operations lead by example and have a positive impact on our local and regional environment.
Representing the University at COP26
We are one of a small number of UK universities awarded passes for the Blue Zone at the UN's Conference of the Parties (COP), including COP26, held in Glasgow in 2021.
A number of our senior academics, early careers researchers and PhD students attended, spoke and took part in debates at COP26, sharing the University's research, expertise and knowledge with global leaders on topics relating to climate change and sustainability.
Renewing our commitment to sustainable investment
We have become a founding signatory of a new declaration of climate expectations, which sets out the minimum climate commitments it expects from the companies managing its investments.
The new declaration is a reaffirmed commitment to ensuring our investments are managed sustainably and responsibly, building on our divestment from shares in fossil fuel companies completed in 2018.
A Green Impact on campus
This year saw 19 teams take part in the Green Impact programme. Run in conjunction with SOS-UK (part of the NUS), Green Impact is now in its fourteenth year at the University.
This year's teams completed 40 projects across campus, reaching more than 4,500 staff and students with activities such as litterpicks, urban gardening, energy reduction campaigns and sustainable food initiatives.
Reducing waste on campus
We have introduced new initiatives to help reduce the amount of single-use waste being generated in our cafes.
The Many Happy Returns project, a collaboration between University researchers and Accommodation and Commercial Services, has seen the introduction of a new reusable cup deposit scheme to cafes. Using a phone app, customers can rent a cup or food bowl, before returning it to any other cafe when they have finished their drink or meal. Together with a new 20p levy on single-use cups, we are aiming to have a significant impact on the thousands of single-use cups used each year.
We are also working to reduce waste and emissions in our supply chain. Our cafes use over 430,000 pints of milk each year. Working with Sheffield dairy Our Cow Molly, which supplies all of our outlets with milk from its dairy only four miles from campus, we have installed unique milk pumps in several of our cafes. This has enabled Our Cow Molly to supply milk to University cafes in stainless steel milk churns. This will reduce plastic milk bottle use by 87,000 per year, and reduce the carbon footprint of our milk deliveries by over 65 per cent – equivalent to 6.5 tonnes of CO2 every year.
Fulbright and Gilman scholars
The Grantham Centre for Sustainable Futures is a collaboration between the University and Grantham Foundation for the Protection of the Environment. This year the centre welcomed 100 Fulbright and Gilman scholars for a week-long conference that showcased
our academic content on the theme of Climate Change and COP26.
Strategy, governance and risk management
Our current sustainability strategy was published in 2020 and runs until 2025. It outlines the key principles of our approach to sustainability, as well as our areas of focus. A live sustainability action plan details the individual actions we are taking to
fulfil the commitments outlined in our strategy. Our ambition to achieve net zero is a central University Key Performance Indicator (KPI) that is monitored by the University Council.
Our Sustainability Steering Group is a formal sub-group to the University Executive Board (UEB) and provides high-level accountability for sustainability work at the University. It reviews the risks and opportunities presented by climate change and makes sure we deliver on our key emissions reduction metrics and ensures the University is well-
equipped for emerging challenges.
---
As a global University with an international reputation, we have provided support where needed, delivered first-class teaching and continued to be a force for positive change in the world.
Support for Ukraine
In response to the war in Ukraine, staff from across the University and Sheffield Students' Union continue to work together to ensure that the University can offer a broad range of support for new and existing students and staff.
We have pledged over £1 million to support students, scholars and other staff who are seeking sanctuary in the UK or are affected by war in their home countries.
This includes hardship funding for current students, scholarships for new or transferring students, accommodation support, English language training and job opportunities for at-risk academics.
Our commitment to those seeking sanctuary
Sheffield became the first City of Sanctuary in 2005 and our University has a long history of supporting people forced to migrate and seek sanctuary. Over the years we have worked closely with partners in the local region, taking part in cultural city-wide events to celebrate and raise awareness of the migrant community.
Now, a University-wide steering group has been created to oversee and facilitate strategic planning to increase our support and provision for people seeking sanctuary.
We will shortly be submitting an application to gain accreditation as a University of Sanctuary, which will provide formal recognition of our work and further strengthen our commitment to creating a culture of welcome for people seeking sanctuary in South Yorkshire.
Student placements
We awarded 800 student mobilities / placements for spending time abroad despite it being the final year of Erasmus+ and the first year of the new Turing scheme. This has been against the backdrop of Brexit and travel restrictions due to Covid-19. The Turing Scheme has also been developed to include funding for PhD students.
Our partnerships
In 2021, we have agreed a three- year, jointly funded research seed grant programme with the University of Alberta, Canada. The theme for the first year is Energy System Resilience. In January 2022, a virtual match-making workshop, hosted by the University's Energy Institute and the University of Alberta's Energy Signature Area, was held to discuss project ideas for joint research before funding applications opened.
We have been working with the University of Ghana since 2017. Work includes a 50-member Ghana Interest Group to give staff an opportunity to discuss ongoing research, challenges and opportunities. This year the collaboration has been strengthened by a €236,000 Erasmus+ International Credit Mobility programme, which will support 73 staff and PhD mobilities between the universities in the next 18 months.
Digital innovation
Building on four successful British Council-funded transnational development projects in Afghanistan, Cuba, Indonesia and South Africa in 2020 and 2021, the ELTC was awarded a £46,000 Digital Innovation Grant as part of the UK-Indonesia Partnerships for English Teacher Professional Development project.
Partnered with Universitas Indonesia (ranked 3rd in the country and QS World 248), the English Language Teaching Centre designed and now delivers a blended, pathfinder, English teacher professional development (TPD) programme to increase English Medium Instruction capability, confidence and capacity in higher education institutions across Indonesia. 97 lecturers were selected from 26 higher education institutions across a nation fast becoming a key strategic partner for the UK. The project will be delivered from April 2022 to March 2023.