We have continued to prioritise progressing inclusion and equality and sustainability. We are grateful for the incredible work of our alumni volunteers and the philanthropic support that is set to benefit hundreds of students.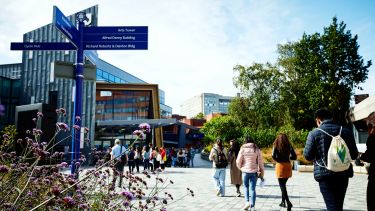 Since the launch of our race equality strategy and action plan in 2019, we've introduced a raft of measures designed to raise awareness of issues and improve inclusion. These include diversity and inclusion training for staff, student ambassadors and societies.
All new students now take part in a three-phase race equality programme which includes conversations exploring key issues in more detail. The Student Recruitment, Marketing and Admissions team are working nationally to encourage more students from Black, Asian and Minority Ethnic (BAME) backgrounds to choose Sheffield. Our access and participation plan now includes targets aimed at reducing the attainment gap.
Last year saw the launch of Report and Support, a new platform which enables staff and students to report any incidences of harassment, bullying, racial discrimination, abuse or sexual violence, and to access support.
---
The University continues to strive for gender balance across all of its activities. Our gender equality committee, a sub-committee of the University Council's equality, diversity and inclusion committee, oversees the development of our Athena SWAN action plan and supports departments to achieve gender equality objectives.
In 2020, we launched the White Rose Gender Equality College, a partnership with the universities of Leeds and York. Aimed at colleagues working in research, the college highlights global gender equality issues and gives staff the tools and the confidence they need to address them.
How we're working to progress gender equality
A Stonewall Top 100 Employer
We were ranked 11th in Stonewall's Workplace Equality Index 2020. The index is the definitive benchmarking tool for measuring employers' progress on LGBT+ inclusion in the workplace. This year's ranking is our highest position to date. We were also named as a Top Trans Inclusive Employer.
---
In 2020, we signed up to the Mental Health at Work Commitment, a framework of standards based on the most up-to-date research, that helps employers improve the mental health and wellbeing of their staff.
In line with our new commitment, the University is also taking part in MIND's Mentally Healthy Universities Pilot Programme. Over the next year, teams from Human Resources and Student Support Services will work with staff and students to identify strategies that will shift the focus of our mental health support towards understanding, nurturing good mental health and early intervention.
A new campaign promoting good mental health and related support services has been well received. Our University Mental Health Week saw a series of events held across campus and online in October 2019. The Facebook page alone reached over 11,000 people.
As students and staff geared up for the January 2020 exams, we launched a second campaign to raise awareness of mental health issues and give students the tools to address them if they need to. Sport Sheffield offered discounts on memberships, day passes and stressbuster sessions, while Student Support Services ran a mindfulness session.
The University Library provided dedicated online support during exams, as well as meditation sessions in the Information Commons. Our Student Access to Mental Health Support service and our accredited University Counselling Service continue to provide students with access to clinical assessments, treatments and interventions.
These services work closely with the University Health Service and the NHS. Our new Student Wellbeing Service launched in April 2020, offering support to all students via faculty-based advisors. Through education, skills development and one-to-one support, the new service complements existing provision.
---
Following conversations with student campaigners and academic staff, the University has signed contracts with Bryt Energy, a fully renewable energy supplier. This means all our research, teaching and administrative buildings, including the AMRC, will now be powered by solar, hydro and wind – reducing CO2 emissions by approximately 17,000 tonnes per year.
The University has also pledged to become net carbon neutral on campus by 2030 and across all its activities by 2038. It's an ambitious target but the climate emergency demands ambitious, science-led action and we are determined to help lead the way.
Education for sustainable development
Our students demand action on sustainability. They want to learn the skills they'll need to address the climate emergency and related sustainability challenges. So we're working to embed Education for Sustainable Development (ESD) in the curriculum.
ESD draws on a holistic definition of sustainability, as set out by the UN's Sustainable Development Goals (SDGs). This means our students will see the big picture. They'll learn how economic and social strategies must work hand in hand with environmental protections to build a sustainable future.
They will also learn how their subject knowledge can be connected to the SDGs and applied to specific challenges. We want ESD to be part of all our taught courses within the next five years. To make sure our provision is fit for purpose, we're working with staff and students, talking to colleagues from across the sector and looking closely at examples of best practice.
Ten years of Green Impact
This year we celebrated the 10th anniversary of our staff sustainability campaign with some inspiring projects, including a community fridge for our student residences, a green living guide for student landlords, inter-departmental swap shops and a student competition to design a biodigester.
---
Volunteering
Last year, 863 alumni from 47 countries gave 8,985 hours of their time to help the University. More than 5,000 students benefited from their efforts. Alumni mentors were found for 444 students on the Careers Service eMentoring programme.
Eighty-six alumni and industry experts joined our Global Engineering Challenge and Engineering You're Hired project as mentors and assessors. Our Northern City Connections event introduced arts and humanities students from widening participation backgrounds to successful alumni who have built their careers in the north.
Since the lockdown, we've converted many of our face-to-face activities to online events. The response has been incredible.
Alumni volunteers have been helping with everything from online open days to virtual networking events and working with the class of 2020 on our new graduate programme The Boardroom. Global alumni events Over 400 international alumni attended events last year in locations around the world, including China, Ireland, Malaysia and the USA. Over 100 alumni gathered for the annual Helen Sharman lecture, while 1,500 registered for 200 places at the House of Lords reception hosted by Lord Blunkett.
Giving
The University received £8,718,634 in income from philanthropic support in 2019–2020. These gifts are helping to power research and provide opportunities for hundreds of talented students.
Scholarships
This year, fundraising activity generated £1,172,000 to support over 300 students from a range of backgrounds starting their degrees in 2020–21. In the past five years, over 1,200 students have received undergraduate and master's scholarships.
The students may come from lower-income or disadvantaged families, be the first in their family to go to university or have no family support at all. Receiving a scholarship can change the course of a person's life forever.
Fundraising appeals and community involvement
Our Desert Garden appeal has raised £233,672 to help refugees at the Za'atari camp grow their own food more sustainably, using methods developed by Sheffield scientists. Hundreds of donors were inspired to protect the future of this groundbreaking collaboration between Sheffield scientists and Syrian refugees.
Through various appeals, 1,784 generous donors raised £250,000 to boost the University's world-leading research on Parkinson's disease. When the Big Walk 2020 was postponed, we created the Big 30 Challenge. Sixty fundraisers took part in challenges throughout June and raised an additional £29,712.
---
International mobility
Our participation in the British Council's UK–China Outward Mobility Partnership Fund is helping to strengthen our already close links with the University of Nanjing. The fund helps institutions collaborate on shared goals and increase the exchange of students and staff between the two countries.
Also in 2019–2020, the Global Engagement team secured €300,622 from the European Commission to support student and staff exchanges between Sheffield and our partner institutions the University of Ghana and Universidad Federal Minas Gerais (Brazil). This will support 83 staff and students.
Global opportunities
Although not everyone who was selected was able to take up their place because of the coronavirus pandemic, 2019–2020 saw an overall increase in applications for international opportunities:
Applications for international opportunities 2019–2020
Attendance at the Global Opportunities Fair increased by 25 per cent
Sudents choosing time abroad in non-EU countries: we saw an increase of 15 per cent
Staff selected for global mobility schemes: this increased by 26 per cent
Funded opportunities for Sheffield students: this increased by 40 per cent
Students choosing non-traditional destinations: we saw an increase of 85 per cent
314 students funded by Erasmus to study or work in Europe (2019–2020)
Flagship institutes
Our four flagship institutes bring together our key strengths to tackle global issues, turning interdisciplinary and translational research into real-world solutions.