We continue to focus our work on progressing equality, diversity and inclusion as we continue to build a collaborative and responsible community.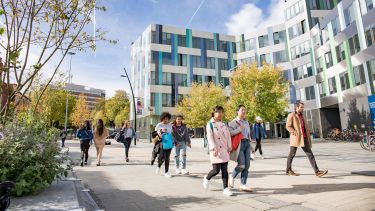 We have launched a number of new initiatives and activities as part of the two-year Mind's Mentally Healthy Universities Pilot Programme. We recently signed the Student Minds University Mental Health Charter, a quality assurance programme which aims to give universities the tools needed to enhance staff and student mental health. Over the coming years, we will work towards achieving a formal Charter accreditation.
We signed up to the Mental Health at Work Commitment and continue to work towards the six mental health standards. Our achievements have been highlighted in the Mental Health at Work Commitment Guide for the Higher Education Sector, published earlier this year.
Wellbeing and mental health champions
Over 90 staff members have been trained as Staff Wellbeing and Mental Health Champions. Alongside this, we launched a pilot Peer Supporter scheme, where staff with lived experiences of mental health problems use their experiences to support colleagues.
---
We launched new iterations to our Race Equality Strategy and Action Plan, which aims to improve the representation, progression and success of Black, Asian and Minority Ethnic (BAME) students and staff. This live document is a culmination of the valuable partnership between students and staff at Sheffield.
As part of this, Student Support Services delivered a staff development programme on race equality and allyship, supported by our external partner, Diverse Minds. Anti-racism training and development was delivered to students, including annual inductions for all new students, alongside training for sports clubs and student societies.
Over 2,500 staff members have taken our mandatory equality, diversity and inclusion training module.This baseline training provides staff and and postgraduate researchers with the core foundations and understanding on diversity and inclusion.
Our Race Equality Strategy and Action Plan (staff only link)
---
A new Student Support Worker mentoring team has been introduced in our Disability and Dyslexia Support Service (DDSS). The mentoring team has been working with the Faculty of Engineering and IT Services on the development of a new Learning Support Plan system, set to be piloted in 2021–22.The DDSS has also contributed to work around digital accessibility and using feedback from Digital Accessibility Ambassadors we have made improvements on the accessibility of a selection of Blackboard courses.
---
We established a Gender Pay Gap Working Group to deliver on our target of a reduction of five percentage points in our gender pay gap by 2025. Our 2020 Gender Pay Gap Report shows that our gender pay gap continues to fall and outlines the work we are doing to take action to reduce the gap. This work compares well with the figures published by other Russell Group universities last year, but we recognise we still need to do more to reduce the gap at a greater pace.
We introduced new Menopause in the Workplace resources for staff members experiencing the menopause, including a staff toolkit and information to help staff get the support they need while at work, alongside a separate managers guide to ensure managers are equipped to support staff.
We also invested in Peppy Health, a specialist menopause support app, available for free to all University staff members. So far more than 300 people have downloaded the app, and this work is an important step in our efforts to eliminate the gender pay gap by providing support for staff, improve staff wellbeing and make a significant difference to the experiences of our whole University community.
Our 2020 Gender Pay Gap Report (PDF, 357KB)
Our 2021 Gender Pay Gap Report (PDF, 218KB)
---
Using feedback from our University community and working in partnership with our staff networks, we are currently developing a range of University-wide strategies and action plans that will help to progress our work around equality, diversity and inclusion. These strategies and accompanying action plans relate to Religion, Belief and Non-Belief, Disability, LGBT+ and Mental Health.
---
We have continued to support our students in response to the coronavirus pandemic. We created the Student Covid-19 Support Fund to provide financial support to help cover costs incurred due to the pandemic, for example for equipment for remote learning, and hotel bills for those required to quarantine on arrival in the UK. We also put in place a dedicated support programme for those who were self-isolating, with regular welfare calls and fast-tracked access to mental health support.
Our University Health Service (UHS), continued to run on-campus throughout the pandemic and assisted with the roll-out of the NHS England Covid-19 vaccination programme by providing vaccinations to community health and social care staff. In recognition for their contributions, the team won an award for 'Practice Nursing Team of the Year' as part of the General Practice Awards in 2020.
The Student Online Orientation Hub was developed in 2020. Available to all undergraduate and postgraduate students, the hub provides help and information, social activities and ways to come together virtually to share ideas and make friends.
---
We published our five-year sustainability strategy which details our broad aims and objectives to 2025 and sets out our ambition to be carbon neutral on campus by 2030, and across all of our activity by 2038. These ambitious targets recognise the seriousness of the climate emergency and the need to make urgent changes to how we operate as a University. Alongside our strategy we also launched a comprehensive live action plan which tracks the projects and actions being undertaken across areas such as buildings, travel and waste, to make us more sustainable.
In 2020, the University achieved a 47 per cent cut in our on-campus emissions since 2005–06, exceeding our targeted 43 per cent reduction for the period.
A Five-Step Framework for embedding Education for Sustainable Development has also been launched, developed by Dr Caroline Hart (School of Education). An Education for Sustainable Development (ESD) Working Group has been utilising the Framework to support the embedding of this agenda within departments. Students have played a key role in making the case for ESD across the University with many working directly with departments to integrate sustainability into teaching and curriculums.
Our five-year sustainability strategy
---
We are grateful for the incredible work of our alumni volunteers and the philanthropic support that is set to benefit hundreds of students.
Much of the planning has now been done for Sheffield's first institution-wide fundraising and engagement campaign. This is an ambitious campaign that aims to deliver a major uplift in alumni engagement and philanthropic support. A campaign identity has been developed, a first phase of priorities has been established, a campaign narrative has been built and a great group of alumni leadership volunteers has been formed to assist in the delivery. The Campaigns and Alumni team is now looking forward to testing the campaign story and priorities at sessions throughout 2021–22. In doing so they will be informing, engaging and mobilising many more alumni and friends around our ambitions.
Alumni volunteering and philanthropic support continues to grow, and this support is more important than ever. Record numbers of hours were given to support student and alumni employability - 1,000 alumni from 50 countries gave 12,000 hours of their time to support 7,000 students and recent graduates. Alumni supported international recruitment activities where alumni from 16 countries spoke to 261 postgraduate offer holders. We also saw double the amount of philanthropic support given in support of our students and research agendas than in any previous year. This included a record £5.85 million donation from The Law Family Charitable Foundation, established by alumnus Andrew Law. This gift is the largest single commitment the University has received from an alumnus/a.
Inspiring graduates sharing their wisdom
Through our alumni network we have schemes to inspire prospective students and to provide careers support for existing students. Our brand new Ask a Graduate programme matched 262 international postgraduate offer holders with alumni from 16 different countries, giving them the chance to ask questions and be inspired by the alumni experience. 533 students were matched to alumni mentors on the Careers Service eMentoring Programme. We launched our first ever alumni-to-alumni speed networking programme, Coach Cafe, giving over 60 recent graduates the opportunity to learn and hear from 25 Alumni Coaches - fellow Sheffield alumni further along in their careers.
Our virtual alumni speaker programme, Sheffield Insights, featured a diverse range of inspirational alumni sharing their career experiences and advice on navigating the world of work. A record number of alumni supported the 'Global Engineering Challenge' event and 'You're Hired', the flagship project weeks in the Faculty of Engineering. 70 students from widening participation backgrounds took part in our London City Connections and Northern City Connections virtual business visits and networking events.
---
Throughout the Covid-19 pandemic we have remained resolute in our mission to be a global university, providing a centre for international scholarship, delivering world-class teaching and leading impactful research.
Attracting students from across the globe
Close working has continued with Study Group to recruit students onto our undergraduate and postgraduate progression route programmes, with a focus on increasing diversity across nationalities and subject streams with a comprehensive marketing plan to further this work in future years.
We have signed seven new agreements for undergraduate and postgraduate recruitment pathways (in Engineering, Politics, Chemistry, Law, Architecture/Urban Studies and Planning, School of Health and Related ResearchARR) with partners in China and Malaysia.
Developing global graduates
In addition to the 142 students who were able to undertake mandatory student exchanges this year, 25 Global Summer Experience Scholarship winners took part in summer schools with partner universities in France, Denmark, Portugal and the Netherlands.
Virtual exchange programmes run in collaboration with our international partners have provided even more scope for our students to gain global experience. 30 of our students joined 15 students from Nanjing University to take part in an online summer school, funded by the British Council's UK-China Outward Mobility Partnership Fund; this project will also facilitate capacity building, academic collaboration and staff workshops on internationalisation.
Alongside this, we have reaffirmed our commitment to supporting as many opportunities as possible in future years and were awarded £1.5 million as part of the Turing Scheme funding for 2021–22.
Our global partnerships
We have continued to develop research collaborations, educational partnerships, reputation raising activities, and student and staff exchanges with our seven priority partners. We have agreed annual jointly-funded seedcorn funds, which will initiate collaborative research with the University of Alberta (Canada) and the Manipal Academy of Higher Education (India). We have finalised plans to welcome staff and PhD students from the University of Ghana for a period of three months as part of a three year €236,000 ERASMUS+ International Credit Mobility programme.
Our priority university partners are selected on the basis of their global ranking, research intensive nature and a match to areas of research excellence at the University of Sheffield. Our global strategy is to engage with these partners on a range of activities, but with a particular focus on expanding research collaboration. The research topics for collaboration align with the research excellence agenda in our vision, and work is already underway with our four Flagship Research Institutes to establish collaborations with both current and new international partners. In addition, there is a geographical focus on expanding collaboration with US and European universities.
One such partnership is with Nanjing University who is ranked 6th in China. There are many complementary areas of research, with the longest standing being The Joint Research Centre for Wide Bandgap Semiconductor Optoelectronics, though four of our five faculties are involved in collaborations. Our partnership with Nanjing is multi-faceted and extends beyond research with outbound and inbound student exchanges, as well as a close working relationship with our Confucius Institute.
British Council funding is also facilitating a £30,000 knowledge exchange project which will see Sheffield sharing its expertise and experience of internationalisation, as well as growing academic collaboration and outbound student mobility. Looking to the future, there are opportunities for research collaboration with the flagships as well as with the Digital Humanities Institute and a number of other subjects across our faculties.