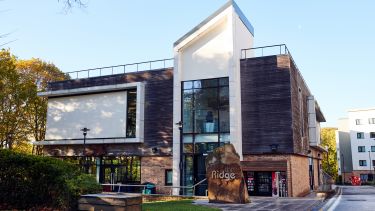 If you've received good service from a member of staff or there's something you're not happy with about your accommodation, speak to Customer Services about it first. They log all compliments and handle all complaints according to the ACS Complaints Procedure.
Customer Services are available to help current students with any general enquiries and they are open 24/7, 365 days a year: 
Or visit:
The Edge reception, 34 Endcliffe Crescent, Sheffield, S10 3ED
The Ridge reception, 4 Woodhead Way, Sheffield, S10 3AQ
Allen Court reception, 10 St.Georges Close, Sheffield, S3 7HB
St. Vincent's Place reception, 30 Hollis Croft, Sheffield, S1 4BA
---
There are dedicated cycle stores throughout the residences. Just ask Customer Services for the location of the store nearest to you. Cycles must not be taken into buildings or stored in shared areas (e.g. corridors, landings) as they obstruct fire escape routes. If found in these areas, cycles will be removed and you'll need to pay a £35 retrieval charge.
At the end of your accommodation contract, please remember to take your cycle with you when you vacate – or it will be donated to charity. Please note that bicycles are not covered as part of your insurance. 
Cycle parking locations across the residences and University campus
Depending on where you live, there are different ways to access the cycle stores.
If you live in an apartment (e.g. Froggatt, Kinder) - get your key fob activated at Customer Services. In all other properties (e.g. Broad Lane Court) - pick up a cycle store key or get your swipe card activated at Customer Services.
Allen Court cycle storage
We recommend storing your bikes in the lockable cycle storage undercover in Block H. Use your fob to access the cycle store - you'll need to get it activated at reception first. Bicycles must not be taken into buildings or stored in shared areas (e.g. corridors, landings, bedrooms) as they obstruct fire escape routes.
Please note that your bike is not covered by your insurance cover. You will need to take out additional insurance cover for this.
---
Common Room
Common Room Allen Court common room is open 24 hours a day and this includes a cinema room and PlayStation room. Playstation games are available to hire free of charge from reception.
---
We value your feedback. It's the best way for us to find out what we're doing well and also, how we can improve.
Annual student survey
This survey gives you the chance to tell us what you think about all aspects of living here. We'll email you a link to the online survey where you can win fabulous prizes just for taking part.
Food and drink
If there's a dish in one of our cafés that you love and want to see on the menu, or there's something you've not been happy with, let us know - email: genius@sheffield.ac.uk
A world top-100 university
We're a world top-100 university renowned for the excellence, impact and distinctiveness of our research-led learning and teaching.