We have a free fitness suite that is available to all students living in Official University accommodation. It is located at The Ridge - within the Ranmoor/Endcliffe Residences.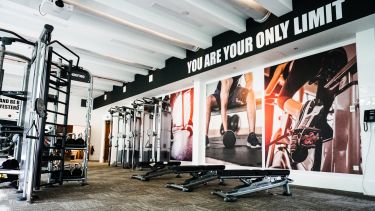 Important Update: The Fitness Suite is open!
The Residence Fitness Suite is now open for students to use - we have put some new measures in place to keep everyone safe, please read the information below before visiting the facilities. 
We are so glad that you are all enjoying using The Fitness Suite. We have received some feedback on our opening times, listened and updated these to suit your routines.

Our Fitness Suite opening times are 7am Monday to Friday, with the last bookable slot 6.30pm. On weekends, we are open from 9am with the last bookable slot 4.30pm, with the usual 1 hour time slots available for you to workout. 

Please read the information below, and on the Eventbrite booking page, on the new procedures in place to use the Fitness Suite - you will need to book a timeslot to use the facilities.
Please do not attend the Fitness Suite if you are displaying symptoms of Covid-19 or are self-isolating.
Book your timeslot to workout at the Fitness Suite
How to book your slot
We are asking residents to book a 1-hour time slot to use the Fitness Suite, this is to ensure we maintain social distancing and have adequate time to clean in between sessions, in compliance with government guidelines.
NHS Track and Trace
Please download the NHS track and trace app before arrival.
You will be required to have downloaded the NHS Test and Trace app before your arrival. The app allows you to record when you visit a venue by "checking-in" when you arrive, using the QR code displayed.

To download the NHS COVID-19 app, search for "NHSCOVID-19" in the App Store / Google Play Store on your phone.
Hand sanitiser will be available on arrival, please use this upon entering and exiting the facility.
 
A member of the Customer Services team will be on hand to check you in and out. Please remember to bring your U-card with you.
The facility has top of the range facilities for students to use, ranging from treadmills to weights and bikes. There is a floor to ceiling window that overlooks Ranmoor/Endcliffe. Work out and enjoy the view!
The fitness suite can be accessed using the Ucard you receive when joining the University. Don't forget to bring it with you when visiting the fitness suite.
If you have any questions regarding your visit to the Fitness Suite, please contact Customer Services at acs-customerservices@sheffield.ac.uk or call 0114 222 4488.
A world top-100 university
We're a world top-100 university renowned for the excellence, impact and distinctiveness of our research-led learning and teaching.