Dr Viktor Fedun
Department of Automatic Control and Systems Engineering
Senior Lecturer in Control and Systems Engineering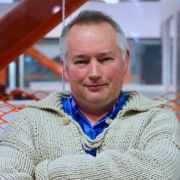 v.fedun@sheffield.ac.uk
+44 114 222 5197
Amy Johnson Building
Full contact details
Dr Viktor Fedun
Department of Automatic Control and Systems Engineering
Amy Johnson Building
Portobello Street
Sheffield
S1 3JD

Research interests

My research is primarily concerned with the mathematical modelling of physics of

solar/space plasmas;
sun-solar wind;
solar-terrestrial systems.

The study of processes occurring in such systems is crucially important for understanding the Sun, predicting Space Weather and understanding the dynamics of laboratory and technological plasmas. This includes mathematical modelling of solar magnetic flux tubes and processes that heat and maintain the coronal plasma at multi-million degree temperatures; studying fundamental plasma processes such as waves and instabilities in inhomogeneous media; determining the physical parameters of solar magnetic structures.

For online simulations of Kelvin-Helmholtz Instability, Kelvin-Helmholtz Instability with a magnetic field, Orszag-Tang Vortex, MHD Waves propagation in the Realistic solar atmosphere and Validation of MHD Code for Gravitationally Stratified Media on Graphical Processing Units see simulations.
Publications

Journal articles

Conference proceedings papers

Datasets
Grants

16 October 2013 - Cooperation between Sheffield and Russia - ROYAL SOCIETY - £11,760 (PI, App No. 136764)
10 December 2013 - India-UK Scientific Seminar Scheme - R2, ROYAL SOCIETY - £5,000 (PI, App No. 137804)
15 December 2014 - Application to STFC for Consolidated Grant Support for the Solar Physics and Space Plasma Research Centre (SP2RC), SCIENCE AND TECHNOLOGY FACILITIES COUNCIL - £73,076 (App No. 139622)
23 December 2014 - PROGRESS, EUROPEAN COMMISSION - HORIZON 2020 - £80,884 (App No. 140281)
23 December 2014 - ATST UK Consortium-PPRP bid - SCIENCE AND TECHNOLOGY FACILITIES COUNCIL - £18,31 (App No. 139338)
12 March 2015 -  Hardware for initiation of observations of the cracking-induced pre-seismic geophysical fields in the UK - ROYAL SOCIETY - £6,120 (PI, App No. 142461)
Teaching activities

ACS123 Systems Engineering Mathematics (ACADEMIC YEAR 2013~14)
Professional activities

Organised conferences

ST33: Multi-scale plasma wave processes in the solar atmosphere

"AOGS 2015, 12th Annual Meeting", Session poster

Singapore, 2-7 August 2015

Conveners: Viktor Fedun, The University of Sheffield, UK
Leon Ofman, Catholic University of America and NASA Goddard Space Flight Center, USA
Dipankar Banerjee, Indain Institute of Astrophysics, India

7-11 September 2015, Lviv, Ukraine