Our students have access to the latest equipment and technologies, including a dedicated natural robotics, computer, control and power systems laboratory, as well as teaching laboratories in our state-of-the-art engineering building, The Diamond.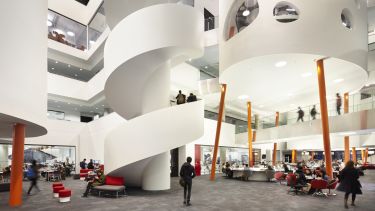 We're at the forefront
You'll get the chance to use cutting-edge facilities in our research centres and laboratories, as you collaborate with research staff on projects. Sheffield students benefit from outstanding university facilities including the 24-hour Information Commons and the University Library.
The Diamond has been designed to be the best integrated engineering teaching space in the UK. Its teaching and technical staff are dedicated to delivering undergraduate laboratory teaching and support with an emphasis on practical and multi-disciplinary work, delivering the skills that undergraduates will need for industry.
The highest standards
We try to make your student life the best experience possible, through:
student feedback - to help us improve our teaching and update the modules on offer
our mentoring scheme - which helps you settle in and make the most of your time here
a personal tutor - who will give you advice and guidance throughout your course.
You'll also benefit from innovative teaching approaches and technologies, such as our out-of-hours web laboratory, and a variety of web-based approaches for additional support.
A welcoming place to study
We're a welcoming, sociable learning community with approachable and enthusiastic staff who want you to reach your full potential - and enjoy getting there!
You'll be able to mix with students from all years of your degree - and throughout the Engineering Faculty - by getting involved in projects, student societies and competitions. And although we're a large department, you'll often study in small groups, so you'll quickly get to know the people on your course.
Give yourself an edge
Our teaching is based on the latest thinking. We regularly introduce new modules in response to current developments in research and demands in the careers market.
You'll build key transferable skills and qualities, through individual and group projects, that will help you stand out as a professional engineer – skills like teamwork, creativity, project management and commercial awareness.
Real-world projects
Through projects like the Global Engineering Challenge, you'll join forces with engineers across the faculty to solve real-world engineering problems.
In your final-year individual project, you could be investigating cutting-edge research with support from industry and leading research staff.
A world-class university – a unique student experience
Sheffield is a research university with a global reputation for excellence. We're a member of the Russell Group: one of the 24 leading UK universities for research and teaching.