Life sciences and healthcare
Our research aims to increase the quality and reduce costs of healthcare, while addressing the challenges posed by an aging population and by the inherent complexity of biological systems.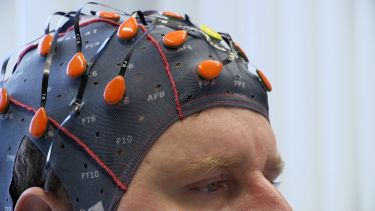 We achieve this through the development of better imaging solutions, assistive technologies, decision support systems and by applying systems engineering methodologies and tools to further our understanding of biological processes, as well as to the design and manufacture of cell therapies, biologically based parts, devices and systems. Our department was the first to apply successful feedback control systems to anaesthesia in the operating theatre more than 30 years ago.
Case studies
---
Using a brain-computer interface
Over the last three decades, Brain-Computer Interface (BCI) has attracted a lot of attention from robotic groups, neuroscientists, computer scientists and neurologists, triggered by new scientific progress in understanding brain functions and by impressive applications.
ACSE researchers have been working with a BCI system that connects the brain and computer or electronic device together, recording brain signals while the users perform different types of mental tasks. A number of signal processing algorithms are applied to improve signal-to-noise ratio and relevant patterns of the brain can then be extracted.
Such a system can greatly help people with generalised paralysis to gain some level of independence. The BCI input is the brain signals carrying informative neural features. The BCI outputs are used to control a device, such as an assistive robot, a wheelchair or a prosthetic hand.
---
The impact of the Sheffield Alcohol Policy Model on alcohol policy
The Sheffield Alcohol Policy Model (SAPM) aims to reduce alcohol misuse in society and it has been a major contribution to national and international debate on public policy and service.
SAPM is a mathematical model that appraises the effectiveness of alcohol policy options. It was developed by ACSE's Dr Robin Purshouse and the Sheffield Alcohol Research Group (SARG).
The group were commissioned by the UK Department of Health (DH) to conduct the research and create a software tool that can be easily used by analysts at DH.
The model provides the core evidence underpinning Scottish Government plans to implement a minimum unit price for alcohol. The model's findings have also influenced health policy debate in Australia, Canada, Ireland, New Zealand, Spain, Switzerland, and the European Commission.
Flagship institutes
The University's four flagship institutes bring together our key strengths to tackle global issues, turning interdisciplinary and translational research into real-world solutions.