The experience has advanced my critical thinking and analytical skills in all areas of practice

Ayesha Motala
Graduate
MMedSci Vision and Strabismus
Ayesha initially enrolled on one of our CPD modules, to gain a better understanding of stroke and the issues surrounding the condition within the field of eye-care. She explains how this standalone course reignited her dream to pursue a masters degree, and how the experience is benefiting her role as an orthoptist.
What made you want to study the MMedSci Vision and Strabismus at Sheffield?
"Originally, I had only applied to complete a standalone module in stroke with the aim of consolidating my in-house training as an orthoptist with an extended role in stroke.
"Joining the programme reminded me of my ambition of completing a masters degree following my undergraduate studies, and I felt it was the perfect opportunity to continue with the rest of the programme."
What have you enjoyed about the course so far?
"Aside from meeting new people, networking and advancing various skills, it has been a particularly rewarding and fulfilling experience to know that I successfully completed a masters degree whilst working full-time and managing other responsibilities."
How has the course helped you in your role as an orthoptist?
"The experience has advanced my critical thinking and analytical skills in all areas of practice, not just in the assessment and management of patients but also when considering communication, audit, and research.
"Whilst positively consolidating my extended role in stroke, I have also more recently progressed to attaining an Orthoptic Stroke Lead role."
How has distance learning enabled you to work and study? 
"Distance learning gave me the flexibility to study at my own pace, whilst working full-time. It was important for me to recognise what type of learner I was when distance learning in comparison to my full time undergraduate studies."
Do you have any tips or suggestions for prospective students about getting the most out of the course? 
"Working full-time alongside studying required a lot of prioritisation. It was very easy to become distracted and procrastinate at times, but making a schedule of when to complete tasks and work on assignments really helped me to keep on track with meeting deadlines."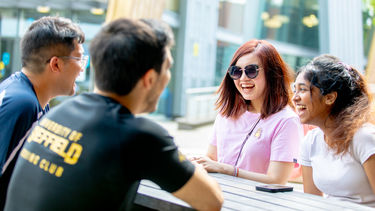 International Merit Scholarships
We offer a generous package of financial support for international students including 75 undergraduate scholarships worth £10,000 towards the annual tuition fee and 125 postgraduate taught scholarships worth £5,000 towards the tuition fee. Applications are now open for existing offer holders.