First-class teaching from professionals

Alycia Lim
Undergraduate
Speech and Language Therapy
Alycia Lim is from Kuala Lumpur, Malaysia. She chose the University of Sheffield both for the high calibre of the teaching and the wide range of facilities on offer at the Students' Union.
"After I've graduated, I hope to be a paediatric speech and language therapist, working with children with special educational needs."
"As a child, I always loved pretending to be a teacher. I even used to play pretend teacher and set my brothers and sisters homework tasks", she recalls. "As I grew older, I realised that I really want to help people. I also loved the idea of psychology because that meant that I could help people with hidden difficulties and mental health."
"I chose to study speech science because it gives me the opportunity to do some 'teaching', although this is not the same as teaching a class full of children, and it also allowed me to pursue my passion of helping those with hidden difficulties", she explains. "I chose The University of Sheffield because they offer such great opportunities for students to pursue this passion. The University runs in-house clinics at the department and all the students can volunteer to be part of it and do some therapy with clients in an informal and non-assessed setting."
"Placements are the most enjoyable part of the course because not only do you learn the theory of therapy, you are able to put it into practice. I feel that this is really rewarding as I am able to see the progress that clients make, and for me that is what this profession is all about. The lecturers in our department are speech and language therapists and linguists which highlights that we are getting first-class teaching from the professionals themselves."
"My favourite facility on campus is the Students' Union, which has been ranked number one for the last decade. There are so many lunch options to choose from! From a quick meal deal grab at Our Shop to a sit-down and a coffee at Coffee Revolution - there are so many choices."
"I have loved my time at Sheffield. The University has so much more to offer apart from your studies. There is a plethora of societies and sports teams to choose from. I have gained interests such as cheerleading and boxing at university and I am so glad that I am able to participate in them alongside my studies. If you're thinking about studying at the University of Sheffield, I would highly recommend joining us!"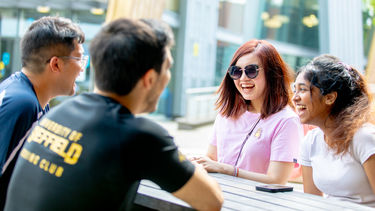 International Merit Scholarships
We offer a generous package of financial support for international students including 75 undergraduate scholarships worth £10,000 towards the annual tuition fee and 125 postgraduate taught scholarships worth £5,000 towards the tuition fee. Applications are now open for existing offer holders.