The Qualitative Health Research Group (incorporating UNIQUAL and Oral History Group)
The Qualitative Health Research Group (QHRG) provides expertise in qualitative research methods, grounded in social science methodologies that capture the health experience of patients, families and other stakeholders.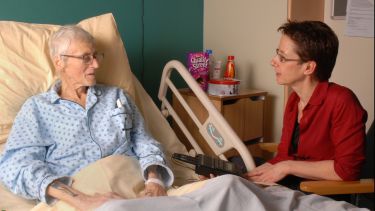 We generate experience based narratives that inform health practice, the development of interventions, service delivery and commissioning and other health research. The research group develops understanding regarding the experience and impact of ill health and health interventions and why these impacts are derived.
The strengths of the QHRG lie in:
An affiliation to a social model of health
Participatory research approaches that embrace co-production and co-design methods
The use of creative methods using art and design, alongside traditional qualitative approaches in the design, conduct and dissemination of research
The production of outputs for maximum impact
Proficiency in uncovering and understanding the impact of relationships on health and in health care, for example relationships across and within communities, families and services
Flexibility in conducting qualitative research in stand-alone, mixed –method studies or nested within clinical trials.
UNIQUAL and Oral History Group
UNIQUAL and the Oral History Group are teams of qualitative researchers with specific methodological expertise.  Further details about the research conducted by these groups can be found below.
UNIQUAL

The UNIQUAL team is based within the Division of Nursing and Midwifery. We undertake qualitative research embedded within RCTs and cohort studies. We can work with you to develop a bespoke qualitative study embedded within a larger trial.
 

Oral History Group

Oral history is the audio recording of memories, experiences and feelings. Participants are involved in producing their own life histories.  An oral history interview is a chance for individuals to tell their own story, to represent themselves in an account of their lives and have it professionally archived. The team the University of Sheffield has developed a facility to deliver bespoke oral history services to your organisation.