The University is sad to share news of the death of Adam James, a graduate of the School of Mathematics, who died in September 2021 at the age of 30.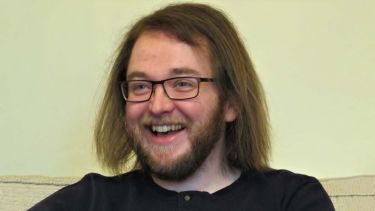 Off
Adam grew up in Whitehaven and came to Sheffield in 2009 to study Maths. Adam enjoyed his study and life in Sheffield, thriving during his course, and went on to graduate in 2012.
Adam was just the most genuine, friendly, and kind person I could have hoped to have met the night before moving into halls, he made me feel more at ease."

Claire Proctor

Friend and former flatmate
As one of Adam's uni friends, Claire Proctor, has said: "Adam was just the most genuine, friendly, and kind person I could have hoped to have met the night before moving into halls, he made me feel more at ease. This set the stage for a friendship with Adam, because he really was just the warmest most friendly person, hilarious with a quick witted sense of humour. We loved him for that."
While in Sheffield, Adam had been a passionate player and supporter of the University Ice Hockey team, the Sheffield Bears, playing as a forward with the side between 2010 and 2014.
He particularly enjoyed the music scene and ice hockey in Sheffield, which led him to stay in the city after graduation, before moving to Fife to join his partner Hannah. There, Adam was working in the pensions industry, and had continued his passion for ice hockey, being a very involved member of the Fife ice hockey community.
Very sadly, after battling with mental health issues, Adam took his own life in September 2021.
In memory of Adam and to celebrate his life, Hannah and Adam's family chose to support the Scottish Association for Mental Health (SAMH) charity for their work to help people with mental health difficulties.
From Adam's funeral his friends, family, work colleagues and the ice hockey community in Fife raised over £3,000 for SAMH. Such was Adam's standing in the Fife ice hockey community that the three teams, Caledonia Hellcats, Highlanders, and the community group Hockey for All, Dundee, have all made significant contributions to the fundraising appeal.
Continuing this fundraising, Adam's father Mike is now taking on a challenge of his own. On Saturday 11 December, Mike will be running five 5K ParkRuns across Fife at Dunfermline, Lochore, Kirkcaldy, St Andrews then onto Dundee. Mike is being supported by Adam's mum Margaret, and friends from Ice Hockey, ParkRun and the University of St Andrews' Maths and Statistics department, where Hannah works.
Speaking about the challenge and his fundraising, Mike shared:
"We've all wanted to celebrate Adam's life and make something positive from this tragic event in our lives. So, after hearing about the camaraderie of the ice hockey community, my wife and I wanted to contribute as well. I can run but I cannot skate. Having taken up ParkRuns this year, running five seemed to be the right way to raise some money in tribute to our son." 
Mike has also been working with his employer Sellafield Ltd's wellness team to produce support resources for anyone who is struggling with their mental health, and giving talks encouraging people to reach out for help and talk about their situation.
As a result of Mike's work with Sellafield he has his own connection to the University, being a long-term champion and sponsor of our research here at Sheffield, frequently collaborating with our Department of Materials Science and Engineering in their research around nuclear waste treatment.
Follow Mike's fundraising and add your support via his Just Giving page:
Support SAMH in celebration of Adam James's Life
SAMH
SAMH is dedicated to mental health and wellbeing for all: with a vision of a society where people are able to live their lives fully, regardless of present or past circumstances.
Today, in over 60 communities, they work with adults and young people providing mental health social care support, services in primary care, schools and further education, among others. These services together with
our national programme work in See Me, respectme, suicide prevention and active living; inform our policy and campaign work to influence positive social change.