AREC UK working with A*Star Singapore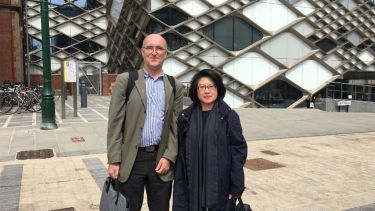 Through this collaboration, bio-derived chemical supply chains, sustainability assessment, and new tool development are amongst the key outcomes. Potential companies of interests such as pharmaceutical and petrochemical industries are testers and users of our research output, building from the historically strong link to this industry in Singapore.
During her attachment, Hsienhui Khoo presented a seminar entitled: "Is green chemistry sustainable?" using a life cycle/supply chain approach to investigate the outcomes of some selected green chemistry principles. Her talk has attracted major interest across the University from Science, Engineering and Social Science, as part of a wider interest in our LCA sustainability and energy research portfolio institutionally.
Globally, it is becoming increasingly common for pharmaceutical and chemical industries to adopt sustainability practices in their business operations.
Aligned with the aim for more sustainable manufacturing processes or products, the green chemistry concept encourages the application of environmentally benign chemical synthesis, or alternative processes for pollution prevention.
In her talk, the true environmental benefits of green chemistry were questioned together with the use of a life cycle or supply chain perspective where issues of mass balances, energy use, and a whole range of environmental impacts have to be addressed. As an example, in place of Green Chemistry Principle 2 (Atom Economy), the concept of "life cycle atom economy' was introduced.
The outcome was compared against the conventional method of calculating atom economy of a one-stage synthesis.
In other cases, Green Chemistry Principle 7 (Use of Renewable Feedstock), considers replacement of fossil-based chemicals with bio-derived chemicals. By extending the one-step synthesis route to a larger boundary, the production of such bio-derived chemicals starts with biomass growth and generation. This involves the application of energy and fertilizer uses at the farm, leading to further environmental impacts.
---
Professor Paul Sharratt from A*STAR Singapore (ICES) visit The University of Sheffield
Professor Paul Sharratt from the Institute of Chemical and Engineering Sciences (ICES), A*STAR, Singapore visited The University Sheffield on 24th May 2018, welcomed by Professor Koh, Director of AREC. During his visit he met with staff from the Faculty of Engineering – Department of Chemical and Biological Engineering, Department of Materials Science and Engineering, and Faculty of Social Science - Management School and AREC.
Professor James Litster from CBE and Professor Paul Sharratt had detailed discussion establishing collaborative initiatives.
A*Star is a partner of The University of Sheffield, with a long standing research and exchange track record and activities internationally. The areas cover science and engineering such as materials characterisation, chemical processes, and polymer synthesis driven by developments in sustainability.
A world top-100 university
We're a world top-100 university renowned for the excellence, impact and distinctiveness of our research-led learning and teaching.