£10 million Leverhulme Centre for Climate Change Mitigation at University of Sheffield announced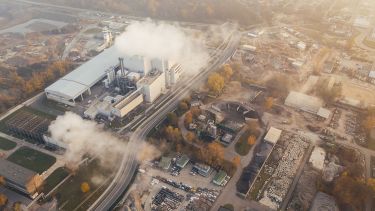 Centre will aim to revolutionise approaches to climate change mitigation and promote food security, whilst safeguarding natural resources
It will develop the science to safely remove the greenhouse gas carbon dioxide from the atmosphere to cool the planet
Announcement coincides with Paris Climate Change Conference 2015
As global leaders gather in Paris for the Climate Change Conference to reach a deal aimed at reducing global carbon emissions and limiting global warming, the Leverhulme Trust Board has today (3 December 2015) revealed plans for the new Centre, which will be funded for up to £10 million over ten years.
Led by Professor David Beerling, the Leverhulme Centre hopes to revolutionise approaches to climate change mitigation and transform the evidence base needed to alter land management options for mitigating climate change and promoting food security, whilst safeguarding natural resources. The vision is to develop and assess the role of enhanced rock weathering as a means of safely removing large amounts of the greenhouse gas carbon dioxide (CO2) from the atmosphere to cool the planet, while also mitigating ocean acidification.
The plan is to deliver these aims through Earth system modelling, lab-based controlled environment experimental investigations and large-scale field studies, embedded with social science analyses of sustainability and public engagement.
Professor Beerling FRS, Director of the Leverhulme Centre for Climate Change Mitigation at the University of Sheffield, said: "I am delighted that the Leverhulme Trust is providing substantial long-term investment in our pioneering Leverhulme Centre at the University of Sheffield. It couldn't be more timely and represents a huge vote of confidence for the outstanding team of scientists and social scientists involved from Sheffield and elsewhere.
"Turning the tide on climate change is a matter of inter-generational justice. Deployable strategies for removing CO2 from the atmosphere are strongly embedded in climate stabilization policies but don't yet exist. So pinning the future fate of the Earth and 7 billion humans on meaningful emission cuts without fostering research into alternative actions to avert the threat of dangerous climate change is a risky strategy.
He added: "The ambition of our new interdisciplinary Leverhulme Centre is to deliver a step-change in the development of feasible, scalable, atmospheric CO2 removal options and avert ocean acidification. We will objectively develop the science, sustainability and ethics necessary for harnessing the photosynthate energy of plants to accelerate the breakdown of silicate rocks applied to agroecosystems and ultimately sequester carbon on the sea floor. In effect, the approach uses natural reactions that have been stabilizing climate for millions of years to safely remove the greenhouse gas carbon dioxide from the atmosphere."
The University of Sheffield Leverhulme Centre is one of four winners of the new Leverhulme Research Centre awards, designed to support fundamental cross-disciplinary research across the whole range of the sciences, humanities and social sciences.
The competition was designed to encourage original research which would establish or reshape a significant field of study and transform our understanding of an important topic in contemporary societies. The Trust encourages research which is fundamental or curiosity-driven, multi-disciplinary, and often higher risk. Applicants were therefore invited to be bold in compiling their bids, with the choice of research topic left deliberately open.
Professor Gordon Marshall, Director of the Leverhulme Trust, said: "The new Leverhulme Trust Centres are a major investment in discovery-led research at a time when funding for scholarly inquiry is under great pressure. They are our vote-of-confidence in the quality of the UK's outstanding researchers at every level. Each Centre will embrace multi-disciplinary and international collaborations designed to bring the highest calibre of expertise to bear on these exciting areas of inquiry. We look forward to working with our new award holders over the coming years as they explore these new research agendas."
A global reputation
Sheffield is a research university with a global reputation for excellence. We're a member of the Russell Group: one of the 24 leading UK universities for research and teaching.