Early career Fellowships in the Arts and Humanities
The Faculty of Arts and Humanities is keen to recruit the highest calibre early career researchers, supporting candidates via a number of externally funded research fellowship schemes and enabling them to become the research leaders of the future.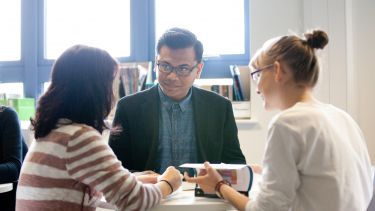 We welcome Fellowship candidates from the UK and overseas. The University of Sheffield provides a highly supportive environment in which to develop your career, hosting Fellows at all stages of their career.
What are research fellowships and why should I apply for one?
Whilst research grants tend to focus primarily on funding a research project, fellowships tend to focus more on the individual and provide a large amount of dedicated time to focus on individual research.
An early career fellowship is a great route into a research career. Winning a fellowship is a way to proactively create a job for yourself without relying on the academic job market
Fellowships allow you to pursue your own research agenda, gain valuable experience, build your CV to put you in a strong position to apply for permanent posts. 
Fellowships are usually 'responsive mode', which means that the applicant decides the research topic (as long as it is within the funder's remit). Early career fellowships usually operate on an annual funding cycle, with call deadlines at the same time each year. You apply with the support of the 'host' institution, and will usually work closely with an academic mentor or supervisor, both on your application and throughout the lifetime of your project.
Learn more about working and living in Sheffield, as a city. There are also benefits of working at the University of Sheffield.
Candidates interested in applying for a Fellowship hosted by the University of Sheffield are encouraged to contact Alex Goode, the Research Hub Manager on artsresearchhub@sheffield.ac.uk, and the Director of Research (DDRI) from the relevant department (see list below) to discuss your application, funding opportunities and associated eligibility requirements.
Please include the following information:
Details of your proposed mentor (see our departments/ schools pages to source possible mentors)
One page project outline
Your CV
Fellowship schemes
To register your interest in any of these fellowship schemes, please complete the Google form and a member of the hub will be in touch.
British Academy Postdoctoral Fellowship

This call is now closed but runs on an annual basis. Information will follow for the next round in Summer 2023.

The British Academy Postdoctoral Fellowships is a three year award made to an annual cohort of outstanding early career researchers in the humanities or social sciences. This scheme provides funding to cover the costs of a 36 month fellowship at a host institution. The purpose of this award is to enable the award holder to pursue an independent research project, towards the completion of a significant piece of publishable research.

The Faculty of Arts and Humanities is encouraging and welcoming applicants to this scheme, as:

it is an excellent opportunity to continue to develop and diversify the academic environment at the University, which is particularly relevant at a time when other such opportunities are limited
it offers an opportunity for academics to develop their career prospects, which again is particularly relevant in this current uncertain context
it offers excellent grant funding, including for salary and overheads, plus attracting a high Research Net Contribution.

British Academy Visiting Fellowship

This call is currently closed but runs on an annual basis. Information will follow for the next round in Summer 2023.

The British Academy's Visiting Fellowships programme provides outstanding academics based in any country overseas with the opportunity to be based at a UK higher education institution. The programme is open to academics at any career stage, and in any discipline within the humanities and social sciences.

Eligibility

Visiting Fellows must be of postdoctoral level or above, or have equivalent research experience at the time of application. Candidates should be based outside of the UK at the time of application. Applicants may be on permanent or fixed-term contracts. Fixed-term contracts must not end before the end date of the Visiting Fellowship. Independent scholars are also welcome to apply.

The British Academy welcomes applications from a diverse range of UK host institutions, and would particularly encourage applications from historically and / or structurally disadvantaged groups, low-income countries, and female researchers.

For more details about the Visiting Fellowship programme, including eligibility requirements, please see the scheme notes.

Aims of the scheme

enhance and build new links between scholars from around the globe and in the UK;
foster opportunities and encourage the development of new and future partnerships for collaborative research into the humanities and social sciences;
enable academics from across the globe to undertake research and/or professional development with UK colleagues;
strengthen the UK's research bases in the humanities and the social sciences.

ESRC New Investigator Grants

ESRC New Investigator Awards are specifically aimed at supporting those looking to make the transition to an independent researcher through managing their first major research project.

Deadlines: Open call with no deadlines

Eligibility: The call is open to high-quality candidates from anywhere in the world who have a maximum of four years' postdoctoral experience and the support of an eligible UK research organisation.

Funding available: £100,000 to £300,000 for a period of up to 5 years

Mentoring: All applicants are required to have a named mentor based at the research organisation where the grant is to be held.

European Research Council Starting Investigator Grant

ERC Starting Grants are aimed at allowing potential grantees long-term, significant research funding in order to complete an extensive, ambitious research project. It supports up-and-coming research leaders from all disciplines who have the proven potential of becoming independent research leaders.

Deadline: This call is currently closed but runs on an annual basis.

Eligibility: The scheme is for researchers of any nationality with 2-7 years of experience since completion of PhD (or equivalent degree) and a research track record showing great promise. The Principal Investigator (PI) does not necessarily need to be working at the host institution at the time when the proposal is submitted.

Funding available: Up to €1.5 million (in some circumstances up to €2 million) for a period of up to 5 years. The sole evaluation criterion is the excellence of the researcher and research proposal.

Leverhulme Early Career Fellowships

This call is now closed but runs on an annual basis. Information will follow for the next round in Summer 2023.

Leverhulme Trust Early Career Fellowships (ECFs) aim to provide career development opportunities for those who are at a relatively early stage of their academic careers, but who have a proven record of research. These three-year Fellowships provide an exceptional opportunity to develop as an independent researcher, and will have a significant impact on future career trajectory. The expectation is that Fellows should undertake a significant piece of publishable work during their tenure, and the project put forward should therefore not be a reworking or mere extension of the candidate's doctoral research project.

Marie Skłodowska-Curie Postdoctoral Fellowships 

The objective of the Marie Skłodowska-Curie Postdoctoral Fellowship (PF) is to support researchers' careers and foster excellence in research. The Postdoctoral Fellowships action targets researchers holding a PhD who wish to carry out their research activities abroad, acquire new skills and develop their careers. PFs help researchers gain experience in other countries, disciplines and non-academic sectors.

The Postdoctoral Fellows can undertake research trips, such as visits to other laboratories, archives or field work, as well as undertaking secondments. There is also an option to undertake an additional placement period of up to six months at the end of the project to spend time in a non-academic organisation established in an EU Member State or Horizon Europe Associated Country.

Eligibility:

MSCA Postdoctoral Fellowships are open to all academic disciplines and areas of research, from fundamental research to market take-up and innovation services. The research topic is chosen freely by the applicants (individuals and/or organisations) in a fully 'bottom-up' manner.

All disciplines are eligible for Postdoctoral Fellowships, including research areas covered by the Euratom Research and Training Programme.

Applicants should have a PhD degree at the time of the deadline for applications. Applicants who have successfully defended their doctoral thesis but who have not yet formally been awarded the doctoral degree will also be considered eligible to apply.

There are routes to apply to this scheme, as follows:

European Postdoctoral Fellowships: They are open to researchers moving within Europe or coming to Europe from another part of the world to pursue their research career. These fellowships take place in an EU Member State or Horizon Europe Associated Country and can last between 1 and 2 years. Researchers of any nationality can apply. 

Global Postdoctoral Fellowships: They fund the mobility of researchers outside Europe. The fellowship lasts between 2 to 3 years, of which the first 1 to 2 years will be spent in a non-associated Third Country, followed by a mandatory return phase of 1 year to an organisation based in an EU Member State or Horizon Europe Associated Country. Only nationals or long-term residents of the EU Member States or Horizon Europe Associated Countries can apply.

Funding available: a living allowance, a mobility allowance and associated costs, for a period of up to 3 years.

Deadlines: The 2022 call is now closed. The next call will open on 12 April 2023.

See our International Funding Opportunities page for information on Newton International Fellowships.

Wellcome Trust Early Career Awards

The Wellcome Trust Early Career Award scheme provides funding for early-career researchers who are ready to develop their research identity. Through innovative projects, you will deliver shifts in understanding that could improve human life, health and wellbeing. By the end of the award, you will be ready to lead your own independent research programme.

Eligibility: You can apply to this scheme if you are an early-career researcher and you are ready to design, plan and deliver your own innovative research project. You will have completed a PhD (for example, in the life sciences) or an equivalent higher research degree. You may also have some postdoctoral experience in your proposed field of study, but generally no more than three years.

Deadlines: 21st February 2023 and 18th May 2023. Please get in touch with the Arts and Humanities Research Hub at artsresearchhub@sheffield.ac.uk at least 3 months in advance of your preferred deadline.

Funding available: Your salary and up to £400,000 for research expenses for a period of up to 5 years.
Find a PhD
Search for PhD opportunities at Sheffield and be part of our world-leading research.