Early career Fellowships in the Arts and Humanities
The Faculty of Arts and Humanities are keen to support outstanding candidates in a number of externally funded research fellowship schemes.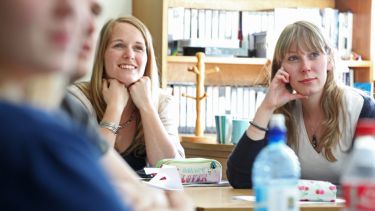 We welcome expressions of interest from high quality early-career candidates whose research interests align with those of academics in the Faculty, and who have checked their eligibility for the below schemes.
Research within the Faculty is vibrant, diverse and world-leading. We recognise the importance of supporting early-career researchers, so provide a range of help and advice with the development of proposals. There are also many opportunities for researcher development available to those who are successful in joining us.
As sustained support from the host institution is essential for each funding scheme, our advice in the first instance is to contact a potential mentor from one of the Faculty's Departments with (i) an abstract of your proposed project and (ii) a short CV.
If you cannot yet identify a potential mentor, advice can be sought from the Departmental Directors of Research and Innovation (DDRIs), who can advise you as to how to proceed and best make use of the support available.
Fellowship schemes
Visiting Postdoctoral Application Bursary Scheme

The Faculty has opened the 2019 Visiting Postdoctoral Application Bursary scheme for external applicants who would like to apply through The University of Sheffield for UKRI Future Leaders Fellowships, Marie Sklodowska Curie Fellowships, European Research Council (ERC) Starting and Consolidator grants, British Academy Postdoctoral Fellowships or Wellcome Trust Research Fellowships. (Please note the scheme does not support applicants for Leverhulme Early Career Fellowships).

As these are major applications, potential external candidates should start planning their applications as early as possible and physically coming to Sheffield will help facilitate this process. Applicants with the strongest overall applications (track record, proposed project, fit with Sheffield), will be awarded bursaries.

If you are interested in applying, you must first check that you meet the eligibility criteria for the external funding scheme you are interested in apply to. Please contact the relevant funder if you have any queries about your eligibility for their schemes as the University cannot advise on this.

Successful applicants will be expected to commit to apply for one of these funding schemes through Sheffield. They will stay in Sheffield for up to three nights, and spend their time:

discussing their proposed project with relevant academic colleagues and the Research Development Team
presenting a seminar
redrafting their application in response to comments received, and obtaining further feedback on the revised application
engaging in any other activities Departments feel would be beneficial.

The ways in which Departments plan to make best use of the visit (for example to coincide with related research events or activities) will also feature in the assessment.

Eligible expenses will be travel costs, accommodation and subsistence, to a maximum of £600 for those coming from outside the UK, and £350 for those within the UK.

Payment will be for actual expenses only up to the maximum permissible sum. It is envisaged that around five awards will be made. All visits must be complete and expenses claimed by 31 July 2020.

How to apply 

The application process consists of a completed application form and a two-page CV.

Application materials are to be sent to Bron Ray at artsresearchhub@sheffield.ac.uk and applications will be accepted on a rolling basis until funds are all allocated.

Applicants will be notified of the outcome of their application within a month of submission.

British Academy Postdoctoral Fellowship scheme

The British Academy Postdoctoral Fellowships is a three year award made to an annual cohort of outstanding early career researchers in the humanities or social sciences.  This scheme provides funding to cover the costs of a 36 month fellowship at a host institution. The purpose of this award is to enable the award holder to pursue an independent research project, towards the completion of a significant piece of publishable research.

Amount Available: Support for salary of the Postdoctoral Fellow at full FEC plus up to £6,000 total research expenses and the time of the mentor for up to 36 hours (or the equivalent of 1 hour per month).

Applicants must be within 3 years of the award of their doctorate and they must not have a permanent academic post.

The competition for the Postdoctoral Fellowship is held in two stages. The Outline Stage is open for everyone within the eligibility criteria here (note this is for the 2019 round and the 2020 round should be checked when available, before applying). The Second Stage is invitation only.  You can only apply to this competition once, unless specifically invited to re-apply, so it is important to consider if this is the optimal time for any particular individual to apply.

Please contact the DDRI from the relevant department/school for further information.

Marie Skłodowska Curie Individual Fellowship scheme

This scheme offers a unique opportunity for non-UK based scholars to come to Sheffield to complete a significant research project.

Applicants can come from any country in the world for up to two years under the supervision of an established academic as part of the European Fellowship strand.

The only criterion is that they must not have spent more than 12 months in the UK in the last three years.

The scheme has no thematic requirements, so applicants are welcome from all disciplines. Fellows are afforded a generous stipend and related research costs. More details can be found here.

European Research Council Starting Investigator Grant

ERC Starting grants are aimed at allowing potential grantees long-term, significant research funding in order to complete an extensive, ambitious research project. It supports up-and-coming research leaders from all disciplines who have the proven potential of becoming independent research leaders.

The scheme is for researchers of any nationality with 2-7 years of experience since completion of PhD (or equivalent degree) and a research track record showing great promise.

Funding is available up to €1.5 million (in some circumstances up to €2 million) for projects of up to five years. The sole evaluation criterion is the excellence of the researcher and research proposal.

More details can be found here.

Wellcome Trust Research Fellowships in Humanities and Social Science

This scheme supports postdoctoral researchers in health-related humanities and social sciences who do not hold established academic posts.

You can apply for a Research Fellowship if you're a postdoctoral researcher who wants to carry out an extended period of research on your own project.

More details can be found here.

UK Research and Innovation (UKRI) Future Leaders Fellowships

The UK Research and Innovation Future Leaders Fellowships (FLF) will grow the strong supply of talented individuals needed to ensure that UK research and innovation continues to be world class.

This cross-UK Research and Innovation (UKRI) scheme will support early career researchers and innovators with outstanding potential in universities, UK registered businesses, and other research and user environments including research councils' institutes and laboratories.

The FLF scheme welcomes applications from both UK and international applicants and individuals should use the person specification to assess and justify their suitability for the scheme.

Support of the institution will be a critical component of all fellowships which will enable the fellow to transition to or establish their research/innovation independence in any area supported by UKRI.

There will be six calls for these fellowships; two calls per year between 2018-19 and 2020-21 (financial years), typically awarding at least 100 fellowships per call across UKRI's remit.

This is a single scheme across the entire UKRI remit, with no ringfenced budgets for specific areas and no barriers to interdisciplinary or cross-sector research. The University will run an internal competition to select applicants for each funding round - please check back for details of the next round.

More details can be found here.

If you are interesting in applying to this scheme through the University of Sheffield, please express your interest by contacting the relevant DDRI.

UKRI require that host organisations must only submit their strongest applications and as such, the University is running an internal selection process for each round.
Leverhulme Early Career Fellowships

Leverhulme Trust Early Career Fellowships (ECFs) aim to provide career development opportunities for those who are at a relatively early stage of their academic careers, but who have a proven record of research. These three-year Fellowships provide an exceptional opportunity to develop as an independent researcher, and will have a significant impact on future career trajectory. The expectation is that Fellows should undertake a significant piece of publishable work during their tenure, and the project put forward should therefore not be a reworking or mere extension of the candidate's doctoral research project.

● Approximately 145 Fellowships will be available through the Leverhulme Trust in 2021
● The Leverhulme Trust requires host institutions to fund at least 50% of the overall Fellowship cost (for this round, this is in years 2 and 3)
● The Faculty of Arts and Humanities is able to support seven candidates to submit their applications to the Leverhulme Trust in 2021
● Applications will be accepted in the following fields/areas: Archaeology, East Asian Studies, English, History, Philosophy, Music, and Modern Languages and Cultures

We are seeking outstanding applicants for the Leverhulme Early Career Fellowship scheme for 2021, who can build on departmental strengths and capacity in line with departmental research strategies. If you are interested in applying, you must first check that you meet the Leverhulme's eligibility criteria. These can be found here.

If you are eligible, and would like to apply to hold a Fellowship in the Faculty of Arts and Humanities, please get in touch with the relevant Departmental contact (listed below) before 4 December 2020 to find out about the internal application process for that department/school. You will need to provide a short CV (2 pages maximum) and an expression of interest form, or any other documentation the department/school requires.

The Faculty of Arts and Humanities

The Faculty of Arts and Humanities comprises four departments and three schools: Archaeology, History, Philosophy, Music, the School of East Asian Studies, the School of English and the School of Languages and Cultures. Our academic departments are among the best in the country in terms of their research and teaching. As confirmed by REF 2014, the Faculty boasts a particularly strong record of research projects and publications, supported by a flourishing research environment, including state-of-the-art-facilities and a long track record of successful knowledge exchange activities.

Our departments and schools are currently inviting expressions of interest from potential applicants who wish to be considered for support in applying to the Leverhulme Trust ECF.

1. Departments

The Department of Archaeology Departmental Director of Research and Innovation: Professor Caroline Jackson

The School of English Departmental Director of Research and Innovation: Professor Andrew Smith

The Department of History Departmental Director of Research and Innovation: Professor Siobhan Lambert-Hurley

The School of Languages and Cultures Departmental Director of Research and Innovation: Professor Neil Bermel 

The Department of Music Departmental Director of Research and Innovation: Dr Fay Hield

The Department of Philosophy Departmental Director of Research and Innovation: Dr Dominic Gregory

The School of East Asian Studies Departmental Director of Research and Innovation: Professor Hugo Dobson

2. Faculty Institutes and Research Centres

The Faculty is host to three Institutes:

• Digital Humanities Institute, the UK's leading centre for the application of technology and computation in arts and humanities research. (Director: Michael Pidd)
• The Humanities Research Institute, Sheffield's Centre for Collaborative Research in the Arts and Humanities (Director: Professor Nikki Dibben)
• Sheffield Institute for Interdisciplinary Biblical Studies (SIIBS), a leading institute for interdisciplinary Biblical Studies graduate teaching and research (Director: Dr Meredith Warren)

The Faculty is also host to 16 Research Centres.

If you wish to affiliate with one of these Institutes or Centres, you need to apply through the Department/School which is most relevant to your research interests.

Deadlines:

| | |
| --- | --- |
| 4 December 2020 |  Closing date for expressions of interest and CVs to departments and schools |
| 4 - 17 December 2020 | Departments and schools will undertake their review of applications during this time and inform all candidates of the outcome of the decision during this period. |
| 18 December 2020 | The selected candidates will be invited to work on their final proposals for submission to the Leverhulme Trust with support from the department/school and Faculty |
| 19 February 2021 |  University deadline for completion of final applications through the Leverhulme Trust Grant Application System |
| 25 February 2021 | Leverhulme Trust deadline for applications to the Early Career Fellowship scheme (institutional approval must be granted by this stage) |


Selection criteria

The Faculty review panel will use the following criteria in line with Leverhulme's approach to grant-making (further guidance can be found
at http://leverhulme.ac.uk/funding/approach.cfm):

● Originality—the research achieves more than the incremental development of a single discipline
● Importance—the work will enable further research or enquiry
● Significance—the proposed research has relevance outside a single field, and is able to excite those working in other disciplines
● Merit—the quality of the research design and methodology, and the suitability of the researchers and institution for the realisation of the proposed research objectives
● Does the application reflect an individual's personal vision, aspiration, or intellectual curiosity?
● Does the applicant take appropriate risks in setting and pursuing research objectives?
● Will it enable a refreshing departure from established patterns of working – either for the individual, or for the discipline?
● Does the project transcend disciplinary boundaries?
● Has the applicant gained experience at different institutions?

For more information about the Leverhulme Early Career Fellowship scheme see: http://www.leverhulme.ac.uk/funding/ECF/ECF.cfm

Download Departmental Expression of Interest
Current DDRIs
Current DDRIs
Archaeology
English
East Asian Studies
History
Languages and Cultures 
Music
Philosophy
Sheffield Institute for Interdisciplinary Biblical Studies (SIIBS)
Find out more about the departments and schools in the Faculty of Arts and Humanities.
Find a PhD
Search for PhD opportunities at Sheffield and be part of our world-leading research.