Chaplaincy walk to Win Hill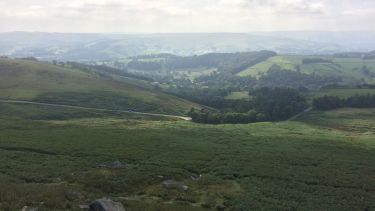 As so often, we were lucky with the weather: glorious sunshine with very little wind made the day perfect for a walk.  An international group of students and Sabine took the bus from Western Bank, alighted at Yorkshire Bridge near Ladybower Reservoir, and crossed the impressive dam.  Then we made a steep ascent through woodland, which was lovely in its fresh spring foliage.  After emerging from the trees, we took a little break to catch our breaths, admiring the great view that was opening up before our eyes.  Refreshed, we went further uphill, until we finally reached the top of Win Hill.  We were rewarded with one of the finest views in the Peak District: along several valleys and edges, and towards many more hills in the distance.  It was great to spot all the places we have been walking to so far: Stanage Edge, Over Owler Tor, Bamford Edge (which looked almost small when seen from above).  It was a great photo opportunity, and we didn't even have to shelter from the usual strong winds – there was hardly a breeze: perfect for a lazy lunch break.
The descent was easy and downhill all the way: we took the well defined path west across moorland, enjoying great views of Mam Tor and the Great Ridge.  When the path finally met the plantation at Wooler Knoll, we went downhill through the woodland until we reached the shores of Ladybower reservoir.  We honed our stone skipping skills, before continuing along the shoreline back to the dam, and the bus.  Another great walking day, with so many stories shared.
A world top-100 university
We're a world top-100 university renowned for the excellence, impact and distinctiveness of our research-led learning and teaching.