The next Chaplaincy Walking Tour!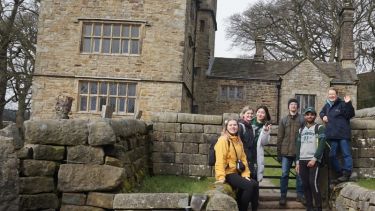 Despite a somewhat unfavourable weather forecast, our international group of students and Sabine took the bus to Hathersage, and enjoyed walking through this beautiful historic village.  We went gently uphill over open grassland and encountered some very funny Ryedale sheep which looked like teddy bears.  While the clouds started gathering, and the first raindrops hit us, we ascended onto Stanage Edge with its stunning views over the Hope Valley.  We walked along the edge to Robin Hood's Cave, where we sat wonderfully sheltered from the wind, and had an almost sunny lunch break!  After a steep descent, we walked through a forest until we came to an old manor house from 1594 called North Lees Hall (see photo).  This house was visited by Charlotte Brontё in 1845, and became the main inspiration for Thornfield Hall in her famous novel 'Jane Eyre', where she described it as: "… three storeys high; a gentleman's manor house; battlements round the top gave it a picturesque look".  
After a gentle descent through fields, we arrived at the Parish Church of St Michael and All Angels, where we visited the reputed grave of Robin Hood's companion Little John (it is definitely the grave of a very tall person!).  Inside the church we admired a pair of ornately-carved wooden chairs, on which Queen Victoria and Prince Albert had sat in 1854.  Also lovely to look at were the beautiful stained glass windows, especially the one with wildlife from the Peak District.  The weather stayed dry for us, and we caught our bus back to Sheffield without getting wet.  Again, a really good walk with many interesting stories!
A world top-100 university
We're a world top-100 university renowned for the excellence, impact and distinctiveness of our research-led learning and teaching.