Sheffield City Council has been successful in its bid for funding from the Future High Streets Fund, with the support of the University of Sheffield, to rejuvenate and reinvent Fargate and High Street as social hubs in the city.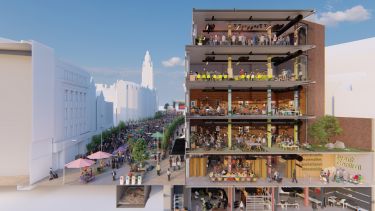 The government's £1bn Future High Streets Fund aims to transform and regenerate high streets across England, making them fit for the future. It will help revitalise local high streets and boost economic buoyancy in town centres where people live, shop, use services, and spend their leisure time. In December 2020, Sheffield City Council, in partnership with the University of Sheffield and city retailers and businesses, were successful in receiving funding of £15.8m for Fargate and High Street.
Sheffield residents deserve a city centre that is economically viable and beneficial for all, which gives people the confidence and security to live, spend time and absorb culture in a place they can be proud to call home. Our ambition is a '15 minute city' – providing access, clean air, re-purposing obsolete buildings high standard living accommodation & enhancing our cultural ecology.
"The University is delighted that the support and academic expertise we brought to the Future High Street Fund has made it one of only 15 bids that has been funded in its entirety and that demonstrates the innovative nature of the proposal and also the partnership elements that shine through the bid.  We are also delighted that our architectural and Urban Planning students helped visualise a high street that is as much for the young generation as it is for long term residents and reflects all the elements of the feedback we received from partners and businesses in the City.  I never doubted that the uniqueness of our partnership and the amazing abilities of council officers in urban development would result in a unique, creative and very grounded bid that presents a city centre that Sheffield will be proud of."

Professor Vanessa Toulmin

Director of City and Culture at the University of Sheffield​​​
'What role did the University have?'
The University of Sheffield played a vital role in supporting the successful bid, including:
A kick-off event hosted by the University at the Millennium Galleries where over 200 members of the public attended. The event included visuals of some of the plans and the opportunity to talk to some of the team about plans and next steps. Followed by a public exhibition with featured plans in The Moor market. 
A VR experience devised by the Department of Urban Studies and Planning showcasing Fargate's potential as a hub for cultural and creative activities.
Expertise and research from a team of academics who led by Professor Vanessa Toulmin ran a series of planning workshops gaining insights from over 120 stakeholders on a variety of topics including flood defence and urban space.
Specialist consultancy help from Dr Julian Dobson, Director of the research consultancy Urban Pollinators to frame the bid directly to the funding requirements.
School of Architecture students, Joseph Chapman and Bor-Ren Hui, produced architectural images for the final proposals. 
'What will this funding do?'
The funding provides a substantial financial boost for the historic heart of the city centre and will help to shape the future of how Sheffield residents and visitors use this space. 
There are three key areas that this funding will support, these interventions are designed to generate investor confidence, attract and retain new visitors and residents, and build on Sheffield's unique offer as a creative, climate resilient and sustainable 'Outdoor City':
Fargate will be re-purposed as an events and cultural setting.
The five-storey 'Event Central' property, currently used for short-term retailing, will be converted to facilitate a year-round programme of events. Alongside this hub the top of Fargate will be reconfigured to provide outdoor space for major international events, supported by modernised power and utility infrastructure. This scheme is expected to attract 110,680 visitors annually, of which 50% are assumed to be additional.
Front Door Access to upper floor retail premises will catalyse investment in residential and live/work accommodation.
A programme of works to enable access to upper floors of retail premises will catalyse their conversion to inner city living. This scheme will provide the building blocks to revitalise key buildings accelerating the viability of creative mixed-use retail premises.
Transforming the Public realm works in High Street and its historic side streets will deter crime by creating green sociable spaces and continue the climate resilient greenscaping.
A bespoke lighting scheme throughout the intervention area will improve the public experience of the city centre with derelict public spaces transformed into oasis of tranquillity.
Contributors to the development of the bid
Department of Urban Studies and Planning 
Academics 
Professor Malcolm Tait 
Dr Cath Jackson 
Professor David Robinson 
Dr Bobby Nisha 
Students
Chang Xu - Department of Urban Studies and Planning
Nathania Damara - Department of Urban Studies and Planning 
Department of Landscape Architecture
Academics
Professor Anna Jorgensen
School of Architecture
Students
Joseph Chapman - School of Architecture
Bor-Ren Hui - School of Architecture
More information on the Future High Streets Fund project in Sheffield can be found here.