Geotechnical Engineering Discipline
Our group focuses on the safe and sensitive transformation of our natural environment to support the infrastructure that underpins society.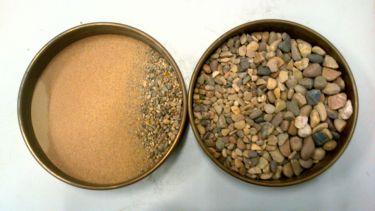 Off
Projects | Facilities | People
The research in our Geotechnical Engineering Group is aimed at helping improve the design and efficiency of geotechnical structures, and enhancing the resilience and performance of ageing infrastructure assets.
We employ both laboratory, full-scale and centrifuge techniques to investigate a range of practical problems. Our particular work areas include: geotechnical hazards such as landslides, sinkholes and soil instability; optimised design and construction; blast effects; offshore engineering; physical modelling of geotechnical processes; and soil-structure interaction in masonry arch bridges.
---
Research projects
Our research builds upon a culture of nurturing and addressing industry needs in collaboration with a range of stakeholders to provide innovative solutions to challenging problems.
Research Themes
Our work is focused across five major research themes, which align our interdisciplinary academic strengths to address some of the key scientific, social and environmental challenges of the new millennium.
Facilities and resources
Element Test Facilities

GDS controlled 100mm stress path triaxial cells
GDS thermally controlled 50mm stress path triaxial cell
ELE controlled 100mm cyclic triaxial cell
VJ Tech Pro Automatic triaxial, ShearSCAN and ACONS Pro consolidation systems  
Conventional Rowe cells, oedometers and permeameter systems

Model Test Facilities

Granular flow/debris flumes with high speed camera capture
Plane strain model chamber for masonry arch testing, complete with image capture and hydraulic loading capability 
Transparent soil test laboratory with four lasers 500mW – 2000mW for internal imaging within coarse and fine grain soils in model experiments. Examples include visualising internal erosion within a unique flow permeameter or pile interaction studies. 
Geotechnical beam centrifuge: 4m and 1m diameter facilities for research and teaching
Blast and impact dynamic testing of explosive and hazards at Buxton including: Split-Hopkinson pressure bar for material characterization, testing at strain rates up to 1000/sec and high-speed photography, pulse radiography.

Large scale testing

45m long by 5m deep by 6m wide test cell at The Integrated Civil and Infrastructure Research Centre (iCAIR), part of the UK Collaboratorium for Research on Infrastructure in Cities.

Numerical Modelling

State of the art numerical limit analysis modelling capability using LimitState:Geo (including access to enhanced research level features)
Post-triggering modelling of landslides with in-house depth-averaged software RASH3D
In-house DEM software for grain-scale simulation of geophysical processes
Multi-phase investigation of geo-hydraulic processes with DEM-LBM
Oasys Geotechnical suite
Itasca FLAC-2D & 3D (with modules)
FLAC3D
LS-DYNA
ABAQUS
---
People
Academics
Our league table rankings
Top 100 Civil & Structural Engineering department in the world and 9th in the UK according to the QS World University rankings by subject (2023).
8th in the UK according to the Complete University Guide (2023).
10th in the UK according to the Times University League Table (2023).
Flagship institutes
The University's four flagship institutes bring together our key strengths to tackle global issues, turning interdisciplinary and translational research into real-world solutions.