Manchester, The Centripetal City: The Lessons Of Property-Led Regeneration For Core Cities And Their Proximal Towns
Funder: ESRC
Amount: £458,013
Project Reference: ES/V002597/1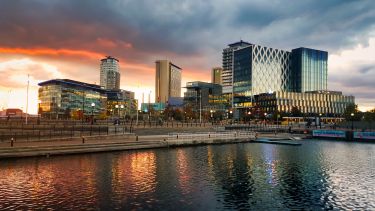 On
This three-year ESRC-funded project investigates the growth of 'Build-to Rent' (BtR) property development in Manchester. It does so in the context of emerging tensions in Greater Manchester's city-first, property-led 'agglomeration' model of urban regeneration, and disparities between the wealth of the urban centre and peripheral 'left behind' towns.
This project will examine how BtR property assets have been marketed. It will also trace the actors and actor-relations involved in developing financing, servicing and owning those assets. Stress test models will be used to assess the financial resilience and stability of those assets in order to gauge the sustainability of this model.
The project then zooms out to examine the inflows and outflows of capital, reconceptualising these flows as the product of centripetal and/or centrifugal forces to better understand the outcomes of property-led development in Manchester city centre and its peripheries.
We do this via an interdisciplinary, multi-dimensional analysis that unites accounting and urban studies scholars over four themes.
Theme 1
A first theme examines the marketing of Manchester's BTR property assets to global investors, and the visions and images mobilised. We also examine the role of the Greater Manchester Combined Authority (GMCA) in the marketing of those assets. 
Theme 2
A second theme uses accounting analysis to examine how those assets are constructed, which companies are involved in their construction and the way money flows through those organisations. It will also tell us about the balance of on- and off-shore companies in this sector, thus providing a transparency and accountability lens to our findings. Stress tests of BTR companies and their housing assets also provide an economic sustainability lens.
Theme 3
A third theme examines the effects of Manchester's regeneration model at different spatial scales. This will explore whether centrifugal or centripetal forces (or some combination of the two) are at work in Greater Manchester. We will use a variety of socio-economic indicators (business mortality rate, shop footfall, inward migration etc) to examine the presence or otherwise of centripetal forces in Manchester city centre, Bolton and Wigan. 
Theme 4
A fourth theme is our impact theme. This theme will draw on our findings to develop engagement strategies which aim to build inclusive, accountable and sustainable systems of urban development.
Overall the project will explore the idea that the property-led model of urban regeneration, grounded in agglomeration economics theory, may not create the centrifugal processes expected – ie that agglomeration produces productivity gains throw out prosperity to the regions; but rather that the centre exerts a centripetal pull on investment, technology and skills from surrounding towns, hollowing out their capacity.
---
Public interest reports
Download Centripetal Cities report (PDF, 10.4MB)
Databases
Download the GM Central core developments database (Excel, 75.3KB)

Maps
The following links use our Centripetal Cities database to develop maps of Build to Rent (BTR) development in Manchester. We are grateful to Colin Lorne of the Open University for creating these maps.
View the interactive Housing Beyond Borders map
Read Colin Lorne's explanation of the map
 
---
Principal investigator
Co-investigator:
Research associate: