Dr Carolina Scarton
BSc, MSc, PhD
Department of Computer Science
Lecturer in Natural Language Processing
Outreach, Open Days and Headstart Officer
Member of the Natural Language Processing research group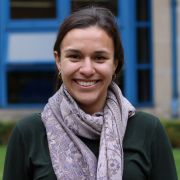 Profile

Carolina Scarton is a Lecturer in Natural Language Processing at the Department of Computer Science, University of Sheffield, UK. She is a member of the Natural Language Processing group and part of the GATE team.

Previously, she worked as an Academic Fellow (from September 2019 to November 2021) and as a Research Associate for the WeVerify (from March 2019 to August 2019) and SIMPATICO (from July 2016 to February 2019) European projects.
Qualifications

In 2017, she was awarded a PhD degree in Computer Science from the University of Sheffield, under the supervision of Professor Lucia Specia. Her PhD was funded by the EXPERT project (a Marie Curie ITN network).

She also has a MSc and a BSc degree from the University of São Paulo, Brazil (awarded in 2013).

Her MSc supervisor was Dr. Sandra Aluísio and she was a member of the Interinstitutional Center for Computational Linguistics (NILC). Since 2018, she is the Secretary for the European Association for Machine Translation (EAMT).
Research interests

Dr Scarton's research area is Natural Language Processing (NLP). She is particularly interested in text adaptation, machine translation, online misinformation detection and verification, evaluation of NLP task outputs, NLP applied to healthcare and robotics, and dialog systems.
Publications

Books

Journal articles

Book reviews

Conference proceedings papers

Theses / Dissertations

Preprints
Grants

Current Grants

VIGILANT: Vital IntelliGence to Investigate ILlegAl DisiNformaTion, Horizon Europe, 11/2022 - 10/2025, £476,955, as PI

vera.ai: VERification Assisted by Artificial Intelligence, Horizon Europe, 09/2022 - 08/2025, £776,703, as Co-PI

Modelling the link between working memory and language deficits in schizophrenia, Royal Society, 12/2020 - 11/2022, £74,000, as Co-PI

Modeling Idiomaticity in Human and Artificial Language Processing, EPSRC, 12/2020 - 11/2024, £446,163, as Co-PI